Example: Sending money to Mexico
Because OFX doesn't charge any fees, you must pay attention to the exchange rate offered on your transfer. Here are a few example transfers using OFX rates from 24 September 2020, compared against a company using the mid-market rate but charging fees.
| | OFX | Not OFX |
| --- | --- | --- |
| Sending amount | 1,500 SGD | 1,500 SGD |
| Exchange rate | 16.145 MXN = 1 SGD | 16.319 MXN = 1 SGD |
| Fees | 0 SGD | 11.79 SGD |
| Total received | 24,217 MXN | 24,286 MXN |
| | OFX | Not OFX |
| --- | --- | --- |
| Sending amount | 10,000 SGD | 10,000 SGD |
| Exchange rate | 16.254 MXN = 1 SGD | 16.322 MXN = 1 SGD |
| Fees | 0 SGD | 73.39 SGD |
| Total received | 162,540 MXN | 162,022 MXN |
In this example, OFX is the better choice when sending larger amounts of money. It offers exchange rates that typically beat those offered by Singapore banks. OFX's exchange rates are usually 1.5% or less above the mid-market rate when you transfer funds. The larger your transfer, the smaller the percentage taken by OFX.
Calculate how much your transfer with OFX could cost
Enter the amount you want to send and the currency you want to send to then click Calculate to see up-to-date OFX rates.
Disclaimer: Exchange rates change often. Confirm the total cost with the provider before transferring money.
How long does an OFX transfer take?
OFX separates its transfers into two categories: major currencies and exotic currencies. In general, these two categories have the following transfer speeds:
Major currencies: 1–2 days
Exotic currencies: 3–5 days
Both transfers may have additional time added on depending on how long it takes for your bank to transfer the money to OFX.
What currencies does OFX support?
OFX sends money to over 50 currencies around the world, covering most major and a lot of exotic currencies. You can check out a full list of the currencies you can send with OFX here, but some of the more popular ones include the following:
GBP British pound
CAD Canadian dollar
INR Indian rupee
MXN Mexican peso
PHP Philippine peso
KRW South Korean won
Is OFX safe to use?
OFX operates and is regulated in multiple countries and jurisdictions around the globe and is listed on the Australian Stock Exchange. In short, OFX regulations include the following:
Monetary Authority of Singapore (MAS) — Payment Service Provider License
Australian Securities & Investments Commission (ASIC) — Australian Financial Services License
Financial Conduct Authority (FCA) — Authorised Payment Institution
Financial Crimes Enforcement Network (FinCEN) — Federally registered US Money Services Business
Financial Transactions and Reports Analysis Centre of Canada (FINTRAC) — Money Service Business
OFX reviews
A breakdown of OFX reviews on various trusted websites — accurate as of 24 September 2020.
| | |
| --- | --- |
| Trustpilot score | 4.4 out of 5, based on 4,035 customer reviews |
| ValueChampion | 4.5 out of 5, staff reviewed |
OFX reviews are fairly positive across the board, with many negative reviews focused on OFX's identity verification process. Because OFX adheres to strict anti-money laundering (AML) protocols, it requires customers to verify their identity by phone as well as submit documents proving their identity. On Trustpilot, OFX has responded to nearly every negative review with details on how to contact management and help the customer solve their issue.
What type of money transfers does OFX support?
OFX money transfers options come in a few shapes and sizes, with multiple ways to meet your transfer needs. There are two distinct ways to send money with OFX: through a Rapid Transfer or by taking advantage of OFX Risk Management features.
OFX Rapid Transfer
Rapid Transfers are the most common way to send OFX money transfers. When sending a Rapid Transfer, you have two options:
Single Transfers. OFX Single Transfers lock in the exchange rate when you confirm the transfer and have a minimum transfer amount of $2,000.
Recurring Transfers. OFX Recurring Transfers can be used for monthly, quarterly or any other repeating transfer you need to send. OFX requires a minimum of four transfers, and each must be $500 or more.
OFX Risk Management
Risk Management transfers are designed to help you reduce costs and save money down the line. You have two options when setting up your OFX Risk Management transfer:
Buy now, transfer later. Lock-in your exchange rate now using a forward contract, but schedule your transfer to send in the next two days to twelve months. A minimum transfer amount of AUD 50,000 (or currency equivalent) is required for this OFX transfer option.
Set your target rate. Use this option to set a target rate by utilising a limit order. Once your target rate is triggered, OFX will contact you to complete your transfer. A minimum transfer of AUD 30,000 (or currency equivalent) is required to set your target rate online.
OFX also has specialised accounts for online sellers and businesses.
What do I need to send money through OFX?
To start, have the following information on hand to sign up for a free account with OFX:
Name, email address, address and phone number
Date of birth
Nationality and country of origin
Driver's license or other state ID number
Occupation
How to make your first transfer with OFX
Take the following steps to get started:
Go to OFX's website.
Choose a personal or business account. Enter your country, state and email address. Click Next.
Enter estimates of your transferring needs. These amounts don't have to be exact and can be changed later. Click Next.
Enter your personal and contact information. This will include your full name, date of birth, phone number, current residential address and occupation.
Check your email for registration confirmation. OFX may require you to confirm your identity by uploading a scan of your photo ID. You should receive a decision by email within two business days.
Add your recipient's information. After verification, log in to your account to enter your recipient's details. Click Recipients and then Add new recipient. Enter their full legal name, residential address and their banking information.
Send your funds to OFX and verify your first transfer. A representative from OFX will call you to verify the details of your first transfer.

My experience with signing up
I wasn't looking forward to signing up for an OFX account because I don't like speaking with customer service on the phone, but it turned out to be a relatively painless process. After creating my account and submitting my documents online, I called OFX and was connected with a representative within a few minutes. After answering questions about my ID and address, my account was good to go. Here are some key takeaways:
Did I have to interact with customer service? Yes, there is no way around this step.
How long did it take? The entire process took less than an hour, but only about five minutes of that time was actively spent signing up — the rest was just waiting.
What was unexpected? Customer service got straight to the point when I talked to them, so I was on and off the phone in less than five minutes.
How do I track my OFX transfer?
You can track your transfer online by signing in to your account and selecting Deals and orders, or by downloading the OFX smartphone app. OFX can also send you automated updates by email or text — select which you prefer under Your profile when you sign in to your account.
If you need help with a transfer at any step of the process, OFX customer support is available by phone any time, day or night at +65 6817 8747
Does OFX have a mobile app?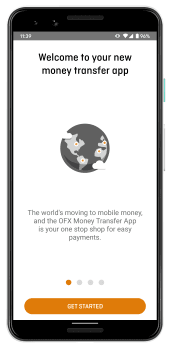 Yes, OFX has an app on both Google Play and the App Store. The OFX app makes it possible to do the following:
Monitor exchange rates. View current and historical exchange-rate data with a few taps.
Log in using biometrics. Both face and fingerprint recognition can be used to log in.
Track your transfer. See exactly where your transfer is anytime during its transition.
Access to dozens of currencies. Transfer between more than 50 currencies in more than 180 countries worldwide.
| Ratings accurate as of 24 September 2020 | |
| --- | --- |
| Google Play Store | 4.4 out of 5, based on 2,413 customer ratings |
| Apple App Store | 4.7 out of 5, based on 24 customer ratings |
More on the best money transfer apps
Bottom line
OFX provides fast and secure transfers from Singapore in over 50 currencies, with diverse transfer options to fit a variety of needs. However, you'll want to compare the features of a range of money transfer companies before deciding which is best for your specific needs.
Compare OFX to similar services
Use our comparison to see what your transfer could look like with only a few clicks. Enter the amount you want to send, select the destination currency and click Calculate.
Disclaimer: Exchange rates change often. Confirm the total cost with the provider before transferring money.
Frequently asked questions
Can I pay for my OFX transfer with cash?
No. OFX doesn't accept cash, check or credit card payment.
Will I be notified when my OFX transfer is complete?
Yes. OFX provides notifications through the app, text or by email to keep you up to date at every step of the money transfer process.
What is OFX?
OFX International Money Transfers & Currency Exchange is a global money transfer company that separates itself from the competition by never charging fees on transfers. OFX was founded in Sydney, Australia in 1998 and was previously known as OzForex. Before a brand consolidation in 2015, there were territory-specific brands around the world under the OFX umbrella: UKForex, CanadianForex, USForex, NZForex, ClearFX and Tranzfers.