Finder is committed to editorial independence. While we receive compensation when you click links to partners, they do not influence our content.
Long weekend ideas and staycations in Singapore for 2020
As COVID-19 is still very much a reality for the foreseeable future, it's unlikely that Singapore's borders will open up anytime soon. And with that, the prospects of international leisure travel and overseas vacations are looking pretty slim at this point.
But here's the good news!
There are a coupleof long weekends in 2020 coming up in Singapore –Hari Raya weekend and National Day weekend – plus quite a few more this year.This presents a great opportunityto get creative with how to spend these weekendsright in our backyards, so to speak.
In fact, on Tuesday (21 July), the government announced that over 80 hotels have been approved to open their doors for staycations as part of Singapore's Phase 2 "circuit-breaker" reopening.
If you've always wanted to explore morelocal hangouts and staycation spotsbut have always been more enticed by overseas travel, this could be a great time to take a closer look at all that Singapore has to offer and get to know the city a lot better.
Where to stay in Singapore
With over 80 hotels approved to open their doors, here are a few options for you to choose to set the tone for your weekend getaway.
Fullerton Hotel
Built in 1928, with its neoclassical architecture, 400 rooms and25-metre outdoor infinity pool overlooking the Singapore River, the Fullerton Hotel isa staycation spot not to be forgotten.
The hotel's Perfect Staycation package (from $430 onwards) offerscomplimentary breakfast for the family, $100 in food and beverage credit, a pair of Fullerton Postmasterteddy bears, complimentary parking, 20% off spa treatments and a complimentary early check-in and late check-out.
The Warehouse Hotel
Where old-world glamour meets modern-day comfort, the Warehouse Hotel is a great place to discover Singapore's history and heritage in style.
This five-star Robertson Quay hotel offersmodern open plan rooms in loft styles while maintaining the building's historical features such as its original beams and soaring peaked ceilings.
Its flagship restaurant, Po, is a refined modern Singaporean eatery presenting an array of local classics and elevated Singaporean staples.
W Singapore Sentosa Cove
With its lush greenery and lively coastal setting, W Singapore at Sentosa Cove allures guests with its vivid interiors and contemporary sophistication. Set against the backdrop of the exclusive resort island, Sentosa, this is the ultimate weekend getaway if you feel the beach and ocean wavescalling out to you.
Relax and recharge at the hotel's various dining options including its restaurant Skirt, which offers up some delectable steaks and seafood, or The Kitchen Table, which offersall-day dining with a smorgasbord of cuisines and live cooking stations.
Using the ProMed Ozone machine and Victory Handheld Sprayto sterilise and disinfect surfaces, the hotel was one of the first to get its SG Clean Certification.
What to do in Singapore
So you've found a place to stayaway from the chaos of the daily grind.
Now what?
Here are a few ideas on how to spend your weekend without having to spend too much time incrowded shopping malls or fork out too much money.
Instead, you could pick up a skill or revisit some of your old hobbies now that the circuit-breaker has now entered Phase 2.
There's no time like the present!
Take an art class
If you're the artsy type (or even if you're not!), you might find an art class hugely therapeutic and even really fun during these crazy, crazy times.
The Visual Arts Centre has now resumed its art class schedule and you can sign up for either online or in-person classes for all types of art. This includes sketching, portraiture, acrylic painting, Chinese ink painting and watercolour painting.
Classes welcome beginners and you could even book a private session if you'd like a little more guidance while you're starting out.
Take a cooking class
If the lockdown didn't inspire you to bring forth your inner sous-chef, why not take the long weekend to learn how to whip upa dish or two?
If you're looking for somewhere to finally learn how to cook that chicken curry or char kuey teow, studios such as Cookery Magic offers both virtual and in-person classes to unleash your inner Masterchef.
Catch a movie at the cinema
Infocomm Media Development Authority (IMDA) recently announced that cinemas will beallowed to reopen for up to 50 patronsin each cinema hall starting Jul 13, you'll now be able to catch the latest flicks on the big screen again.
You'll now be able to visitthe following cinemas:
Golden Village
Cathay Cineplexes
Shaw Theatres
Filmgarde
WE Cinemas
The Projector
Eaglewing Cinematics
Carnival Cinemas
Salt Media@Capital Tower
Enjoy your movie, and remember to get the popcorn!
When to go for a staycation
Aside from the upcoming Hari Raya weekend and National Day weekend, the year is packed with other long weekends to take advantage of this year.
If you're looking to plan ahead for a staycation at some point later this year, you might find our long-weekend planner for 2020 pretty handy.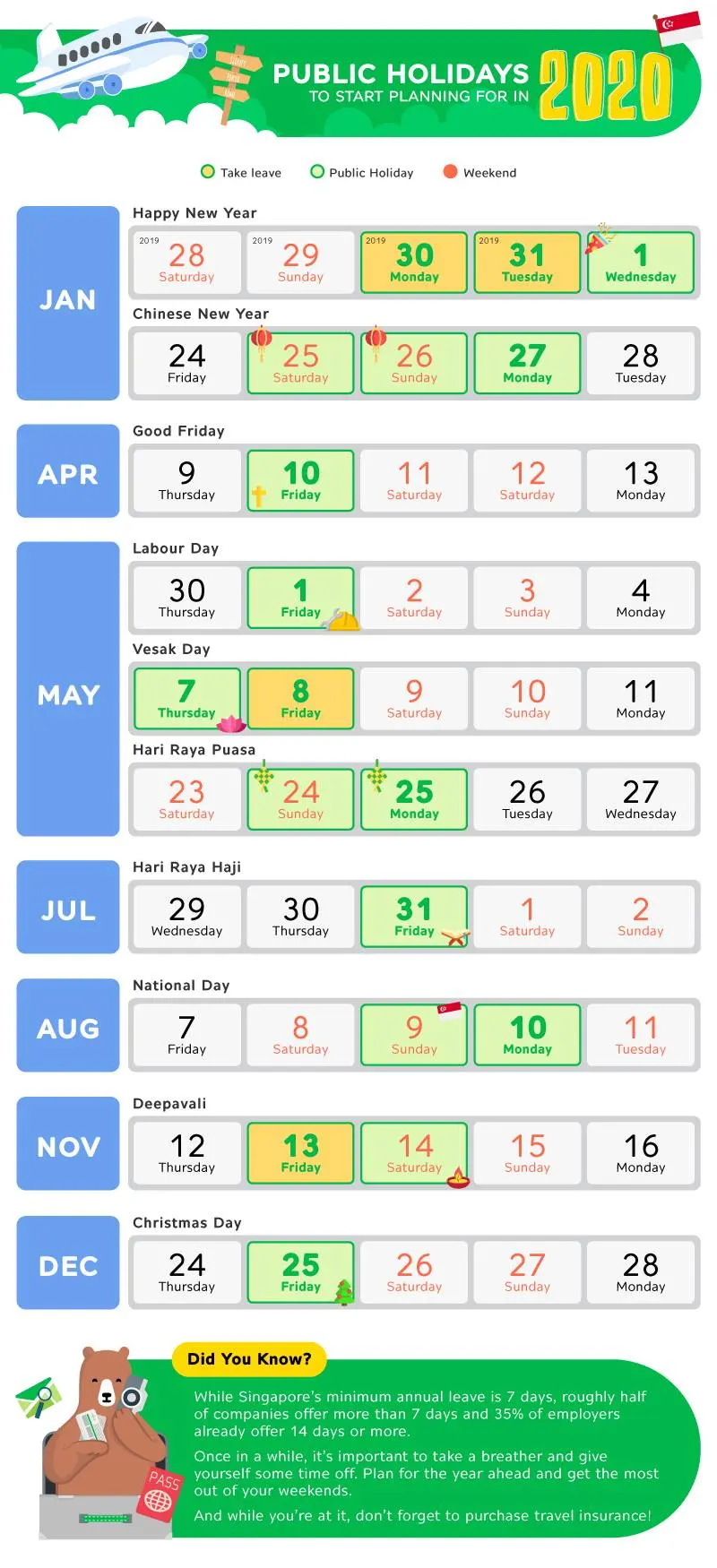 Safety measures
While there'sfun to be had right here inSingapore, it's still important to be mindful of the fact that COVID-19 will still be part of our lives for at least the near future.
As a guest, do take note that you'll berequired to wear a mask within the premises, except when you are in selected areas such as your own room when you'reeating.
With that in mind, it's important to also choose activities and staycationlocations which are SG Clean Certified as required by the Singapore government.
Whatsafety measures are hotelsrequired to take?
According to the SG Clean Certification standards, hotels are required to adhere to stringent safety measures to prevent community spread of the coronavirus.
These include reducing capacity and intermingling, rigorous cleaning and disinfecting regimens and screening guests before entry through the SafeEntry contact tracing system. You'll be able to register for the SafeEntry system through your SingPass app.
See more:5 SingPass app tips for a smoother SafeEntry experience
Conclusion
Andthere you have it!
If you're looking for your next adventure, a staycation will be your best possible optionfor the time being.It's a great chance to get to know Singapore a little bit better while also supporting businesses and their staff such ashotels during this pandemic.
Spend your long weekends enjoying yourself with loved ones, albeit responsibly!
More guides on Finder