Finder is committed to editorial independence. While we receive compensation when you click links to partners, they do not influence our content.
Leasing vs buying outright: Should I lease or buy a car?
How to decide whether to buy or lease a car.
Singapore is the most expensive country in the world to own a car. According to MAS (Monetary Authority of Singapore) regulations, buyers must shell out up to 40% of the car cost for a downpayment (accurate at the time of writing 25 May 2018). So considering new car prices are generally above $100,000 here, you'd need to fork out around $40,000 for an average sedan. To top it off, you'll also need to consider other costs that may not be factored into the car price, such as road tax, maintenance and insurance.
If you can't decide whether to buy or lease a car, you're not alone. Both a lease and a car loan are large financial commitments, so which is better for you? Read our guide below on what's involved with both leasing and buying, the pros and cons and how to find out the best option for you.
Leasing and buying
Leasing a car is basically prolonged car renting. It involves borrowing a vehicle under a contract which usually allows unlimited mileage for the lease term. Leased cars are covered by warranty, comprehensive insurance and the latest models are usually available. Leases also allow you to upgrade your car upon contract maturity.
Buying a car involves purchasing a vehicle so that you own the vehicle outright. You can either make your purchase using a car loan, which can be paid off in a period of up to seven years, or by buying the vehicle outright.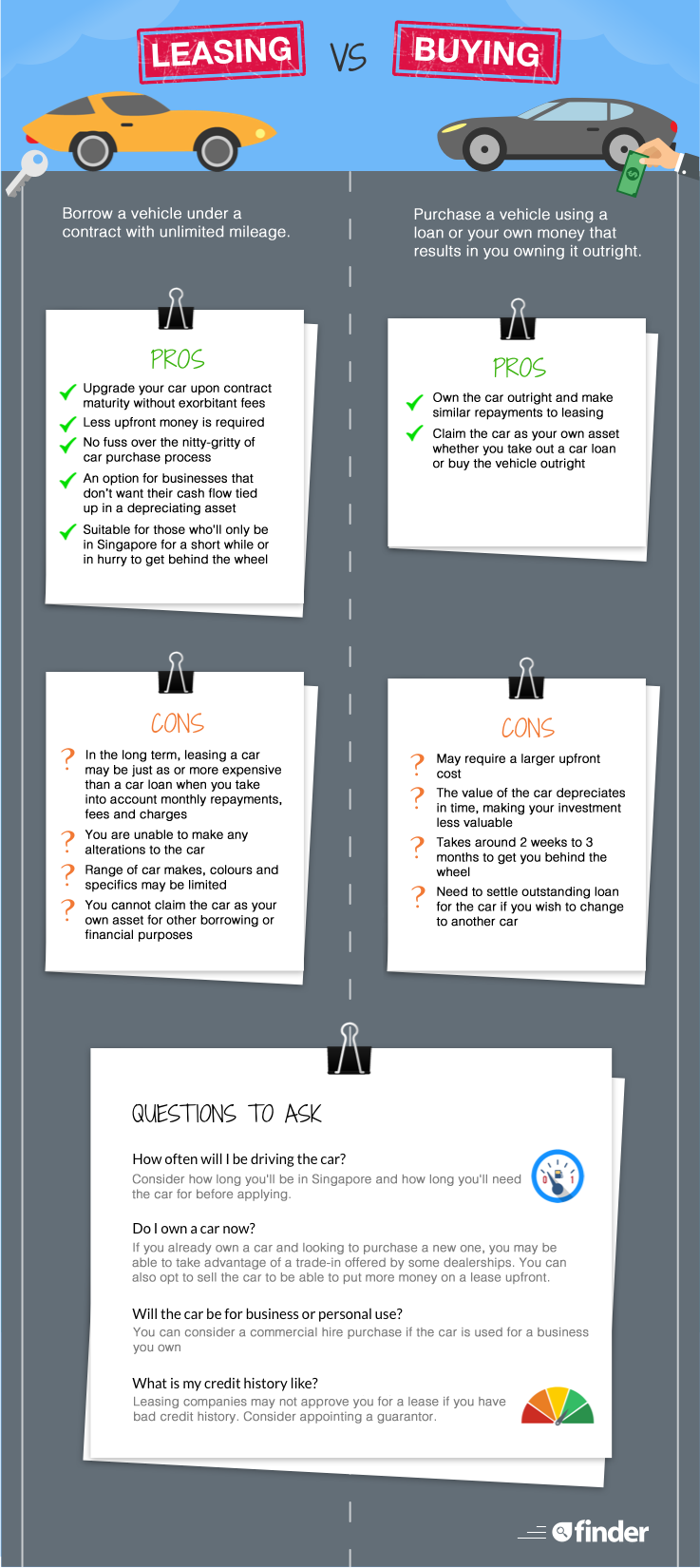 Leasing vs. buying: Questions to ask yourself
How often will I be driving the car? Leases are usually more expensive than buying your own car if you need it for a prolonged period of time. So you need to consider how long you'll be in Singapore and how long you'll need the car for before applying.
Do I own a car now? If you already own a car and are looking at purchasing a new one you may be able to take advantage of a trade-in offered by some dealerships. You also have the option of selling a car to be able to put more money on a lease upfront.
Will the car be for business or personal use? If your car is mainly used for a business you own, you may opt for commercial hire purchase. If you are opting for a personal car, you need to consider how you will be using it and whether a lease or purchase will be best for you.
What is my credit history like? Leasing companies may not approve you for a lease if you have bad credit history, but then again some loan providers may not approve you either. If you have negative marks on your credit file you might want to consider a dealership finance or appoint a guarantor, as this is seen as less of a risk for the lender you may have a better chance of being approved.
Thinking of buying or leasing a car? Here are the pros and cons
Pros
Cons
Leasing

Does not tie you down to a single vehicle and gives you the option of upgrading your car upon contract maturity
Requires less upfront money
Don't need to fuss over the nitty-gritty of car purchase process
Car maintenance, road tax and insurance are covered
Is an option for those who'll only be in Singapore for a short while or in hurry to get behind the wheel
Leasing may be a good option for businesses who don't want their cash flow tied up in a depreciating asset

In the long term, leasing a car may be just as or more expensive than a car loan when you take into account monthly repayments, fees and charges
You are unable to make any alterations to the car
Range of car makes, colours and specifics may be limited
You cannot claim the car as your own asset for other borrowing or financial purposes

Buying

If you decide to take out a loan, your repayments will be similar to what you would pay when you were leasing, but at the end of the term you will own the car outright
Whether you take out a car loan or buy the vehicle outright, you can still claim the car as your own asset.

May require a larger upfront cost
The value of the car depreciates in time, making your investment less valuable
Takes around 2 weeks to 3 months to get you behind the wheel
Need to settle outstanding loan for the car if you wish to change to another car
What financing options are available for cars?
Fixed rate financing.

Car loans in Singapore typically charge "flat" interest rates, as opposed to "rest" interest rates on home loans. This means that the monthly interest payment is constant over the tenure of a loan. For example, a 2% flat rate for a $50,000 loan over 5 years will incur an annual interest of $1,000.

These loans are most commonly offered and sought-after by borrowers looking to purchase a new car in Singapore. Also, all car loans in Singapore are secured loans, meaning the car itself is the collateral for the loan and the lender has the right to repossess it if you're unable to make the repayments.

In-house financing.

For buyers facing rejection or slow turnaround when trying to get a car loan from traditional banking channels, some finance companies or dealership offer in-house loans that they have already borrowed from the banks.

The main drawback of such financing is the significantly higher interest rates.

Balloon financing. A balloon scheme works by excluding the

minimum p

referential additional registration fee (

PARF) rebate

portion of your car loan in the instalments, making the monthly instalments much lower compared to a conventional car loan. However, you'll still need to pay for the PARF at the end of your loan tenure.
The bottom line
Clearly, it's cheaper to buy and own a car in the long run instead of leasing. But due to hefty upfront payments and the hassle of car maintenance, leasing may be the better option for some people. So before you make a decision between leasing and car loan, understand your needs and find an option that suits you most.
Picture: Shutterstock