Finder is committed to editorial independence. While we receive compensation when you click links to partners, they do not influence our opinions or reviews. Learn how we make money.
Credit card late payment and overlimit fees
If you've missed the due date on your statement or maxed out your card, you could be charged a penalty fee. Learn more about late payment and overlimit fees, as well as how to avoid them.
Credit cards come with a range of fees that apply in specific circumstances, including when your payment is late or if you go over your available credit limit.
Having an outstanding balance that exceeds your available credit can occur in various instances. For example, when you request for a temporary credit limit increase and the outstanding card balances exceeds the card's original credit limit.
Other examples would be when annual fees, late payment fees, cash advance fees, interest charges or returned cheque fees are levied upon a credit card with an insufficient credit limit.
How to avoid late payment and overlimit fees
Budgeting is a key factor in avoiding these types of penalty fees as it allows you to keep track of your balance and can help make sure you have enough money set aside to at least meet the minimum payment by the statement due date.
As well as establishing a budget, there are other specific strategies you can use to avoid these fees. We've broken them down below.
Overlimit fees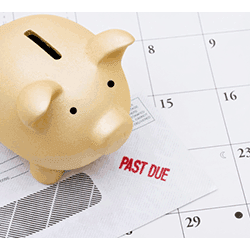 If you exceed your credit limit, your financial institution may charge you an overlimit fee.
Overlimit example.
If you have a card with a credit limit of S$5,000 and regularly spend S$5,000 per month on your account, there is a high risk that you'll go over your limit, especially if there may be unexpected fees levied upon your card. To reduce the odds, you could consider a credit limit increase or pay for some of those expenses with a debit card instead.
Check your balance.
You can download your bank's mobile banking application, log into Internet banking or call your provider to stay informed about your remaining credit. Either plan your purchases so you don't exceed your credit limit or make a payment between statement periods so you can avoid spending past your limit.
Limit your spending.
Some credit cards allow you to set customised spending limits. For example, DBS's Internet and mobile banking apps let you set spending limits per transaction. This can help you manage your money and avoid going over your actual credit card limit.
Late payment fees
If you don't pay at least the minimum required by the due date on your statement, this fee could apply. It may then be charged for each subsequent statement until a payment is made. If this happens, interest will accrue on both the original balance and the penalty charges. You can set up auto-payments so you never miss a credit card repayment. And if money's tight, budgeting can help you make at least the minimum monthly repayment each month.
Late payment example.
You need to budget for at least the minimum payment on your card. So if you had a S$5,000 balance, a minimum payment of 3% would be S$150 a month. If you know this, you can set aside this amount when you're paid so you have enough to meet the repayment requirements by the due date on your statement.
Autopayments.
Autopayments allow you to pay the minimum amount due each month, the entire outstanding balance or a partial amount of your account's closing balance from a nominated transaction account. You can arrange an autopayment to your credit card by logging into your online banking facility and completing an online autopayment form. Alternatively, you can call your financial institution or complete and send in an autopayment form. Autopayments will become active after one statement cycle.
Contact your provider.
If you're strapped for cash and the due date on your statement is looming, you could call your credit card provider to explain the situation. In some cases, you may be able to get a one-off extension on your payment without fees or other penalties applying.
| Card Issuer | Examples of overlimit fees in Singapore |
| --- | --- |
| DBS | S$40 |
| Citibank | S$40 |
| Maybank | 3% of the credit limit, plus the excess over the credit limit |
Bottom line
Spending over your credit limit by a couple of dollars isn't going to cost you, but financial institutions will still charge when you miss a payment. What's more, missing credit card payments can impact your chances of getting approved for other types of finance such as a home loan or a car loan. Make the most of smart credit card features such as auto-payments to make sure your repayments are always on time, helping you to avoid unwanted credit card fees in the future.
Back to top
Compare a range of credit cards
Pictures: Shutterstock