Finder is committed to editorial independence. While we receive compensation when you click links to partners, they do not influence our content.
Is the new OCBC 90°N air miles credit card worth getting?
The latest air miles travel credit card from OCBC bank aims to target a wide group of young individuals looking to spend to accumulate miles. If you're an avid traveller, this card might be for you.
Unlike the OCBC VOYAGE card that is reserved for its Premier Banking customers only (you need at least $120,000 in annual income for that), the new OCBC 90°N credit card only requires an annual income of $30,000 for Singaporeans and PRs.E-pass and S-pass holders will have to earn at least $45,000 annually to apply.
So what are the benefits of this card? Are the travel rewards and miles rewards worth it?
To sum it up, theOCBC 90°N has very attractive miles rewards that are comparablewith the Citi PremierMiles,DBS Altitude, and other existing milescards. And you should seriously considerit if you're an existing or aspiring miles collector who also happens to havean OCBC savings account.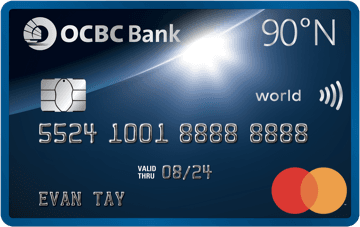 Perks of theOCBC 90°N travel credit card
Miles on local and overseas spending
The OCBC 90°N gives you 1.2 miles per dollar (MPD) on local spend and 2.1 MPD on overseas spend. From now till 29 Feb 2020, you'll get 4.0 MPD on overseas spend with the OCBC 90°N credit card.
Most other miles cards like Citi PremierMiles, DBS Altitude, and AMEX KrisFlyer Ascend offer a similar rate of 1.2 MPD on local spend and a comparable2.0 MPD on overseas spend.
With the ongoing 4.0 MPD promotion, you'll be gettingdouble of what most cards are offering, and is also the highest rate in the market currently. So if you're heading overseas in the next six months, this card isdefinitely worth getting.
Miles on travel and flight booking
With the OCBC 90°N card, you get rewarded8.0 MPD on accommodation bookings with Agoda, AirBNB, Expedia, Millenium Hotels andResorts, and Mr & Mrs Smith. To put things into perspective, say you're goingfor a week-long trip and stay for 6 nights at an average cost of $50 per person per night, this means that you'll be rewarded with 2,400 miles on accommodation for each traveller for that trip!
Additionally, you'll also get 4.0 MPD on flight bookings with AirAsia, Jetstar Asia, Scoot, SilkAir, and Singapore Airlines. Unlike other miles card, there is no limit to the miles you can get from these bonus-tiered rewards.
Besides the travel and flight booking, you'll also get 4.0 MPD reward on spending on Netflix, Spotify, DFS Singapore, and The Shilla Duty Free at Changi Airport. Do check out theterms & conditions for the accommodation bookings as there are specific booking and staying periods for the promotion.
Miles redemption
The OCBC 90°N card rewards users in Travel$, which do not expire. You redeem 1 Travel$ for 1 mile.
Unlikethe BOC Elite Miles and the UOB PRIVI Miles cards where your miles expire, there's no expiry on the Travel$ for theOCBC 90°N card. Having said that you'll need to convert your miles into the respective airlines' miles programme, and currently, you can only convert to KrisFlyer miles with theOCBC 90°N card. Your miles will have a validity of 3 years from the moment they are credited into your KrisFlyer account.
With theOCBC 90°N card, you can convert a minimum of 1,000 miles, whereas the DBS Altitude cardhas a conversion in blocks of 10,000 miles*. Furthermore, there's no conversion fee on the OCBC card; it costs$26.75 per conversion for DBS Altitude and $25 per conversionfor Citi PremierMiles.
Less excitingaspects of the card
Unattractive bonusmiles on spending
Air miles cards usually give you a lump-sum bonus in tens of thousands of miles when you hit the required spending in the first few months. For example, you get up to 30,000 miles when you spend $7,500 on your Citi PremierMiles card in the first 3 months, up to 42,500 miles on the AMEX KrisFlyer Ascend cardand up to 38,000 miles on the DBS Altitude card when you hit the spending requirements.
On the OCBC 90°N, you get $50 cash rebate and 7,000 miles when you spend $5,000 in the first 3 month – that's if this is your first OCBC credit card. If you already have an existing OCBC credit card, you'll only get 3,000 mileswhen you spend $5,000 in the first 3 months.
No complimentaryaccess to airport lounges
While the Citi PremierMiles and DBS Altitude cards give you 2 free visits to airport lounges with Priority Pass, thenew OCBC credit card does not have a similar benefit. You do get discounted prices if you choose to visit the lounge, atUS$27 per person, per visit. This will be raised to US$32 next time.
Here's how the new OCBC 90°N card compares with other existing air miles cards.
| | | | |
| --- | --- | --- | --- |
| Air Miles Credit Card | Local Spend | Overseas Spend | Bonus Miles |
| OCBC90°N | 1.2 MPD | 2.1 MPD (4.0 MPD from now till 29 Feb 2020) | 7,000 miles with $5,000 spend in first 3 months; 3,000 miles for existing OCBC credit card holders |
| Citi PremierMiles | 1.2 Citi MPD | 2.0 MPD | 21,000 miles with $7,500 spend in first 3 months |
| UOB PRIVI Miles | 1.4 MPD | 2.4 MPD | NA |
| AMEX KrisFlyer Ascend | 1.2 KrisFlyer MPD | 2.0 MPD | 5,000 miles with the first spend, 27,000 miles with $10,000 spend in first 3 months |
| DBS Altitude | 1.2 MPD | 2.0 MPD | 10,000 miles on sign-up, 10,000 miles with annual fee payment all requiring $6,000 spend in first 3 months |
Should I get theOCBC 90°N travel credit card?
If you're planning for an upcoming big expense like your wedding, you'll probably be able to get more miles with other air miles credit cards that have attractive spending bonuses.
Having said that, if you're looking beyond the lump-sum bonus miles or just looking at day-to-day expenses, the OCBC 90°N credit card offers a very competitive miles reward programme at 1.2 MPD on local spend and 2.1 MPD on overseas spend. Further, if you're planning to travel in the next 6 months, thecard will definitely reward you with plenty of milesfor your flight and accommodation bookings and for your overseas expenses, especially with the 4.0MPD and 8.0 MPD promotions.
Also, if you already havean OCBC savings account, remember that there's a component where you get a bonus interest rate when you spend $500 or more a month on your OCBC credit card. You'll be getting 0.3% per annum bonus interest on the first $35,000 balance and 0.6% per annum bonus interest on the next $35,000 balance in your OCBC 360 account.
Previously, most people relied on their OCBC 365 credit card to hit this bonus interest.Now, there's another option in the form of an air miles credit card. So if you're after the miles and you have an OCBC 360 account, the OCBC 90°N credit card is definitely something you should consider.
Compare Air Miles
Credit Cards with GoBear
Updated: 4 October 2019.
P.S. If you're aiming for the bonus spending miles or if your savings account is with another bank, you may not feel a need to get the OCBC 90°N credit card. That's alright because you can stillconsider one of these air miles cards in our GoBear promotion – we're giving away 2,000 KrisFlyer miles for each approved sign-ups of DBS Altitude, Maybank Horizon, and Citi PremierMiles cards! Plus, 5 lucky winners will each walk away with 10,000 bonus miles at the end of the month!
Sounds good already? Stay tuned as we've more exciting cards and promotions lined up for you!
Related articles:
Tips to squeeze the most out of your KrisFlyer miles
6 air miles hacks you probably never knew existed
Win a pair of Halloween Horror Night tickets when you sign up for a new credit card!
More guides on Finder
Singapore Airlines KrisFlyer Rewards Program

The Singapore Airlines KrisFlyer program is a frequent flyer program ideal for people travelling to Asia on a regular basis, offering great benefits including a high rate of return on mileage points.