Finder is committed to editorial independence. While we receive compensation when you click links to partners, they do not influence our content.
Is a savings account the best way to grow your money?
One of the most basic steps of investing is to start with a savings account that earns a good interest. Most people have their salaries credited into their bank accounts, which already fulfils one of the common criteria to clock the bonus interest on that account.
Add in the necessary monthly spending like credit card purchases or making bill payments, these expenditures can add to the bonus interest rates.
On another hand, you might have saved up a substantial amount of money but it's not earning you much interest. Or you might have already maxed out the cash limit for the bonus interest on your savings account, and subsequent deposits only get you a measly 0.05% interest per annum.
So which is the best account bank to credit your salary into? Which one offers the best interest rate? What other ways can get youearn a high interest besides using a savings account?
In this article, we feature a short explainer video for you to learn about savings accounts and fixed deposits. Then, scroll further to look at some of the best interest rates for savings accounts across different banks, and also how they compare againstother low-risk assets like fixed deposits and the Singapore Savings Bond (SSB).
What is a savings account?
A savings account is a type of bank account where you store your money and get interest returns for storing it with the bank. Compared to a current account which usually bears zero or close to zero interest, or a fixed deposit account that requires a larger quantum and comes with a lock-in period, a savings account gives you the flexibility to use your money when you want towhile earning you interest.
These days many banks have tiered bonus interest fortheir savings accounts, and you'll get a higher interest rate the more transactions you perform with your chosen bank. So which bank is most suitable for you? It depends.
Compare Savings Accounts On GoBear
Interest rates from different banks
OCBC 360
The OCBC 360 savings account has been a popular choice in the past years because it has one of the best interest rates for crediting of salary. Although the rates have beenrevised, this remains one of the most competitive ones out there.
OCBC 360 has four ways for you to earn bonus interest, and the rates vary for your first $35,000 and your next $35,000.
| | | | | |
| --- | --- | --- | --- | --- |
| | Credit Salary of $2,000 or more | Spend $500 or more on OCBC credit cards | Increase account by $500 or more over the previous month | Get insurance from or invest with OCBC bank |
| First $35,000 | 1.2% | 0.3% | 0.3% | 0.6% |
| Next $35,000 | 2% | 0.6% | 0.6% | 1.2% |
As such, it's important to note that you'll only get the bonus interest up to a maximum of$70,000 stored in your bank account. Subsequent amounts will earn you0.05% interest per annum.
Realistically, most people can easily get the bonus interest for credit of salary and increase of account balance (assuming you save more than you spend), so you can expect to earn a 1.5% interest on the first $35,000 saved and 2.6% for the next $35,000 per annum.
Recommended for: First-jobbers who might have lower salaries and lesser capital, who are well within the $70,000 limit, the 360 account lets you hit over 2% bonus interest per annum easily.
DBS Multiplier
The DBS Multiplier Account has recently adjusted its incentives. Hitting the lowest 1.55% per annum interest is relatively easy, and you can even make use of a joint account to combine efforts with your other half to hit the higher-tier interest rates.
| | | | |
| --- | --- | --- | --- |
| Total value of eligible transactions, with salary credit | First $50,000, with salary credit AND 1 transaction category | First $50,000, with salary credit AND 2 transaction categories | Next $50,000, with salary credit AND 3 transaction categories |
| Less than $2,000 | 0.05% | 0.05% | 0.05% |
| $2,000 to <$2,500 | 1.55% | 1.80% | 2.00% |
| $2,500 to <$5,000 | 1.85% | 2.00% | 2.20% |
| $5,000 to <$15,000 | 1.90% | 2.20% | 2.40% |
| $15,000 to <$30,000 | 2.00% | 2.30% | 2.50% |
| $30,000 or more | 2.08% | 3.50% | 3.80% |
The catch about the DBS Multiplier is that you have to credit your salary in order to hit any bonus interest. Your credited salary is also included in the "total value of eligible transactions".
The best part about the Multiplier account is that of the four transaction categories – credit card spend, home loan instalments, insurance premiums, or investment sum – any amount spent in that category would be considered as a qualifying transaction type.
For example, John* who gets his $4,000 monthly salary credited into his Multiplier Account, spends $600 on his credit card, and invests $400 with DBS, has a total of $5,000 in eligible transactions. As he qualifies across 2 transaction categories, he gets 2.20% interest per annum on his first $50,000. To expand beyond the $50,000 limit, he has to spend in one more category, which will also qualify him for the 2.40% interest per annum for his next $50,000.
One of the hacks for hitting the higher-tiered interest is to work together with your partner. To do that, each person must have an individual DBS Multiplier Account, and then open a joint account with POSB or DBS.
The "total value of eligible transactions" is calculated using any DBS/POSB accounts, which means that if you both credit your salariesand your investment dividends into the joint account, it'll be easier to hit the higher-tiered interest.
Thereafter, both of you have to transfer the money from the joint account into your respective Multiplier accounts to earn interest in those accounts. Note that the first and next $50,000 limit applies separately to each Multiplier account.
Recommended for: For couples who do not mind the hassle of crediting their salary into a joint account, and then transferring it out into their respective Multiplier accounts, this can be a combined effort to hit a higher interest on their savings accounts.
Standard Chartered Bonus$saver
The Bonus$aver account offers up to 3.88% interest per annum on up to $100,000 in your bank account. While that is certainly the highest interest thus far, it is more difficult to hit the maximum interest rate.
| | | | |
| --- | --- | --- | --- |
| Salary credit of $3,000 or more | Credit card spend of $500/$2,000 or more | $12,000 or more in annual insurance premium or $30,000 or more for eligible Unit Trusts | Pay 3 bills of $50 or more via GIRO |
| 1% | 0.88% ($500 or more), 1.88% ($2,000 or more) | 0.75% | 0.25% |
As you can see, if your salary is only $3,000 and if you're aiming for the 1.88% bonus with $2,000 or more incredit card spend, that means you're spending more than 2/3 of your salary. While that is possible, it also means that you'll only be earninginterest on less than $1,000 saved each month.
It only makes sense to aim for that bonus interest if you're earning a lot more than $3,000. Realistically, if you earn the minimum of $3,000, and spend $500 and pay 3 bills of more than $50 each, then we're looking at 2.13% per annum in interest.
Recommended for: People who earn more than $3,000 a month or have a decent sum of capital to invest. Given that you have to spend and invest quite a bit to clock the bonus interest of 1.88% and 0.75% respectively, you should think about how much money you'll be leaving in the account to earn the interest.
UOB One Account
The UOB One Account differs from many other savings account in that the required criteria to clock the bonus interest rate is to spend $500 on the credit card (instead of the usual salary credit). Also, the bonus interest is tiered in multiples of $15,000 up to a limit of $75,000 as you'll see in the following table.
First $15,000
Next $15,000
Next $15,000
Next $15,000
Next $15,000
Credit card spend of $500 or more
1.50%
Credit card spend of $500 or more + salary credit of $2,000 or more OR 3 GIRO transactions
1.85%
2.00%
2.15%
2.30%
3.88%
To clock the higher tier of interest, you'll need to credit your salary of $2,000 or more OR to make 3 GIRO transactions. These come on top of the required $500 spend on your UOB credit card.
As the bonus interest is tiered across every $15,000, the effective interest you get assuming a $75,000 amount is 2.44% per annum. Any subsequent amount above $75,000 will have an interest of 0.05% per annum.
Recommended for: Anyone with $2,000 or more in salary whowill spend at least $500 a month can consider getting the UOB One account.For those who are hitting the bonus limit on their first savings account, consider shiftingpart of your monthly spending to a UOB card and you might be able to extend the bonus interest into another $75,000.
BOC SmartSaver
The BOC SmartSaver account has an attractive bonus interest tier for those who have a salary credit of at least $6,000 and if you spend at least $1,500 on the BOC cards.
Credit card spend of $500/$1,500 or more
Salary credit of $2,000/$6,000 or more
Pay 3 bills of $30 or more via GIRO
0.8% ($500 to <$1,500),
1.6% ($1,500 or more)

0.8% ($2,000 to <$6,000),
1.6% ($6,000 or more)

0.35%
For the BOC SmartSaver, the above bonus interest is limited to the first $60,000 on the account. Although this is a relatively small amount, they offer an interest rate of 0.60% per annum for the account balance above $60,000 and up to a maximum of $1,000,000.
This makes it attractive for those who are able to clock a high salary credit, and who have hundreds of thousands of dollars in their savings accounts. To put things into perspective, say you have $400,000 that clocks 0.60% interest per annum on this account versus 0.05% in another bank account, that's a difference of $2,200 a year in interest.
Recommended for: For high-income individuals who draw $6,000 or more every month, or for those who have a six-figure sum in their savings account, the SmartSaver account has one of the best rates.
Maybank SaveUp
For Maybank's SaveUp account, there is a base interest rate of 0.1875% per annum for the first $3,000 and 0.25% for the next $47,000. Thereafter, you can earn bonus interest from9 types of products and services.
| | | |
| --- | --- | --- |
| 1 product or service | 2 products or services | 3 products or services |
| 0.3% | 0.8% | 2.75% |
It could be crediting of your salary, making three GIRO payments, spending on your credit card, investing, paying for your insurance premiums, or getting a loan for your car, home, renovation, or education. If you happen to require any of these services, you'll easily hit the maximum bonus interest of 2.75% per annum, which is on top of the base interest.
However, the top and middle tiers have a difference of almost 2% interest per annum. If you're not able to use 3 products or services, you're looking at around 1% interest per annum only. The other downsideis that the bonus interest applies only to the first $50,000.
The upside is that for any amount above that, it'll accrue an interest of 0.3125% per annum, which is higher than the 0.05% offered by several other banks.
Recommended for: If you are likely to use one of the many products and services, then opening a savings account with Maybank makes a lot of sense as you'll be able to clock the bonus interest rate easily.
Interest rates for the savings accounts mentioned above are accurate as of 27 June 2019.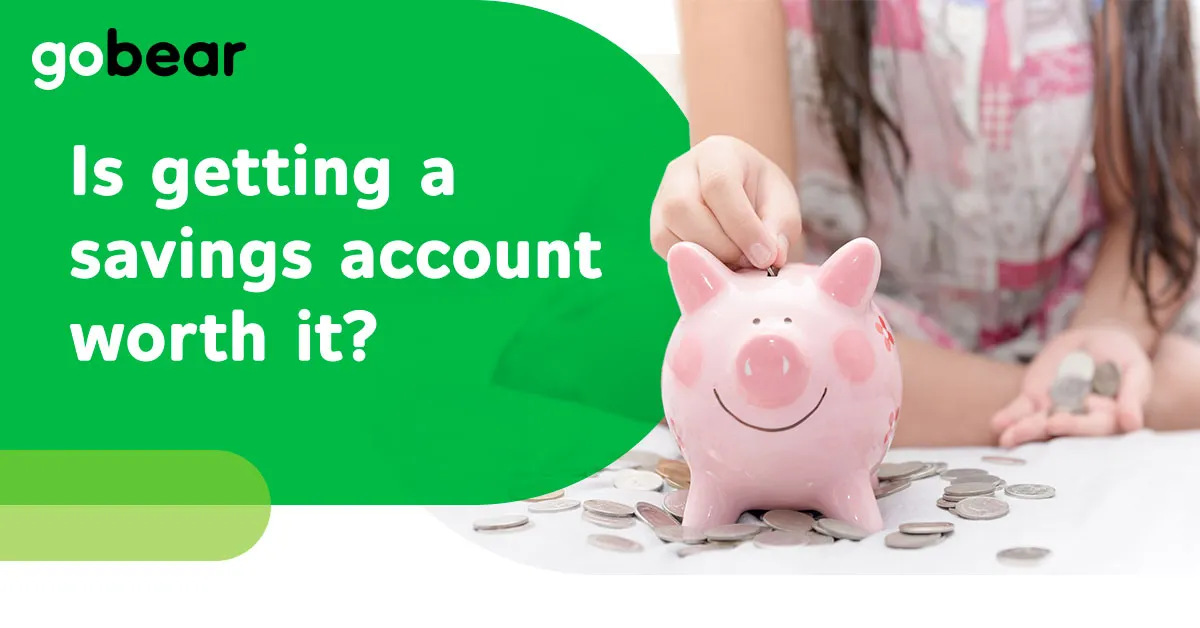 Alternatives to a savings account
Let's say you have accumulated a sum of capital, and you've maxed out your limit on the bonus interest for the salary-credited savings account. You can open another savings account, but it'll be harder for you to hit the bonus interest without fulfilling the salary crediting component.
That's when you might want to consider putting your money in a different asset like a fixed deposit account, or perhaps the Singapore Savings Bond (SSB).
What is a fixed deposit account?
A fixed deposit account (also called a time deposit or term deposit) is a type of savings account where you put your money in it for a fixed period without withdrawing it. The interest that you get on the account depends on how much (the quantum) and how long (the tenure) you lock up your savings for.
Generally, the more money you put in and the longer you lock up, the higher the interest you can expect. However, do not expect over-the-top interest rates from fixed deposits.
In 2019, we're looking at between 1% to 2% interest per annum at best for a deposit of $10,000 for a period of 1 to 2 years. You can easily get a gauge of your expected interest earned from different fixed deposits available, simply by entering your deposit amount and tenure on GoBear's comparison platform.
Pros:
With fixed deposits, you get a competitive interest rate compared to leaving it in a savings account, assuming you've maximised your limit from your salary-credited savings account. Also, you do not have to worry about performing the transactions just to clock the bonus interest.
Cons:
On the downside, your money is locked up for the period and you'll not be able to withdraw or put more in the account. You can however open another fixed deposit account.
If you need to withdraw the money in an emergency, you'll probably have to forfeit the earned interest, and might even have to pay a penalty fee for early termination of the fixed deposit plan. This means that you have to be sure that you only lock up a sum of money that you can do without for the next few years.
What is the SSB?
A bond refers to a sum of money you loan to a corporate or a government. The Singapore Savings Bond is a bond offered and backed by the Singapore government, which means that it carries a very low risk.
Although the tenure of the bond is 10 years, you can withdraw it at any time without having to pay any penalty fee. As the interest is paid every six months, if you withdraw before the interest payment period, you'll be forfeiting any interest earned to date.
For July 2019, the interest rate of SSB starts at 1.93% per annum for the first 3 years. For every subsequent year after the third year, the annual interest will also increase, up till 2.55% in the 10th year. Hence, it pays to hold your bond longer as you'll be earning progressively higher interest on the invested sum.
Bonds are sold in multiples of $500, and individuals can hold a maximum of $200,000 worth of SSB at any point in time. For those who have hit the bonus interest limit on their savings account, and are looking to put their money into a low-risk asset, the SSB is a viable alternative.
Pros:
SSB is a low-risk investment that earns you interest that might be higher than that offered by fixed deposits. You can also withdraw the money any time without having to pay a penalty, so your money is not technically locked up.
Cons:
The interest offered by SSB may not be as attractive as that offered by a savings account if you're holding it for the short term; it is comparable if you hold for the entire 10 years. There is also a limit of $200,000 of SSB that you can hold at any time.
Savings Account
Fixed Deposit
SSB
Bonus interest, per annum.
Usually 1% to 3%.
Depends on qualifying transactions.
Generally less than 2%.
Depends on amount and tenure.
Starts at 1.93% (as of Jul 2019). Increases yearly after third year.
Minimum sum
Usually $500
Usually $1,000
$500
Maximum sum for bonus interest
$50,000 to $100,000.
Varies across banks.
No maximum. You can get a new plan, but cannot add on to an existing one.
$200,000
Lock-in periods
Not applicable
Usually at least 1 year
Not applicable
Liquidity
Can withdraw any time without any penalty
Withdrawal will forfeit earned interest and incur a penalty
Can withdraw any time without penalty, may forfeit earned interest
Pros
Easy to clock bonus interest with salary credit; money is very liquid
No limit to how much you can buy
Low-risk bond with decent interest rate; can withdraw any time without penalty
Cons
Limit to the applicable bonus interest you can earn; may have to spend and buy bank products to earn the bonus
Cannot add on to existing plans; illiquid with lock-in period and penalties
Higher interest only kicks in after third year; limit of $200,000 of bonds
Rates above are accurate as of 27 June 2019.
Conclusion
Given that most people credit their salaries into their bank accounts, it makes sense to start by choosing a savings account that offers the best interest. Depending on your salary, how much you expect to spend, and the other bank services and products that you plan to take up, you'll want tofind a savings account that gets youa higherinterest rate.
The drawback of a savings account is the bonus-interest limit. If you've managed to save beyond the $50,000 to $100,000 limit, you'll want to consider where else to put your money to earn more interest.
Whether you're looking at another savings account, fixed deposit, or SSB, they all have their pros and cons. Beyond the interest rates, you've to think about how much you're putting in and how long you're willing to leave the money untouched.
You might even want to consider allocating a part of your savings in riskier assets like robo-advisorsor peer-to-peer lending platforms. The most important aspect of investing is to know exactly what you're putting your money into and to look widely at different products before deciding on one.
Your first step to being financially savvy starts from learning and comparing.
Related articles:
Everything you need to know about savings account in Singapore
Everything you need to know about fixed deposit in Singapore
Make your fixed deposit do more than earn an interest