How to send money to Australia
Send money to Australia using an international money transfer service and you could beat the bank's rates.
With over 20,000 Australian expats in Singapore, money transfers to Australia are increasingly accessible and efficient. Depending on the method you need to send or receive money in Australia, you have the convenience of many options — cash, bank deposit, or peer-to-peer apps.
If you don't need cash right away (such as through a service like Western Union or MoneyGram), there are online services available that can get your transfer to its destination in 1-5 days, with no fees and great exchange rates.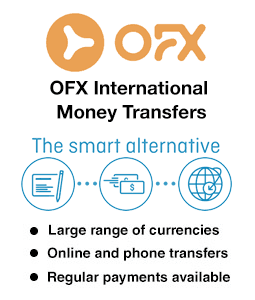 Send money to Australia with OFX
Get competitive exchange rates and low fees when you send money abroad with OFX, with discounted exchange rates when you sign up through Finder.
$0 fee for all transfers with no maximum limit
Send to over 75 countries around the world
Can use for personal transfers as well as for your business
Find the best money transfer to Australia
Use our comparison calculator to assess transfer fees, exchange rates and other details for sending funds to Australia with our money transfer partners.
Disclaimer: Exchange rates change often. Confirm the total cost with the provider before transferring money.
Banks vs. money transfer specialists
The familiarity and security offered by banks make them appealing to some. But banks typically offer weak exchange rates and high fees to send money to Australia.
For the majority of your international money transfers, you're better off using an independent money transfer specialist.
Sending $1,000 to Australia
The Lees need to send $1,000 for books and living expenses to their daughter studying in Sydney. While they appreciate the convenience of running down to their local bank, at their daughter's nudging they've decided to compare their bank's rates and fees to a popular online money transfer specialist.
| | Major SG bank | Online money transfer company |
| --- | --- | --- |
| Exchange rate | 1 SGD = 0.9756 AUD | 1 SGD = 0.9889 AUD |
| Transfer fee | $25 | $3 |
| Transfer method | Bank deposit | Bank deposit |
| Transfer speed | Up to 5 days | 1–2 days |
| Total AUD received | 975.60 AUD | 988.97 AUD |
The Lees are blown away: Not only can they save $22 in fees by sending money with a money transfer company, but their daughter will also receive 13.37 more Australian dollars — and in only a few days.
Get a better deal when sending money to Australia
By comparing just a few elements of your transfer, you can ensure that you get the cheapest deal for your needs:
Exchange rates. Compare the rate you're offered to the mid-market rate and look for the smallest margin between them.
Fees. Generally, you'll pay either a flat fee (for example, $5 for transfers up to $5,000 — or a percentage of your total transaction (such as 1% of your transfer amount).
Transfer methods. Banks and other services offer transactions online, by phone or in person. Each option carries different fees.
Transfer options. Independent transfer services like OFX and World First offer competitive exchange rates and fees. But if your recipient needs to pick up cash, compare options like WorldRemit.
Transfer speed. If it needs to be there fast, companies like Western Union and MoneyGram allow for quick cash pickups, often in minutes. If you've more time, you'll get better rates and fees with an independent provider.
Transfer amounts. Your best option might depend on how much you want to send. For large transfers, weigh the best exchange rate — especially since providers encourage large transfers by offering low fees. For smaller amounts, consider the fees you'll pay on top of the exchange rate.
Customer service. Most companies offer customer service through Internet chat, phone, in person or by email. Make sure help will be available if you need it.
What is the mid-market rate?
The mid-market rate is what your money's actually worth on the global market compared to another currency. It's the midpoint between worldwide supply and demand for that currency — and the rate banks and transfer services use when they trade among themselves.
Use the mid-market rate as a baseline to compare against the rates provided by your bank or transfer service. With it, you'll discover which companies offer the best rates.
Emergency cash transfers to Australia
Sometimes in life emergencies require faster delivery to friends, family and businesses in Australia. If you need to initiate a money transfer quickly, consider the exchange rate you're offered against the transfer fees you'll pay.
Although time is crucial, taking a few extra steps before confirming your transaction could save you a lot of money — and prevent any nasty surprises down the road.
What will I need to send a money transfer to Australia?
In general, to initiate an international money transfer, you'll need to provide:
Your full name and contact information.
Government-issued ID, such as your NRIC or passport.
Your recipient's full name and contact information.
How you're sending the money, whether for cash pickup at an agent location or for deposit to your recipient's bank account.
If a bank transfer, your recipient's bank name, routing and account numbers and SWIFT code.
Accepted method of payment.
What is a SWIFT code?
Short for the Society for Worldwide Interbank Financial Telecommunication, a SWIFT code is an international bank code used for incoming transfers. Overseas banks each have a unique SWIFT code that identifies which bank to send money to.
Bottom line
Overseas money transfers are easy, no matter which method you choose. But knowing how to compare your options gives you a leg up in terms of cost, rates and transfer speeds. An informed choice is your better choice.
Frequently asked questions
Cash pickup locations in Australia
Read more on this topic