Finder is committed to editorial independence. While we receive compensation when you click links to partners, they do not influence our content.
How to save money on your wedding with credit cards
Weddings in Singapore aregrand occasions, sometimes far less for the bride and groom and more for excitedfamily and friends to share in the festivities.
It's no doubta special day, and one you'll want to reminisce aboutwith your soon-to-bespousefor years to come.
Wedding band?Photographer? Catering? Wedding venue? Decorator?Wedding costscan add up before you even say "I do".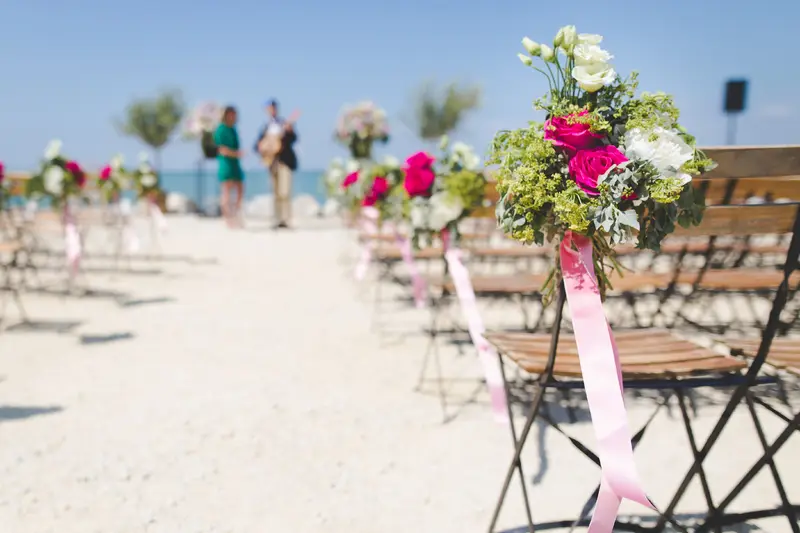 So how do you plan the wedding you've been dreaming ofwithout breaking the bank?
A crazy amount of debt is no way to start off a marriage. Fortunately, there are ways to avoid racking up enormousdebt during your weddingbyspending with the best credit cards as effectively as possible.
Save on wedding costs by usingmultiple credit cards
Most wedding expensesare big-ticket items. Consider the banquet hall, photographerand your wedding dress. These are large expenses that most people will require a certain amount of credit to purchase.
In order to make the most of your expenses and cut back on the amount of debt you'll owe after the wedding, take a closer look at your expenses and split themaccordingly.
Splitting wedding expenses among different credit cardsallows you to maximise your spending, minimise your debt and rack up rewards or points instead. It's all about spending efficiently to cut down your costs as much as possible.
Best credit card types to use for wedding purchases and expenses
Cashback credit cards
What's better than getting your cashback once you've spent it? Cashback cards give you some relief knowing that a portion of what you are spending is credited back to you as a rebate.
Trust the Bear on this, in the throes of planning your wedding, cashback will be a lifesaver when you're in need of extra funds.
With thelarge lump sum amounts you'll be spending on your wedding, you'll be making the most of a cashback credit card. That being said, aim to get a credit card withunlimited cashback or one thatdoes not have a cap or maximum cashback amount.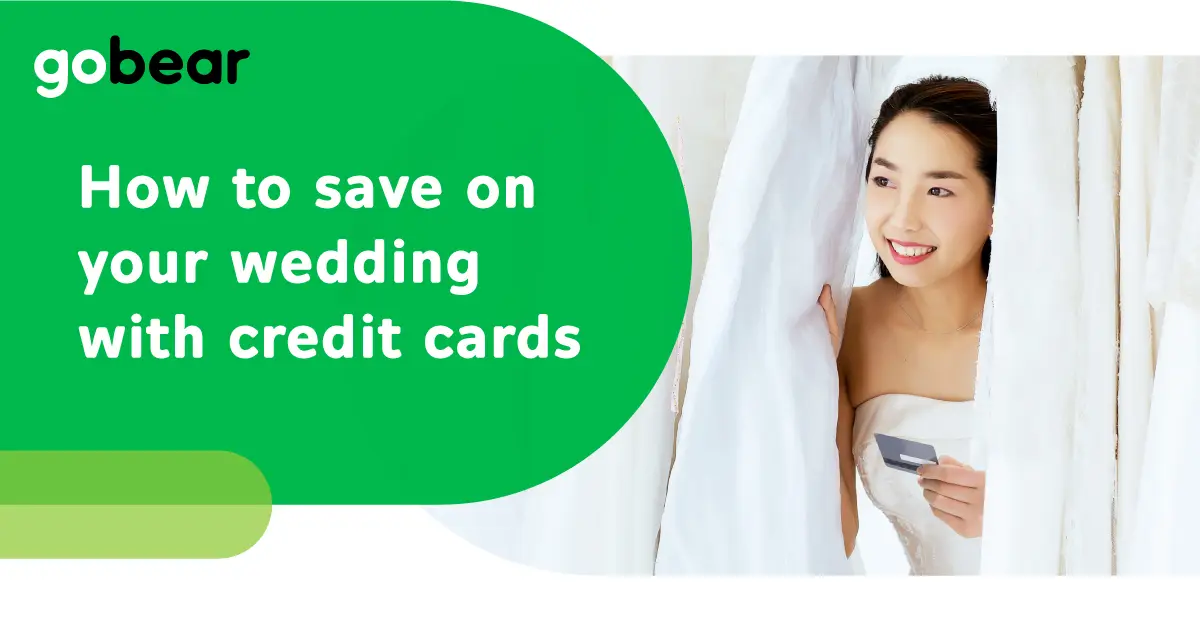 Credit cards may seem more attractive because of a higher cashback rate, sometimes going up to 8%. However, this won't do you much good for huge lump-sum amountswhen the maximum cashback you can receive is capped at S$60, for instance.
Instead, look for credit cards with unlimited cashback with no caps and preferably no minimum spend amounts.
One option might be the Maybank FC Barcelona Visa Signature Card which offers a1.6% cashback rate on dining, shopping, petrol and entertainment expenditures with a minimum spend of S$0 and no cap. Register for this card through GoBear and receive a free American Tourister luggage bag worth S$260, perfect for your honeymoon.
You might also consider the Standard Chartered Unlimited Cashback Credit Card which offers a 1.5% cashback rate on anything you spend with no minimum spend or cashback cap amount. On top of that, sign up for this card by 31 December 2019 and receive S$80 in cashback!
Another type of cashback credit card to consider would be one that rewards early spending within the first few months of signing up for the card. For example, theAmexTrue Cashback Card offers a 3% cashback on the first S$5,000 of spending within the first 3 months of signing up for the card.
Rewards credit cards
Your next option could instead be collecting rewards points using a rewards or airmiles credit card which you can redeem to use for other wedding expenses.
Think of it as a game to take some of that wedding planning stress away. Be strategic about how you spend with your credit cards, collect enough rewards points or frequent flyer miles, redeem themand possiblyfund your entire honeymoon!Ding ding ding!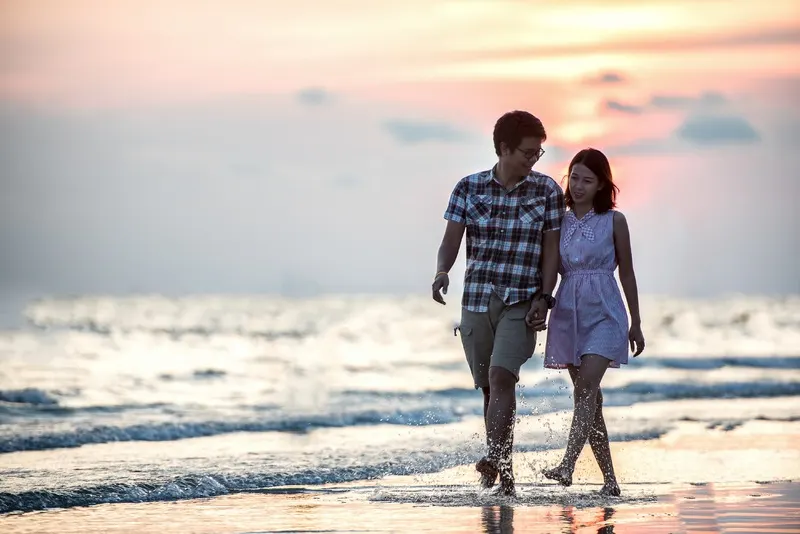 One option would be the HSBC Revolution Card. Earn 5x rewards points for every S$1 spent on dining, entertainment or online transactions which can later be redeemed in the form of miles or other gifts listed in their catalogue.
With the HSBC Rewards Catalogue, you'll have a chance ofredeeming 10,000 KrisFlyer miles, a 2 days, 1 night staycation at W Singapore ora S$50 jewellery voucher redeemable at Joyalukkas or Lee Hwa Jewellery. Rewards also include cooking and electronic appliances, which you'll probably need for your new home with your significant other.
Alternatively, a common way couples save on wedding expenses is to use Airmiles credit cards to collect frequent flyer miles for their honeymoon.
If you're going with an Airmiles credit card, be sure to take note of when your miles expire as well as how many miles you'll eventually need for your honeymoon.
| See also: Tips to squeeze the most out of your KrisFlyer miles |
Here are a few options for you if you're after the most bang for your buckmiles.
| | | |
| --- | --- | --- |
| UOB PRIVI Miles | 1.4 MPD on local spend | 12,000 miles with $4,000 spend in first 60 days; 20,000 miles with $50,000 annual spend on UOB AMEX |
| Citi Premiermiles | 1.2 Citi Miles PD on local spend, can convert to different miles program | 21,000 miles with $7,500 spend in first 3 months and payment of annual fee; 6,400 miles with $3,000 spend in first 3 months. |
| AMEX KrisFlyer | 1.1 KrisFlyer Miles PD on local spend | 5,000 miles with the first spend, 7,500 miles with $5,000 spend in first 3 months, 5,000 miles for referring a friend |
| AMEX KrisFlyer Ascend | 1.2 KrisFlyer Miles PD on local spend | 5,000 miles with the first spend, 15,000 miles with $10,000 spend in first 3 months, 7,500 miles for referring a friend |
| DBS Altitude | 1.2 MPD on local spend | 10,000 miles upon sign up (5,000 miles for existing customers), 10,000 miles with annual fee payment, all requiring a $6,000 spend in first 3 months |
Consider holding yourwedding banquet outside the hotel
While you may have dreams of a hotel wedding banquet, it's definitely worth considering the alternative of holding your wedding banquet at a restaurant outside.
The reason for this being,rewards points collection often excludes dining and entertainment merchants within hotels.
Why?
Dining at a hotel is charged to the same hotel management company. A credit card provider won't be able to differentiate what exactly the money was spent on ifa lump sum is paid to the hotel including awedding banquet, food and bridal suite.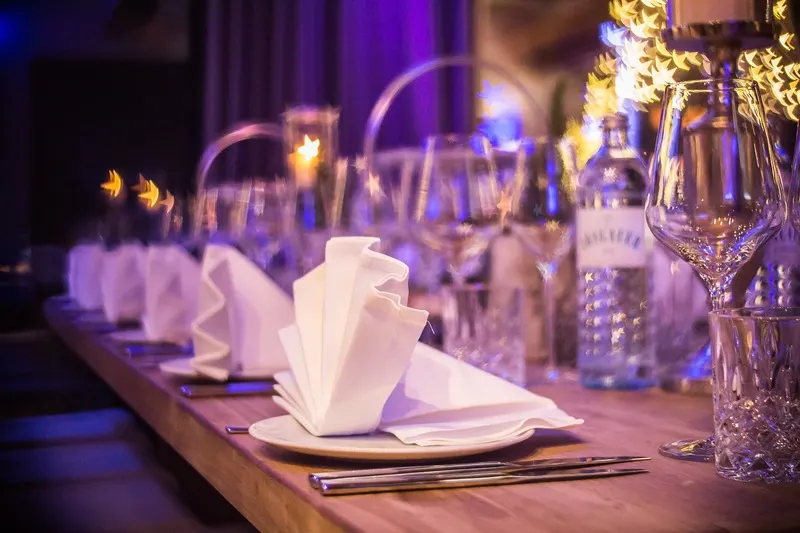 Ultimately, it's worth thinking about whether you want to sacrifice those precious miles and rewards points for a wedding banquet at a hotel. Have a look around at restaurants outside hotels which could offer you just as memorablean experience.
Explore wedding fairs
Looking for great deals? Be sureto check out any wedding fairs or exhibitions going on near you where you'll be able to save big withwedding packages.
Taste wedding cakes, smellthe bridal bouquets and survey wedding invitation designs while you have a walk around the exhibition. It's a great way to geta better sense of what you want for you and your partner'sbig day.
When attending a wedding fair, you'll want to come prepared. One way to do this would be to visit the exhibition early on to get a sense of what packages are available and make a second trip later on once you've decided what you and your partner are keen on.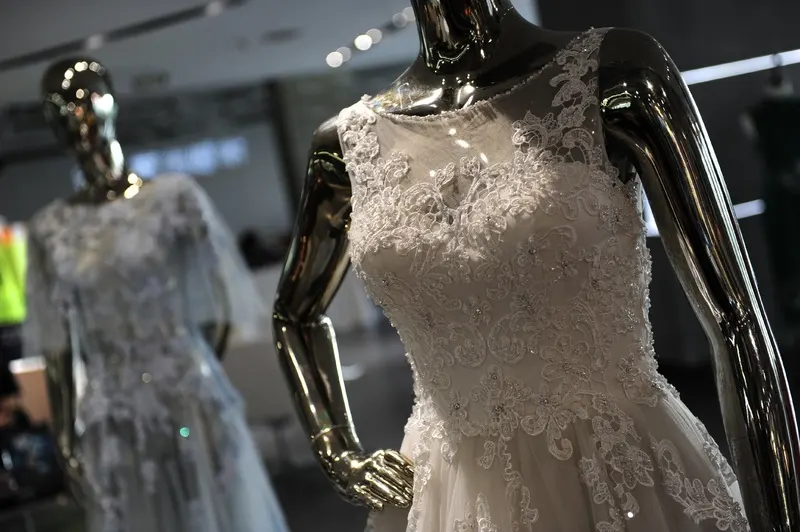 Alternatively, you could collect name cards from the vendors you have shortlisted and contact them at a later date once you have decided on specificindividual vendors.
That way, you know exactly how to distribute your payments accordingly and how to maximise the rewards on your credit cards.
It can be easy to get carried away amidst the bustle ofa wedding exhibition, but remember, it's always better to forgo that wedding package if you're still unsure. Don't feel pressured into signing up just because you're already there.
Top mistakes when using a credit card for wedding expenses
Try to avoid making these mistakes while choosing the best credit card to fund your wedding:
Signing up for a credit card that has attractive bonuses, withoutbeing awareof high annual feesyou'll have to pay thereafter.
Makinglate payments, particularly with credit cards with higher interest rates. When making payments, always opt for an easy payment plan when possible
Not increasing your credit limit even when the option is available. The lower your expenditure to credit limit ratio, the better your credit score will remain
And there you have it,you're all preparedto save big on your wedding expenses. There's no reason to break the bank when spending with the right credit card!