How to mint an ERC-721 NFT on the OpenSea platform
OpenSea is one marketplace which caters to beginners looking to mint NFTs, as it offers off-the-shelf tools and solutions that will take care of some of the hard work for you.
Founded in January 2018 by American developers Alex Atallah and Devin Finzer, OpenSea was once known as the eBay for CryptoKitties but has grown to become a general-purpose online marketplace for non-fungible assets.
If you haven't already done so, go to OpenSea and create a profile.
Click where it says "My Collections".

OpenSea uses these collections as a default organising system for user-created NFTs. It makes the platform simpler to navigate and stops things from getting confusing when you start to really take off. "My Collections" is where you'll be able to find your NFTs going forward.

Click "Create a collection" to get started.
When prompted, type in what you want to call your collection, a brief description and upload an image.

If inspiration doesn't strike, don't worry – none of this is permanent at this stage and you can change it all later.

Note that you're given a choice of blockchains to use – to create an ERC-721 NFT, you can use Ethereum.

Once your collection has been created, it's now time to upload the files you'll actually be using to create your NFT.Select "Add item" from the menu and choose the file you want to upload – the official maximum file size is 40MB, but bear in mind that if you go over 20MB, the process will slow down considerably both for you and anyone who wishes to buy your NFT.

An extensive range of file standards are supported: JPG, PNG, GIF, SCG, MP4, WEBM, MP3, WAV, OGG and GLTF.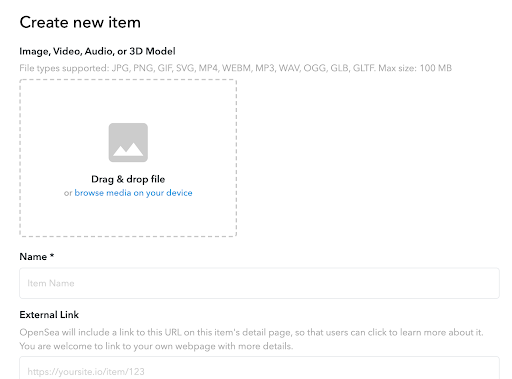 Once your file has been uploaded, that's it – you have created your first NFT!Your new NFT will have a unique address and its total supply embedded in its identifying data.

This means that you're the only person who can mint more, even if you sell it to someone else. If you do mint more NFTs of the same file, each new buyer will be able to see what "number" version they have – kind of like a serial number.

It's now time to get your collection looking slick for any potential buyers, so we recommend updating your banner image.

Click on the pencil icon in the top right of the window to upload a banner image – the ideal size is 1400 x 1400, and it's a good idea to avoid text.

This will help set your collection apart from the crowd and give it a unique identity all of its own.

We strongly recommend you tag your collection with as many social links as possible to help spread the word about your project.If you click the "Edit" button, you are presented with a range of options.

First, choose a category to tag your collection to help people find it. Then, you can link to the various relevant social platforms, as you can see:

You can link to your own website, Twitter, Instagram, Telegram, Medium or Discord.

In the same "Edit" window, you can determine if you want royalties when another user sells your NFT. These come from the price another buyer pays for the asset and are paid monthly – the maximum is 10%.
You can also set which tokens other people can use to buy or sell your NFT.Readers with more technical experience may prefer to create their own bespoke ERC-20 token, but most users will be happy with the pre-set options of ETH, WETH, DAI and USDC.