Finder is committed to editorial independence. While we receive compensation when you click links to partners, they do not influence our content.
Fastest ways to make an emergency money transfer
Whether to pay for unexpected medical bills or bail a vacationing friend out of trouble, here's how to transfer cash fast.
Money transfer services offer some of the fastest ways to transfer money to someone in cash or for direct deposit in an emergency — but which provider you should use depends on how much you're sending and how quickly you need it to arrive.
Compare the fastest international money transfers
Even though speed is crucial, compare exchange rates and fees to make sure you aren't paying too much for your transfer.
Disclaimer: Exchange rates change often. Confirm the total cost with the provider before transferring money.
Three of the fastest services to transfer money
When there's an emergency, getting money out as quickly as possible is key. These three service providers deliver the fastest money transfer services easily and safely.
WorldRemit
WorldRemit is entirely online, meaning you can access it from the convenience of your computer or its app. It operates in more than 140 countries around the world with flexible transfer options from your bank account, credit card or debit card.
Your fastest option is mobile money (if available) or for cash pickup at a WorldRemit agent location.
WorldRemit at a glance
Maximum transfer: $50,000
Minimum transfer: $1
Transfer speed: Within 1 hour
Transaction fee: $3.99
How can I send money quickly?
You'll need to sign up for a free account with WorldRemit. You'll also need to provide your personal information, the transaction details and your payment information.
What happens next?
WorldRemit will confirm the transaction with both you and your recipient by email or text and notify you when the funds are received or picked up. If you have any problems, you can contact customer service 24/7 by phone or online through live chat.
Back to top
MoneyGram
As the second-largest provider of international money transfers in the world, MoneyGram is one of the most trusted. Its extensive network of 350,000 agent locations has a presence in more than 200 countries.
With MoneyGram, sending funds can take minutes depending on local regulations and procedures. Your fastest option is to pay with a credit or debit card (or with cash at an agent location) and choose the cash pickup option. Once the money is sent, it arrives for almost immediate cash pickup at locations worldwide. In some countries, you even have a mobile wallet option.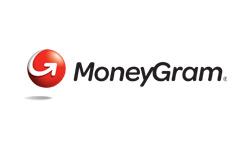 MoneyGram at a glance
Maximum transfer: $13,750
Minimum transfer: $1
Delivery speed: Within-hour
Transaction fee: Anywhere between 3% and 7% of the transfer
How can I send money quickly?
Use MoneyGram's online locator tool or call to find a location near you.
What happens after?
Once the money transfer is complete, the receiver can visit their nearest MoneyGram location to collect it. Remind them to bring along their reference number (which is included in the confirmation emails for online transfer) and ID for pickup. If you have a problem, contact customer service through the site.
Back to top
Western Union
Western Union has the biggest network of agent locations with 500,000 agent locations in 200 countries. You can send funds online, through a mobile app, in person or by phone. You're able to pay with a bank transfer, cash, debit card or credit card.
As with MoneyGram, your fastest option is to pay by debit or credit card for cash pickup.
Western Union at a glance
Maximum transfer: $50,000
Minimum transfer: $1
Transfer speed: In minutes if cash pickup
Transaction fee: Typically around 5% of the transfer
How can I send money quickly?
Visit a Western Union location near you with cash.
What happens next?
You'll receive a unique Money Transfer Control Number with your confirmation. You can track your transfer online with this number. If you have any problem, contact customer service 24/7 at 800-325-6000 or through the online form on Western Union's site.
Back to top
What do I need to look out for when sending cash quickly?
Fees for emergency transfers will vary among banks and money transfer services. Before you make your transfer, compare:
Exchange rates. Money transfer services make money by skewing exchange rates. You'll want to look for a rate that's as close to the mid-market rate as possible.
Transfer fees. Fees can range from flat fees of a few dollars to up to $80 or more, depending on how you're sending it or picking it up.
Transfer options. Can your recipient accept a bank account transfer, or do they need to pick up cash right away?
Security. For emergencies, you'll appreciate being able to track your transfer through to receipt.
What is the mid-market rate?
The mid-market rate is what your money's actually worth compared to another currency. "Mid-market" refers to the midpoint between worldwide supply and demand for that currency. Use this rate as a baseline to compare against the rates provided by your bank or transfer service. With it, you'll discover which companies offer the best rates.
Is there a limit to how much I can transfer?
Most banks have a maximum amount you can send per day. But your maximum will be higher – or unlimited – if you use an online money transfer service. WorldRemit is an online service that offers competitive rates and low fees with virtually no maximum transfer.
Some money transfer services have fee-free thresholds, which means that sending a larger amount could help you avoid paying transfer fees altogether.
Bottom line
Being robbed of your valuables, needing emergency medical treatment or missing your return flight home can be stressful. But having the ability to quickly receive funds or help loved ones far away can let off at least some of the pressure. If you have a little more time, however, compare your available options for international money transfers.
Frequently asked questions
More guides on Finder
Instarem Amaze review

Benefit from 1% cashback, low-cost FX payments and seamless expense management with the Instarem Amaze card.

Kraken vs Coinbase

We compare the key differences between two of the most popular cryptocurrency exchanges in terms of fees, features, customer support and more.

YouTrip vs Revolut in Singapore

YouTrip and Revolut are two popular digital banks in Singapore. We compare everything you need to know about them to pick the right one.

Libertex review

Libertex offers zero spreads on 250+ tradable assets, including stocks, cryptocurrencies and ETFs. Learn more in our review.

Neat Business review

Learn how Neat works in Singapore and what your business stand to gain with the account and card.