Finder is committed to editorial independence. While we receive compensation when you click links to partners, they do not influence our content.
How to choose your first credit card
Choosing your first credit card might feel like some serious adulting, but it doesn't have to be as complicated as you think. Once you've understoodthe basics of how credit cards workand know which questions to consider, you'll be all set to choosing the right credit card for you.
Depending which credit card you select based on your own personal spending style, you'll be on your way to some exciting rewards and benefits, and some (hopefully responsible) spending!
What to consider when choosingyour first credit card
Credit cards 101
First things first, before you decide on your first credit card, you'll want to understand the basic terms, features and conditions of eachcredit card you're considering.
Choosing an unsuitablecredit card without understanding its terms and conditionsis a recipe for unnecessarydebt, bad credit scores, and acredit score report that's going to follow you around for a long time.
So with that in mind, here are a few elements of credit cards you'll need to be familiar with before you can effectively decide on your first credit card.
Annual fees
Annual fees are not created equal for different credit cards. Typically, the credit cards with the highest annual fees are cards which offer more benefits, such as air miles, rewards and dining privileges.
The fee is charged to your credit card once a year and usually on the anniversary of your credit card activation.
When considering annual fees, try and calculate or estimate whetheran annual fee will be outweighed by the great benefits associated with it,that the credit card offers. For instance, if you're someone who travels frequently and could save a lot on your flight expenses with an air miles credit card, try and figure out if the savings you'll make are worth the annual fee you'll be paying.
Interest rates
Credit cards don't have the best reputation when it comes to interest rates. High interest rates can land you in a significant amount of debt if not managed carefully, which is why this is a huge factor to consider when choosing your first credit card.
While we always recommend paying your credit card in full each month, there may be instances where you forget or simply can't because of other emergency expenses. This is where interest rates really matter. When you carry your balance to the following month or beyond, a high interest rate can have you accumulating significant amounts of debt really quickly.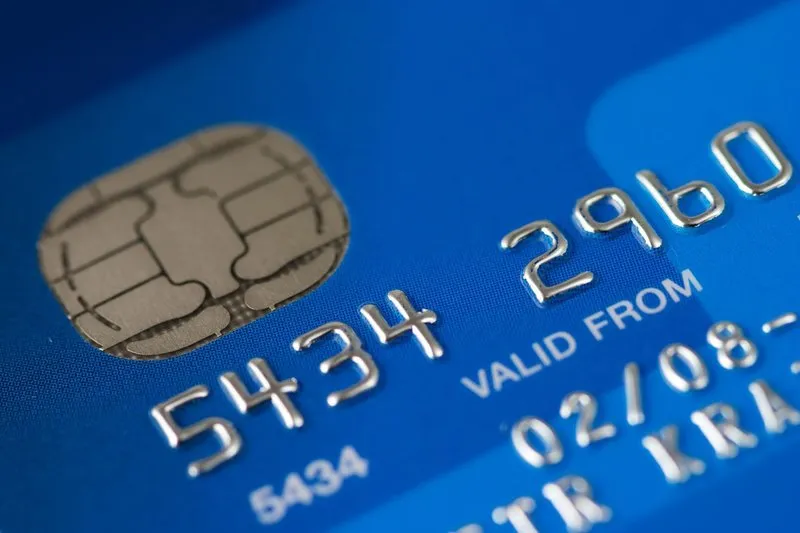 Unfortunately, as a first time credit card holder, interest rates are usually on the higher side which is why it's still a better choice to religiouslypay your credit cards in full every month.
Rewards
Rewards come in all shapes and sizes with your credit card. Thesecould beair miles earnedwhich help you save onflights during your travels, points you canaccumulate to save onpetrol, hotel or lounge privilegesor cashback rewards. Whichever type of rewardsyou choose needs to be based on your own spending habits and which type of credit cardyou stand to gain from most.
Credit limit
If you're a first-time credit card holder, your hands might be tied on this one. Normally, your credit limit is dependent on your current monthly income and yourcredit score.The longer you use your credit card, pay your credit card payments on timeand build a solidcredit history, the more likely you'll be able to increase your credit limit when the time comes.
| See also:Top 5 most prestigious credit cards in Singapore for Crazy Rich Asians |
Why do you want the credit card?
To build credit history
Getting a credit card is the easiestway to build a consistent credit history or credit profile over time.
All sorts of loans (whether it's a car loan, personal loan, home loan) take into account your credit score when you apply for them. Credit scores are one of the best ways for lenders to determine how reliable you are as a borrower, how likely you areto make your repayments on time, orhow likely you are to default on them.
Credit Bureau Singapore, which is the leading consumer bureau in Singapore, creates credit profiles based on your past credit behaviour and determines a score according to its own grading system.
If you choose a suitable credit card, maintain making your payments punctually and always pay in full to avoid late fees, and you'll be on your way to a great credit score.
On the flip side, delaying getting your first credit card means you'll be missing out on the opportunity to build a credit score, meaninglenders and banks will not have any record to determine if you'recredit worthy orasafe borrower.This can greatly decrease your chances of getting approved for loans in the future.
To make an expensive or large purchase
Some expenses could require hundredsof dollars at once, and paying these amounts inlump sums every timemay not always be practical. For instance, you might have to buy a sofa which is on sale andcosts $200 for your new apartment. Unfortunately, you'reshort $50 according to your monthly budget.
While you know that your expenses will free up in a few days when your salary comes in, unfortunately the sale price ends before then.After the sales ends, you'll need to pay the original price of$300, meaning you'll lose $100 on the same sofa!
Instead, with a credit card, you're given the freedom topay the sales price of $250with your card without worrying about any interest as long as you pay the full amount by the credit card payment due date.
To earn and accumulaterewards
Credit cards offer more types of rewards than ever. Air miles, free gifts, cashback, free vacations, the list goes on. The typeof rewards you'll want for your first credit card will vary on your own personal spending style and what you think will financially benefit youmost in the long term.
What's your spending style?
Everyone has their own spending style and personality based on their individual spending habits. Understanding which type of spender you are will help you decide on your first credit card and help you make the most of your spending.
Which spending style do you have?
The procrastinator
Are you prone to missing deadlines? Waiting till the last minute to handin assignments? Could you be betterwith schedules?
With your first credit card, these are habits you'll want to get under control. However, it's also important to understand that changing these habits takes time.
Until you get the hang of paying your credit card bills on time every month, you might want to be pragmatic and opt for a credit card with the lowest late fees andinterest rates possible to avoid landing in a mountain of debt!
What to look for in your first credit card: low late fees & interest rates
The bargain hunter
Your friends know you as the one who knows when all the sales start. While you do love shopping, you regularly keep an eye out for all the best discounts and pride yourself on knowing the exactright time to buy an item at the very best price.
As with all your other purchases, choosing your first credit card should be no different. Have a look around and do your best to find a credit card that offers you the very best deal. You'll want to consider a first credit card which haspartneredwith F&B or retail merchantsyou frequent quite often, offering you discounts at these merchants which will save you a lot over time.
What to look for in your first credit card: best deals, discountsor promotions
The penny-wise spender
You enjoy the simple life andaren't keen to make large, expensive purchases unless absolutely necessary or to further big dreams or goals you have. You're big on minimalism, self-discipline and are not a fan of shopping or dining out too regularly. These are admirable and rare qualities and you're exactly the type of personality credit card providersand banks have no qualms aboutlending to.
If this resonates with your spending style, you might consider a credit card with cashback rewards which allow you to save money without having to spend on retail, travel or dining.
What to look for in your first credit card:cashback rewards
The high roller
You enjoy the finer things in life, whether it's dining atthe best restaurants,shopping at premium outlets or traveling in style. You enjoy indulging or treating yourself every once in a while as well asyour friends and family. For your first credit card, it's really important to find a card that's going to reward you for your spending as much as possible.
What to look for in your first credit card:dining and shopping privileges, local spending rewards
The jet setter
Restless to visit exotic destinations? Love the excitement of visiting foreign destinations and learning about different cultures? If travelling the world is high on your bucket list, it's best you find a card that's going to help you live that dream.
For your first credit card, consider choosing one which rewards you for your travels and saves you on flights through accumulated air miles. You could also opt for a card which rewards you with points on overseas spending.
What to look for in your first credit card: overseas spending rewards, air miles card
| See also:Best credit cards to rack up bonus airmiles for a free flight (2019) |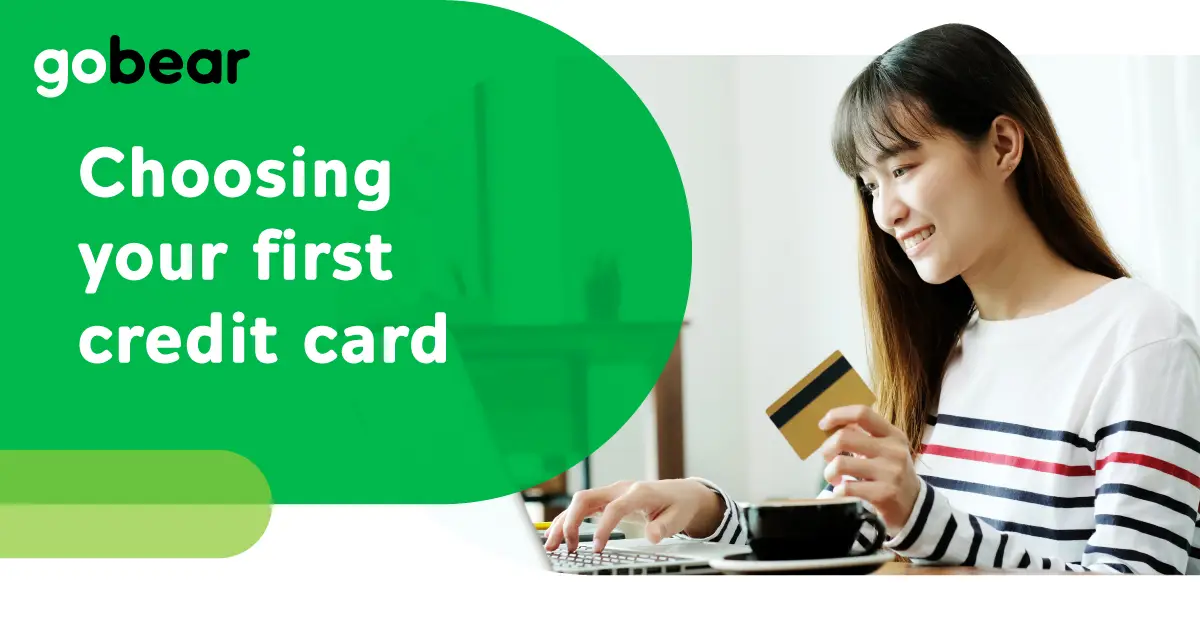 Conclusion
There's a credit card out there to suit everyspending style and personality. It's a big decision, and one that will likely impactthe future of your finances.
To choose the best credit card, especially your first one, it's best to get a sense of what your options are. Compare what's out there, and you'll have a better idea of which credit cardwill make the most financial sense for you long-term.
Good luck!