Finder is committed to editorial independence. While we receive compensation when you click links to partners, they do not influence our content.
How savvy are you with your credit cards?
In today's digital world, a credit card is man's best friend.
You can get by daily life and pay for all the transactions literally with the flash of your card.And it gets you more rebates and discounts than if you were to use cash!Furthermore, you'rerequiredto make payments only at the end of the month.
Of course, these conveniences comeat the cost of high interest rates on late payments andannual credit cardfees. With so many different cards out there, how do you know which is the right one for you? Does it mean that you should get as many cards as you can? Probably not. In the following sections, we share some common tips that savvy card users swear by.
Get a card that suits your needs
Credit cards have different benefits. Most commonly, they reward you with cashback, air miles, or reward points. Cashback cards give you a percentage rebate on your spending; air miles cards getyou air miles that you can redeem for flights and accommodations; rewards cards give you points that you can redeem for vouchers.
There isn't a best option here and all the cardscan get you attractive discounts and rebates if you use it rightly. For example, if you fly multiple times a year, consider an air miles cards to redeem for flights and accommodations. If you prefer to see your rebate right away, then the cashback card might make more sense.
As long as you choose to pay with a credit card, you'll generally be getting a better deal compared to paying with cash or a debit card.
Compare card benefits and promotions
Banks offer attractive gifts and promotions to get more credit card sign-ups. These include instant cash,cash vouchers,expensive branded luggage, and a lump sum of miles.
As their promotions change all the time, aneasy way to find the best credit card promotions is to use a comparison tool like GoBear, which aggregates the various cards and promotions from different banks. On GoBear, all you need to do is to enter your expected monthly spending across different categories, and you'll get to see a list of cards, the potential air miles or cashback you'll get, along withthe various promotions offered by the banks.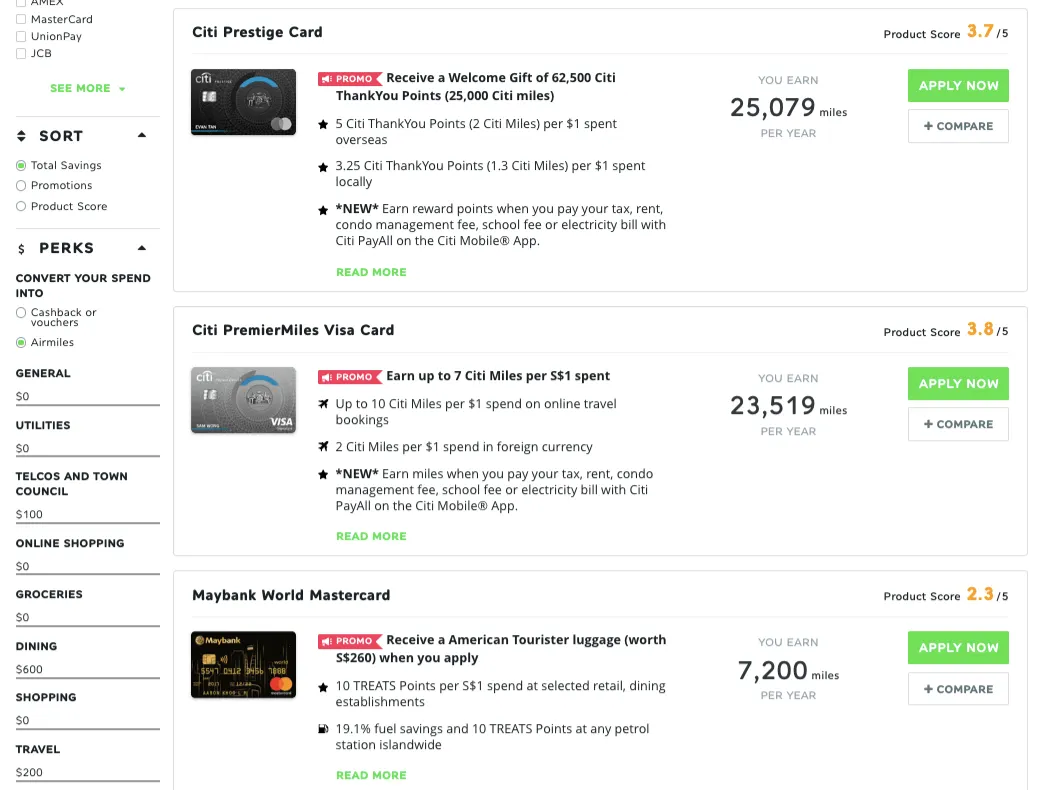 In general, it's a good time to sign up for a credit cardwhen:
There is a sign-up promotion
You're a new customer
The card is new on the market
You need to make big purchases
Strategise your spending across multiplecards
There are two things to look out for when comparing across these cards – minimum spending to clock a certain cashback rebate, bonus points, or bonus miles, AND maximum reward you can get from each category of spending.
Cashback cards with high cashback rates (5% to 8%)usually have a cashback cap and minimum spending requirements; that's when you have the option for an unlimited cashback card like the AMEX True Cashback Card or the Maybank FC Barcelona Visa Card.
Air miles cards also have a similar rewards cap on the promotions that gets you 4 or 8 miles per dollar(MPD) of spending. Otherwise, there is no limit to the air miles you can earn on their usual rate, which is around1.2 to 1.4 MPD on local spending and 2.0 to 2.2 MPD on overseas spending.
With these in mind, you should think about maximising your rebates and rewards by spreading out your spending across multiple cards. For example, if you're expecting to have a big expenditure like your wedding, home furnishing, or overseas travel booking, charging them to an air miles card can help you earn the lump sum bonus miles on many of the cards.
As for day-to-dayusage, be careful not to spread yourself too thin across too many cards as you want to be able to hit the minimum spend on each card.It can also get messy and hard to keep trackif you're using too many cards, so strategise your spending and consider usingan expenditure tracking app.
Pay your bills on time
The dangerous thing about credit card is the high interest rates on late repayment, which is usually above 25% per annum. When your credit card debt compounds, and you continue to spend without making repayments, you'll soon find yourself deep in debt. If this happens to you or someone you know, fret not, there are some solutions like a Debt Consolidation Planthat will help someone who's in serious debt.
Nonetheless, the point here is to make sure you pay your bills on time. You can even consider using GIRO to makeautomated credit card repayments. Even with automated repayments, be sure to check your credit card bills every month to make sure that you're not charged wrongly.
Get an annual fee waiver
The cost of using credit cards is their annual fee, and many cards waive it for first-time customers in their first year. You'll also likely be able to get a waiver if you use the card regularly.
On some cards, you'll have to pay the annual fee in order to qualify for the air miles in the following year. For some cards like Citi PremierMiles, you'll get bonus miles when youpay the annual fees.
Generally, if you've decided not to use the card anymore or hardly use the card, you'll be charged an annual fee, following which you should make a call to your credit card provider to have the annual fee waived.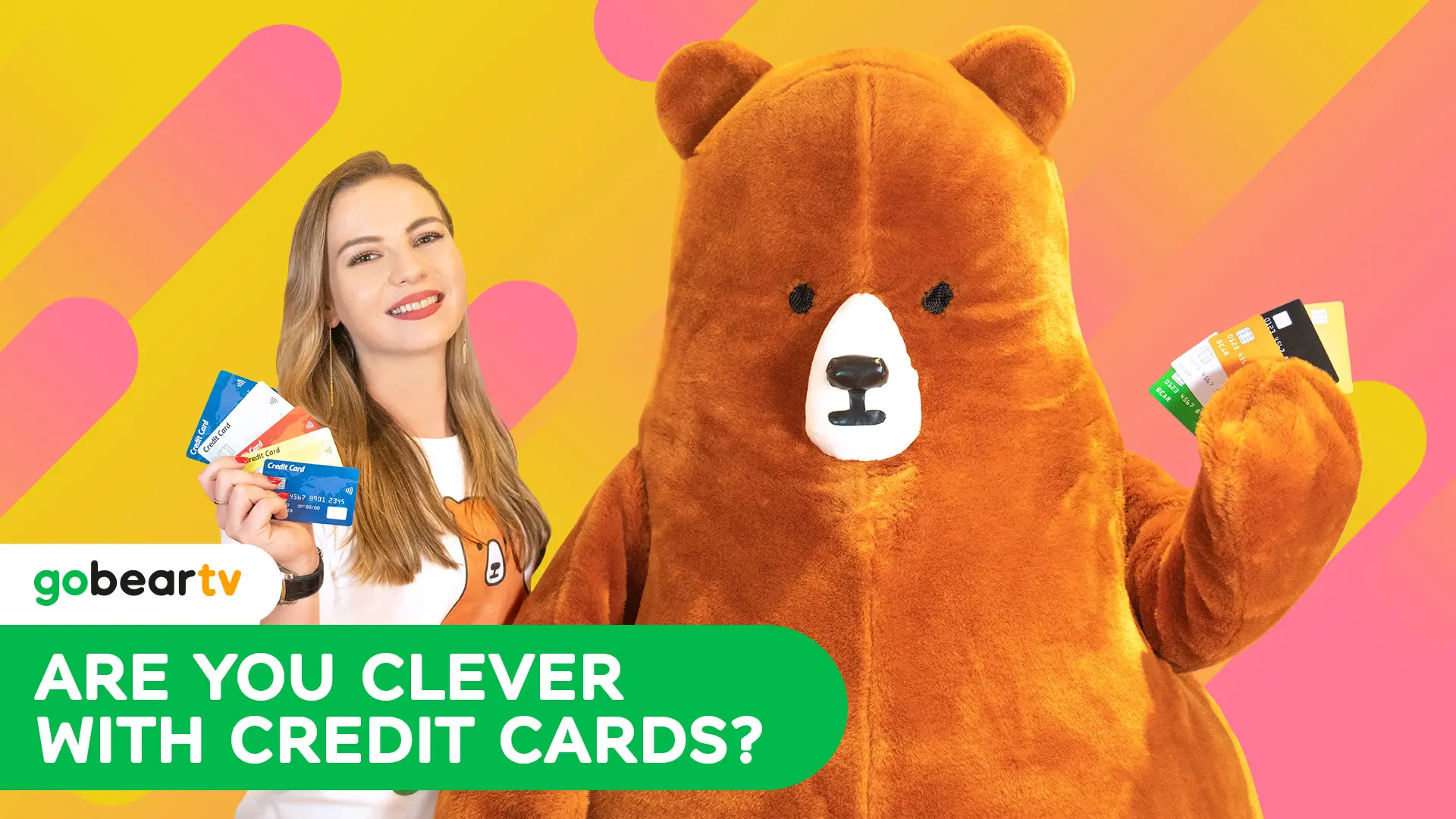 Conclusion
Credit card is an extremely valuable and convenient payment tool. Yet, it can be very costly if you're not careful with your spending or if you do not make your repayments on time.
Having said that, if you put in a little effort to find the card(s) that best suits your needs, rest assured that paying with your credit card can get you a lot more rebates and discounts than if you were to use cash or a debit card.
Be smart with your credit card. Start by comparing and finding a card that best suits your need with GoBear.
Compare Credit Cards On GoBear
Related articles:
Is the new OCBC 90°N air miles credit card worth getting?
The best cashback credit cards for shopping this GSS