Finder is committed to editorial independence. While we receive compensation when you click links to partners, they do not influence our content.
Have you met SORA? The new norm for home loans in Singapore
Your home loan interest rates will have a new benchmark, according to Monetary Authority of Singapore (MAS). In a nutshell, the Singapore Overnight Rate Average (SORA) has been recommended to be the main benchmark for SGD financial markets, replacing both Singapore Interbank Offered Rate (SIBOR) and Swap Offer Rate (SOR).
Traditionally, the interest rates of floating rate home loans are usually pegged to the SIBOR. When that rises, your home loan interest rate rises too, which means you fork out more for your home loan repayments that month.
What is the Singapore Interbank Offered Rate (SIBOR)?
The Singapore Interbank Offered Rate, or SIBOR for short, is currently the most common benchmark to which home loan interest rates are pegged. If you're currently repaying a floating rate mortgage, it's almost certain that your interest rate is pegged to SIBOR.
SIBOR is calculated through the ranking of rates of the 20 banks, with the top and bottom quartiles removed. The remaining banks' rates will be averaged to get SIBOR.
The plan is to discontinue SIBOR in the next three to four years and replaced by the SORA.
What is SORA?
SORA, or Singapore overnight rate average, is a new alternative benchmark interest rate that was recently introduced to the market. Benchmark interest rates like SORA and SIBOR are used to reflect the cost of borrowing in the market. However, SORA offers more transparency, as it is based on the average rate of all interbank lending transactions.
Compared to SIBOR's convoluted method of ranking banks and then removing the top and bottom quartiles, SORA's method is way simpler.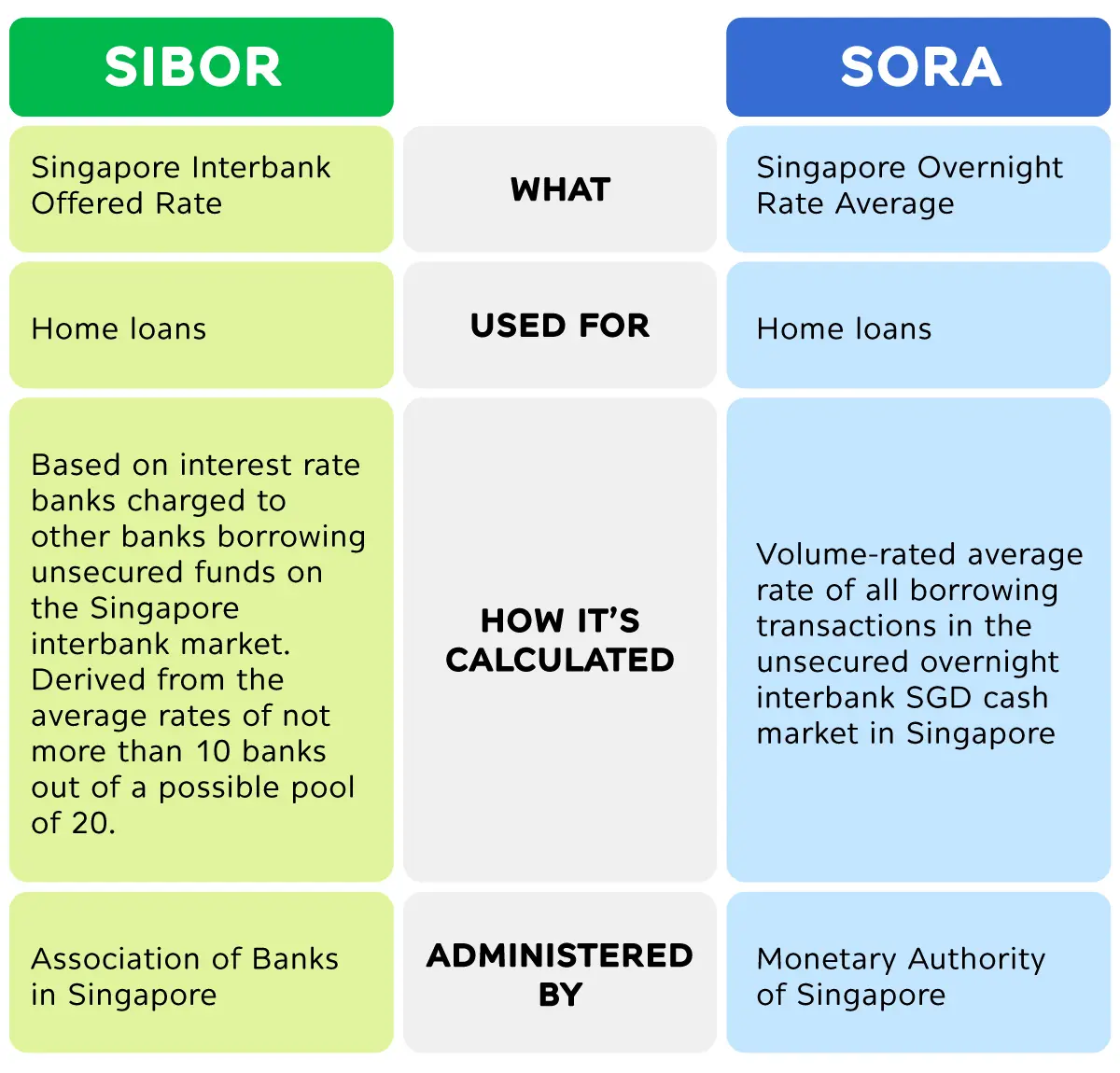 Shifting from SIBOR to SORA — What's the difference?
1. SORA offers more stability
The nature of SORA benchmark rate is that there is much less subjectivity in determining the housing loan interest rate that you are paying for.
Consumers can compare different loan packages more easily with a uniform interest rate benchmark landscape and SORA is of comparable volatility to SIBOR.
2. Backward looking vs forward looking
One of the biggest differences between SORA and SIBOR is the way it is being calculated.
SIBOR is set by getting all 20 banks in Singapore to submit their bank's individual SIBOR rates.
The Association of Banks in Singapore (ABS) will then collect and collate them through Thomson Reuters. They then use a pre-determined calculation methodology to calculate the daily SIBOR rate.
In other words, the daily SIBOR rates that you are seeing is an average of each bank's forward projection of the SIBOR rates.
Unlike SIBOR, term compounded SORA is backward looking. The 3-month compounded SORA is calculated using the compounded methodology of the daily SORA rate over a historical 3-month period.
3. SORA-pegged housing loans have greater transparency
Another difference between SIBOR and SORA is the level of transparency. There's simply no way for you to know whether the 3M SIBOR rate that you are looking at is transparent or not.
That's because the SIBOR rate is calculated by polling each bank's forward projection of their individual SIBOR rates. This involves some form of expert judgement, which can lead to the possibility of manipulation if banks choose to work together to prop up the SIBOR rates.
Sora is more sustainable as it is computed purely from banks' transactions without any expert judgement required.
In contrast, 90-day SORA is calculated on all the transactions that took place in the past 90 days.
This makes it much less susceptible to manipulation and promotes greater robustness and transparency. The daily SORA rates are also available on the MAS website where you can do your own fact check.
| See more: A step-by-step guide on how to refinance home loans in Singapore |
Conclusion
In practice, we don't yet know if these SORA packages will generally work out to be cheaper than the existing SIBOR ones. Historically speaking, SORA tends to be lower than SIBOR, but it remains to be seen how much of of a spread (ie. mark-up) banks will tack on to the rate.
If you hate your current SIBOR home loan with a passion, consider refinancing later this year to a SORA home loan package. Otherwise, as was the case with SOR home loan packages in the past, it is likely that over the next 3 or 4 years, many existing SIBOR packages will get converted to SORA ones.
And if you're thinking about buying a home soon, you'll be a little more informed when the bank representative mentions SORA. Looking for the best housing loan deals? Keep track of the latest home loan rates with Finder.