Finder is committed to editorial independence. While we receive compensation when you click links to partners, they do not influence our content.
0% Foreign Fees Credit Cards: The best cards for overseas spending
Compare credit cards with lower foreign fees and save money when you shop overseas.
Credit cards with a low (or no) foreign transaction fees are designed to help you save money, by offering you lower fees when you travel overseas or shop online with an international retailer.
Use this guide to compare credit cards that charge lower foreign currency conversion fees, including those which give you added rewards. We also explain how to minimise travel money expenses, so that you get the most from your money.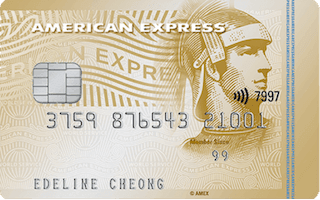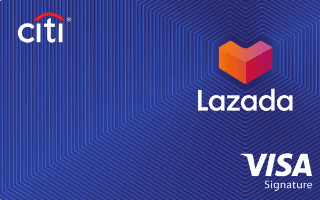 Best for
Promotional Offers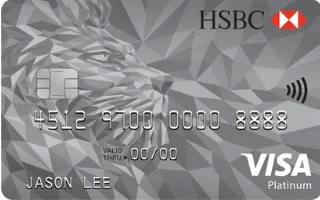 Are there any cards that don't charge any foreign transaction fees in Singapore?
At the time of writing (31st June 2020), there's no card in Singapore that doesn't charge any foreign transaction fee. However, there is a handful of card issuers that waive off the admin fee, leaving only the payment network fee and the dynamic currency conversion fee (if applicable) payable.
If you're looking for 0% foreign fee cards, you may want to consider multicurrency wallets or prepaid cards instead.
Compare credit cards to use overseas
What is a foreign transaction fee?
A foreign transaction fee (often called an FX fee) is an added charge for using your credit card to buy something overseas while you travel, make a payment that's processed by a foreign bank or make a purchase in a non-Singapore dollar (SGD) currency.
If a foreign bank is involved in the payment process, it'll count as a foreign transaction. That's why some purchases can be considered to be foreign transactions even if they are made from within Singapore. For example, an online purchase at an overseas store.
Typically foreign transaction fees are around 2.5%-3.5% of your overall payment. It gets charged by your credit card network (such as Visa or MasterCard) and by the credit card provider (DBS, UOB, HSBC, etc.).
How to compare low foreign transaction fee credit cards
A bunch of credit cards offer low foreign transaction fees, so what else should you compare when considering a credit card to use overseas?
Overseas ATM withdrawal fees. Getting cash out of an ATM overseas can also attract a fee worth at least $5 or between 2-4% of the total transaction. Choosing a card which doesn't charge for international ATM withdrawals can allow you to avoid this charge.
Cash advance fees. Even if you get a credit card that offers $0 ATM fees overseas, using it to withdraw cash can attract a cash advance fee that's typically between 2-4% of the transaction. You'll also be charged interest at the cash advance interest rate, which is higher than the purchase rate on most credit cards.
Annual fees. Some credit cards with low foreign transaction fees may also come with $0 annual fee, but others may come with yearly fees of tens or hundreds of dollars. If it does have an annual fee, make sure that the perks you'll get from the card outweigh this cost.
Purchase rates. If you're using your card to make overseas purchases but won't be paying back your balance in full each month, you'll need to consider the purchase interest rate.
Merchant fees.

You might find in some places that the merchant adds a surcharge to your transaction for using a foreign issued credit card. It's smart to check your bill before paying to avoid these fees and have backup travel money options (such as cash or a travel card) on hand in those events.

Exchange rates. Don't forget to keep an eye on how often exchange rates are updated and if there are additional fees for currency conversion.
Supported currencies and global acceptance.

Make sure the card you're using will work in your holiday destination. Make sure that your credit card is accepted worldwide, as you can expect with a Visa, Mastercard or American Express. If you're using a travel money card, make sure it supports the local currency you'll be using or doesn't charge a currency conversion fee.
Other travel benefits. Some cards offer additional travel benefits, such as complimentary travel insurance, airport lounge access or bonus frequent flyer points for your spending.

If you're usually able to repay your balance each month, a

rewards credit card

with low foreign transaction fees could be a great way to get rewarded for your holiday expenses.

Make sure you meet any requirements listed to take advantage of these perks, otherwise they won't add to the value of the card.
How does foreign currency conversion work?
When you make a purchase or transaction in a foreign currency using a Singapore credit card, the total amount needs to be converted into Singapore Dollars. The conversion process varies based on factors including the card provider and whether it's an American Express, Mastercard or Visa product.
Currency conversion exchange rates are updated on a daily basis and apply even if you have a card that charges $0 foreign fees. Please note that most banks use an exchange rate that's less competitive than the standard rate.
How will an exchange rate appear on my credit card statement?
Say you were on a trip to New York and used your Singapore credit card to pay for a pair of shoes worth US$100. If the exchange rate between US dollars and Singapore dollars was US$0.75 per S$1, then this transaction would be converted to S$132.18. So, instead of your credit card statement showing a transaction of US$100, it would show one of S$132.18.
What exchange rate will I receive?
Depending on the card you're using, you will receive the exchange rate set by Mastercard, Visa or American Express. The following diagram explains how Singapore credit cards convert currency with American Express, Mastercard, Visa or UnionPay: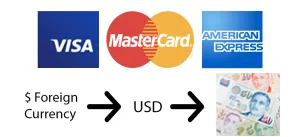 Mastercard, Visa and American Express will convert the foreign currency amount to USD before converting it to S$ (unless your transaction is already in USD). Both of these conversions will transfer at the daily exchange rate.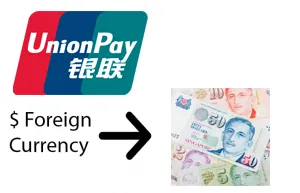 UnionPay will convert your foreign currency amount directly to S$ at the daily exchange rate.
Mastercard, Visa and American Express. All transactions made in a currency other than United States Dollars (USD) will be converted to USD before it is converted to S$.
UnionPay. Transactions made in the following currencies will be converted directly to Singapore Dollars (S$):

United States Dollars (USD)
Chinese Yuan (CNY)

Brunei Dollar (BND)
For transactions made in any other foreign currencies, UnionPay will convert the currency to USD before it is converted to S$. As a result, if the Singapore Dollar is not favourable against the United States Dollar, using a UnionPay credit card for any of the listed currencies could be the most cost-effective option.
Mastercard and Visa both have their own currency conversion calculators, but you can also compare exchange rates from popular transfer providers on Finder.
What is Dynamic Currency Conversion?
When you shop overseas with a Singapore-issued card, you may be asked if you'd like to spend in the local currency or Singapore dollars. This refers to Dynamic Currency Conversion (DCC) and opting to pay with Singapore dollars will subject your purchase to extremely poor exchange rates from the DCC and additional bank charge from your credit charge issuer. If you're spending with a card with 0% on foreign transaction fees, you should always opt to pay in the local currency rather than in Singapore dollars.
How much can I save with a lower foreign transaction fee card with a bank admin fee waiver?
To give you an idea of the potential savings a credit card with foreign transaction admin fees waiver, let's say you spend $5,000 while you're travelling overseas. If you had a card that charged a 1% admin fee and 2% for other foreign transaction fees, you'd have to pay around $150 more for your spending. A card with no foreign transaction admin fees would only require you to pay around $100 extra on your expenditure. As well as saving you money on your spending, this would also cut down on interest charges and could help you pay off your balance faster.
---
How can I avoid foreign transaction fees on my credit card?
Unfortunately, you can't avoid foreign transaction fees. However, here are some tips to keep in mind when comparing credit cards:
Shop around for a card with a competitive foreign transaction fee, such as 2.5%-3%. Check the provider's terms and conditions.
Look out for a card offering generous cash rebates (or bonus rates) on foreign currency transactions. Be sure to take into account any minimum spend requirement
Banks are normally led by the foreign exchange rate of the credit card network, such as Mastercard or Visa. You could check a bank's website to review their real-time currency conversion.
Think carefully before using your credit card for cash advances overseas. Keep in mind ATM fees and international transaction fees which could make it even more expensive.
Ensure that you activate your credit card before your trip overseas. Typically this can be completed via SMS, mobile banking or online banking.
Back to top
So, is it worth using a credit card overseas?
That's up to you to decide. It's important to consider all your travel money options and it can be useful to have several ways to access money when you're overseas. As well as a credit card, you may want to consider some of these other travel money products:
Foreign cash. Having cash on hand when you're travelling overseas can come in handy if you're spending somewhere that doesn't accept card (such as transport tickets, taxis or at markets). Using cash is a simple way to avoid foreign transaction fees. However, keep in mind that it's not exactly safe to carry all of your travel budget in cash. You can check out Finder's guide to buying foreign currency for more on this topic.
Debit card. Your everyday Mastercard or Visa debit card can also be used overseas, wherever these brands are accepted. Just keep in mind that currency conversion fees may also apply for a debit card and be aware of the potential complications if your account's security is compromised while you're away. You can also compare debit cards with low foreign transaction fees on Finder.
Prepaid cards. You can also use a prepaid card load and spend funds in multiple supported currencies. When you move currency from Singapore dollars to a supported foreign currency, it's also locked in at the current exchange rate (which could help you avoid fluctuating rates and manage your budget better while you're travelling). When you spend in a supported foreign currency, you can avoid currency conversion fees with these cards.
Bottom line
If you're a frequent traveller or regularly shop online with international retailers, a credit card that has reduced foreign transaction fees could help you keep your costs to a minimum. Just remember to compare a range of options and look at the other features available so that you can find a credit card that suits your needs. If you're ready for a credit card that benefits you overseas, start comparing your options here.
Pictures: Shutterstock
Back to top
More guides on Finder