Finder is committed to editorial independence. While we receive compensation when you click links to partners, they do not influence our content.
Driving to Malaysia – Do I need travel insurance, car insurance, or both?
Updated 4 Dec 2019
If you're planning to drive to Malaysia this holiday, you'll probably wonder whether you need travel insurance, especially if youalready have a comprehensive car insurance policy. Car insurance covers beyond Singapore, up to West Malaysia and South Thailand (within 80km of its border from West Malaysia).

While there may be some overlaps in coverage (e.g. theft of personal belongings in the car, medical expenses, and personal accident),travel insurance and car insuranceare actually very different. It is thus important to understand the coverage provided by each type of policy and weigh the pros and cons of paying for two separate insurance.
Overseas car insurance coverage
Let's be clear first, it's compulsory for car owners to have car insurance in Singapore. However, the extent of coverage can differ – from a third-party only, to a third-party with fire and theft cover, to a comprehensive plan that includes medical and personal accident coverage. Nevertheless, you'll get insurance cover for your car for all the plans as long as you drive withinthe insured geographical region.
What are the key cover that you should look out for if you're driving to Malaysia? It can be summed up into protecting yourself and your car,when you driveand when you park your car.
Loss or damage to your car
In an accident, your car will be damaged and will require repairs. That's where your car insurance cover can help to offset the repair or even replacement costs. Take note as to whether your car insurance policy requires that you go to one of the insurer's partnered or authorised workshops. On FWD's car insurance plan, you'll have to get the "Preferred Workshop" add-on if you want to be covered for repairs madeat car workshops not on FWD's Premium Workshops.
Malaysia is also notorious for car thefts. There have been cases of Singaporeans parking their cars at open areas only to come back to find to their cars missing. It'll be a huge hassle to make the reports and to find transportation, and what is worse if all your losses are not covered.
Towing service
A minor car accident might require a quick fix at a local workshop, and there are plenty of them in Malaysia – these will not be coveredas they're not on the insurer's list of authorised workshops. If you get into a severe accident, one where you might not even be able to drive it back safely, that's when the towing cover will come into play.
Sometimes, it's not within your control when your car breaks down – it could be a dead battery or engine. No accidents, but you'll still require a towing service back to Singapore, which will cost at least $150.
Do note that towing services do not cover for flat tyres, say if you run over a nail. If that happens, you should have a spare tyre in the boot to get you to the nearest workshop. The newer cars nowadays also come with run-flat tyresthat can run another 20km to 80km and should get you to a workshop as well.
Medical expenses and personal accident
This cover only appliesif you get injuredor hospitalised because of the car incident. Medical expenses will cover the bills to the hospital while personal accident cover will compensate you if you suffer disabilities as a result of the accident overseas. Personal accident cover will issue a payout if you suffer froma disability e.g. the loss of use of your limbs, eyes, or death, as a result of the accident.
Look out for the insured limits, which is the maximum amount you can claim, for medical and personal accident. These cover will only be included under comprehensive car insurance policies.
Theft or damage of personal belongings
It's dangerous to leave your personal belongings in the car whether you're in Singapore or Malaysia. In Malaysia, thieves might even smash yourwindows to take the valuables inside, whereas that's less likely to happen in Singapore with surveillance cameras all around.
If your items get stolen or damaged, car insurance cover will compensate up to the limits, only if you've taken all preventive measures and if you've lodged apolice report.
In short, a comprehensive car insurance policy covers for your car as it would in Singapore, and it extends to limited areas in Malaysia and South Thailand.
Travel insurance coverage for driving into Malaysia
Does that then mean travel insurance is irrelevant? Considering that you'll not be taking a flight, there won't be baggage and flight delays. Do you still need travel insurance?
Medical and personal accident coverage
One important point to note is that you will still need your travel insurance for the medical and personal accident cover. This is especially so if you have a basic car insurance that is third-party only, or third-party with fire and theft cover.
Also, if you get hurt while on the streets rather and not because of a car incident, your car insurance will not offer any compensation but your travel insurance will. That's to say, travel insurance covers for incidents beyond your car.
If you have both car insurance and travel insurance, what happens if you incur medical expenses because of a car accident? Is the overlap in coverage excessive? While you'll not be able to make the same claims on both insurance policies, what happens instead is that your insured limit will increase – if you maxed out the claim limit on your car policy, you can claim the remainder on your travel policy.
Other relevant coverage
There are many other things that can happen when you travel. For example, you might need an emergency evacuation back to Singapore for safety or medical reasons. It might even be a severe accident that prevents you from driving back.
Then there're also theft ofpersonal belongings in the streets, in the hotel, or in places not involving the car. Travel insurance can cover for these situations but car insurance can't.
Or if your accommodation got cancelled because of strikes or extreme weather and you've to seek alternative lodging. It can be costly to find last-minute accommodation and travel insurance payout can offset the cost.
Travel insurance covers for much more than just flight and baggage delays. Also, considering that car insurance is already paid for, it should be considered as a sunk cost.

Rental car excess
Some people choose to drive to Malaysia and park their cars at the hotel for safety reasons, especially when Singapore cars are highly targeted. Then they'll go to rent a cheap local car to drive around. That's when rental car excess can come in handy.
You could be hit with significant expenses if you meet with an unfortunate accident while driving a rental vehicle. Other than paying for the damage costs, you could be hit with penalty of as much as $50 per day for loss of income to the company. Rental car companies also regularly charge administrative fees related to accident events, and these can add up to hundreds of dollars.
Some rental car companies also require that renters cover the "loss of value" to their vehicle after the accident damage has been repaired. This can be thousands of dollars, depending on how badly damaged the car is.Hence, if you plan to rent a car to drive, look out for the rental vehicle excess in your travel insurance.
What if you're driving a car that's not yours?
Maybe it's your dad's car, or your familycar,and they're okay with you driving it to Malaysia. Are you covered?
The tricky thing about car insurance is who is the insured person? For most cases, if the insured person is driving the car that got into an incident, the insurance cover is pretty straightforward.
The difference comes when you're driving a car that's not yours. There'll be a different excess amount depending on insurers, and the age of the driver.
For example, FWD covers both the insured person and an "authorised driver" who is any person holding a valid driving licence class and whom was given permission by the insured person to drive the car. There will however be an excess if the authorised driver is younger than 27 years old. Etiqa car insurance similarly covers for any name person but has an excess of $4,000 if the driver is younger than 24, older than 75, or has less than 2 years of driving experience.
Basically, you'll be covered if you have the insured person's permission to drive the car, but there may be additional excess if you were to get into an accident.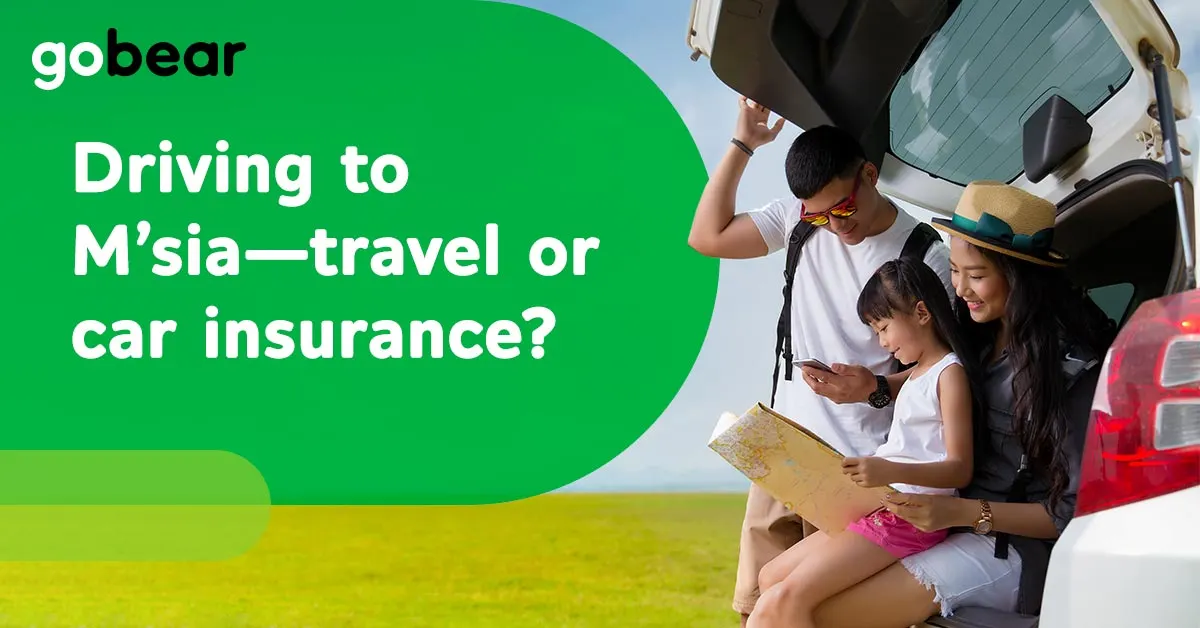 Why get two types of insurance?
Travel insurance covers for travel accidents and incidents arising from you being in a foreign country. Car insurancecovers for when you're driving while overseas, and if something happens to your car. You cannot really decide to get one over another, because you never know when an accident will hit and how it'll happen.
Similarly, some people might feel that if they have personal accident coverage, then they'll not need travel insurance. While that is somewhat true, because your personal accident coverage does cover medical expenses arising from accidents while overseas, there are many other things that can happen while you're abroad that are not covered by your personal accident policy.
If you get into an accident while on the Malaysia roads, that's when your car insurance matters. You might have your car sent straight back to Singapore, or you might be delayed because you have to fix a tire or get a simple repair. What happens if you cannot get to your accommodation in time because of the delay?That's when travel insurance comes into play.
If your car is broken into and you lose valuables (which you should not leave in the car in the first place), this will be covered under car insurance. But if you get robbed while walking towards your car, that's where travel insurance comes into play.
Just as you cannot guarantee or predict accidents, you cannot choose one type of coverage over another. Hence, if you're planning to drive into Malaysia, the best bet is to make sure you havea comprehensive car insurance policy AND a travel insuranceplan.
Related articles:
10 common causes of traffic accidents and how car insurance can help
More guides on Finder