Finder is committed to editorial independence. While we receive compensation when you click links to partners, they do not influence our content.
Do I need travel insurance for a road trip in New Zealand?
Ifyou're longing to get away from the city,get a good dose of adventure, and spend plenty of time in the outdoors – whether it's mountaineering, camping under the stars, surfing or exploring the countryside, a road trip around New Zealand might be your next dream getaway.
They say that the best way to truly experience New Zealand is by road. Both the North and South islands have some of the most stunning landscapes to take in on your drives, and almost every road has a backdrop of mountains, coastlines and sunsets to take your breath away.
There are plenty ofroutes to explore and so here are a few the Bear recommends to get you planning your next road trip!
Road trip routesin New Zealand
North island
Auckland to Coromandel Peninsula
A drive from Auckland to the Coromandel Peninsula has something for everyone, whether it's a full, action-packed weekend of adventure or simply a relaxing drive pastscenic beaches. Short and sweet, this drive is a great way to spend half a day and is a great starter road trip for less confident travellers as it's not too great a distance.
Highlights along the way include Hot Water Beach, a recently discovered natural phenomenon where an undergroundriver of hot waterfinds its way to thePacific Ocean and meets at this gorgeous white sand beach. Tourists flock hereat low tide to dig themselves "spas" in the sand where hot water bubbles to the surface, creating the experience of a make-your-own-jacuzzi.
On the way down to Whitianga, make sure to catch thefamousbanana boat ride. Hang on for your life while your boat speeds around Mercury Bay, the perfect way to spend a summer's day.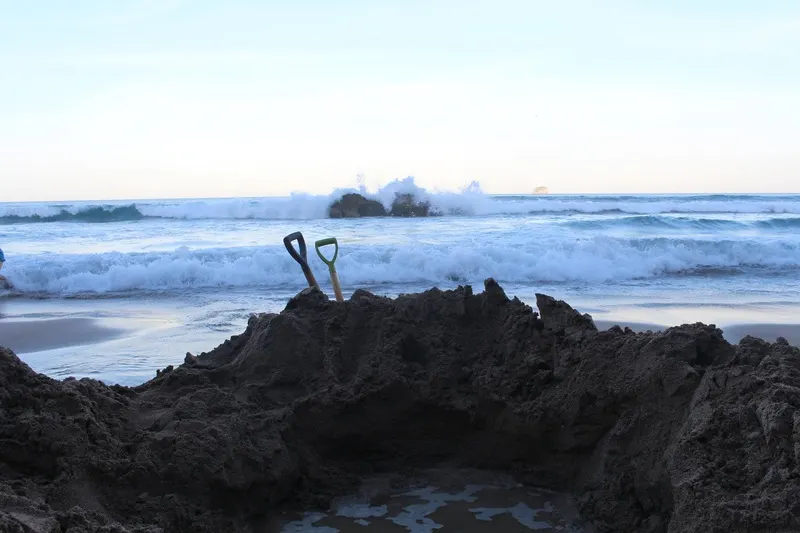 How long does the drive take:2 hours30 minutes
Distance: 168 km
Rotorua to Gisborne
If you're up for some surfing, you can't beat Gisborne. The city, which can be found on the east coastof New ZealandNorth Island, has been dubbed a surfing paradise for travellers looking to catch some seriously spectacularwaves.
If you're a beginner, head to the town beaches likeRoberts Road/Waikanae or Gizzy Pipe/Midwaywhere waves are slightly calmer and more manageable for first-timers. Up the coast is where you'll find the more challenging spots for more experienced surfers including Sponge Bay, Wainui Beach and Pines/Okitu.
If surfing isn't quite your thing, you'll also be passing Tokomaru Bay on this route which offers some of themost captivating coastline viewsin New Zealand.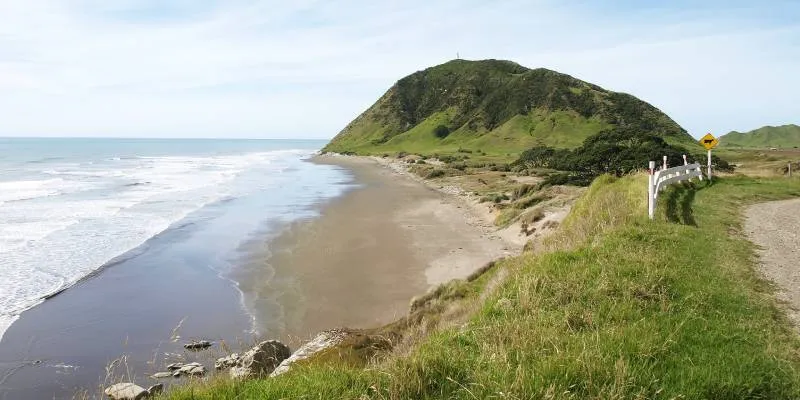 While you're in Gisborne, there's so much to experience and soak in – take a hike up Mount Hikurangi,hand-feed wild stingrays on a tour at Dive Tatapouri, jump off New Zealand's longest pier, Tolaga Bay Wharf,and watch one of the most surreal sunrises you'llsee at the East Cape Lighthouse.
Tokomaru is also popular with artists and craftsmen, andhas been called "the craft centre of the coast".
How long does the drive take: 3 hours 40 minutes
Distance: 287 km
South island
Queenstown to Milford Sound
You can't do New Zealand without experiencing Milford Sound, also known as Te Anau. The fjord, created when the Tasman Sea flooded a glacial valley,lies southwest of New Zealand's South Island and is absolutely breathtaking.
If taking a boat outhere makes youfeel like you're in a Lord of the Rings scene, it's because a lot of the movies were in fact shot in these fjords. It's no wonder why, as the glacial valleys give you some of the most epic scenery you'll find across the islands.
Along this route, you'll also pass snow-capped mountains, mirrorlakes and mountain ranges; it's no surprise that this road trip isn't just well-known among locals but has also been called one of the bestroad trips in the world.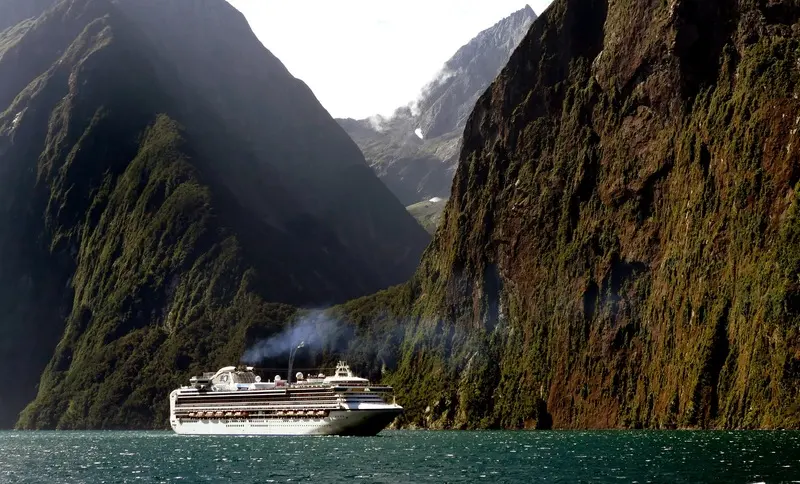 If you're chasingthefeeling of being completely immersed and lost in nature, being in the midst of a valleysurrounded by mountainouspeaks which reach up to over 2000 metres, this drive to Milford Soundneeds to be on your bucket list.
How long does the drive take: 3 hours 45 minutes
Distance: 287 km
When to visit New Zealand
While New Zealand is one of thoserare places that's beautiful to visit all year round,it all depends on whatkind of vacation you're after.
Summer – November to February
Visiting during the summeris extremely popular with tourists because undoubtedly, weather is at its most conducive for practically all your outdoor activities barring winter sports.Stores, cafes and malls stay open longer. You'll be able to spend a day out at the beach, at a picnic, on a hike, out camping, and not have to worry too much about the weather getting in the way.
Spring – September to November
Visiting New Zealand in spring can be a bit of a wild card. Weather can range from cold and frosty left over from winter months to hot and sunny in anticipation of summer. It can even swing between the two quite frequently.
Still, on the plus side,you'll be able to catch the spring blossoms in gardens, parks and the countryside across both the North and South islands. Some great spots to see the blooms are the Christchurch Botanic Gardens, Oamaru Public Gardens and Ashburton Domain & Gardens.
Autumn – March to May
If you're a fan of the colours ofautumn, New Zealand has some trulygorgeous foliage during the season. The autumn season in New Zealand runs from March to May and you'll be able to catch somescenic views of the changing colourfulleaves during this time.
Some great spots to catch the autumn foliage include Central Otago, Hawke's Bay and Wanaka.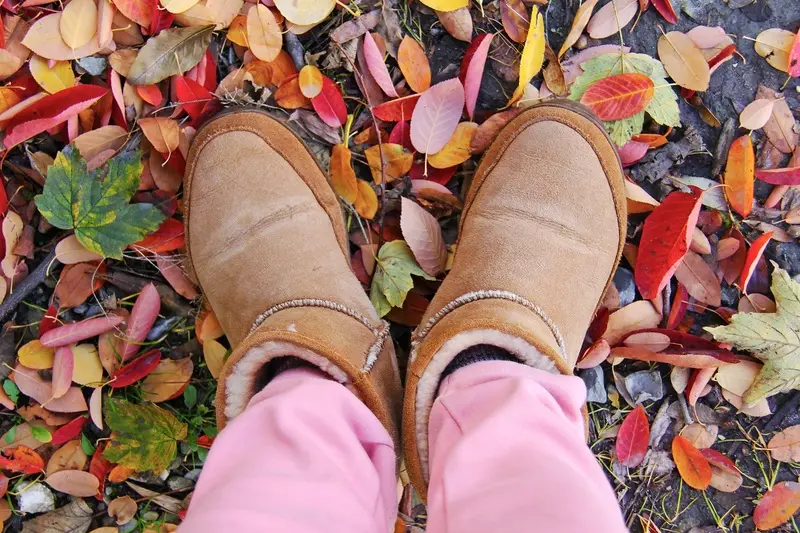 Winter– June to August
If you visit New Zealand duringwinter seasons, you're in for snowcapped mountains, skiing, snowboarding and the biennale Winter Games. You'll also escape most of the hustle and bustle of the hoards of tourists who usually prefer to visit during the summer months.
Roads can get a bit frosty during the winter, so it's definitely a good idea to invest in snow chains for your tires. You can hire them fromthe car rental at a small added cost.
Before you leave the car rental service provider, make sure to get them to demonstratehow the chains are fitted and to check if the chains fit your tires well.
You'll also want to practise fitting the chains on your tires.Try them onat the parking lot of your hotel or in a drierarea first, before you actually use them on more snowy roads where you'llreally need them.
| See also:Planning your ski trip: Guide to destinations, flights, accommodations, and travel insurance|
Average costs in New Zealand
Wifi
WiFi in New Zealand is unfortunately not the most accessible or reliable. Free Wifi inpublic places israre and there are plenty of remote areas which don't have WiFi access at all.
This can be a challenge especially during a road trip, where navigation is pretty much dependent on a decent internetconnection.
Plus, on a trip in New Zealandwhere almost everywhere youlook reminds you of a scenestraight out of Narnia, you'll probably want to be able to post photos of your experiences on social media or share themwith your loved ones.
So if it's a goodinternetconnection you need, you can look into one of two options – either a phone data plan or a WiFi box to add to your car or campervan.
Between the two, we'd definitely recommend getting the phone data plan as it's the less expensive of the two, andyou'll be able to get an internet connection on-the-go when you're away from your vehicle.
When choosing a data plan, it's always best to choose froma reputable brand, keeping in mind that the averageNew Zealanderuses about 1.5 MB per month. A few options include Vodafone, Spark, 2Degrees, Warehouse Mobile and Skinny.
Alternatively, most cafes offer WiFi when you buy a coffee and of course,internet cafes offer WiFi at rates which average NZ$3 to NZ$6 an hour.
Accommodation
When it comes time to choose your accommodation in New Zealand, remember it's all about location, location, location.
Choosing the right locations for your accommodationduring your road trip can cut your costssubstantially on petrol because you won't be driving back and forth unnecessarily between stops or taking unnecessary detours to reach your destinations.
Not to mention, you'll save so much time tosee as much as possible within your limited time there.
When choosing where you'll stay, always keep in mind your planned road trip route and see if your location is as convenient as possible.
Other than that, be sure tokeep an eye out forhostels which offer complimentaryWiFi,breakfasts and parking. Breakfasts in New Zealand average about NZ$16 which can really add up!
Car rentals
When choosing your car rental, you might be tempted to go with the cheapest option available to save on costs. However, just be sure you're getting the best deal possible for what you're paying for.
Generally, car rentals in New Zealand average about NZ$9 per day and can go up to NZ$150 for 8-seaters during peak seasons, if you're planning on travelling with yourfamily or a bigger group of friends.
Here are a few extra costsyou'll want to keep in mind when you're choosing the best car rental for your road trip:
Young driver's fee – If you're under 25, you may have to pay a young driver's fee of NZ$5 per day
One way fee – If you're planning a one way trip, you may be charged a one way fee depending on the distance between your locations. This fee can go up to a whopping NZ$250, so it's best to check with your car rental providerahead
Extra driver fee – Car rental providers sometimes charge a flat fee or a daily fee should you list a friend or family member as a second driver for the car. Other providers allow you to list one extra driver at no added cost
Do I need travel insurance for a road trip?
Just like any other vacation, it's a good idea to stay insured for the duration of your visit and roadtrip in New Zealand.
However, there are a few things to keep in mind when choosing the best policy specifically for a road trip.
How to choose travel insurance for a road trip
When choosing the besttravel insurancefor your nextroad trip in New Zealand, you'll want to be on the lookout for the following inclusions.
Rental car excess cover
Driving in a foreign country always needs some amount of adjustmentto different road conditions. Hence, for any road trip, you'll want to look fortravel insurancewith car rental excess included withinthe policy.
Rental car excess, also known asrental vehicle excess or car rental excess, is the amount you would pay upfrontfor any damages to your rental car on your trip before your insurance covers the remainder of the costs.
While most rental car companies do offer their own car rentalinsurance to cover any damage, this coverage also includes an excess which can be quite high. In other words, you'll need to pay a larger amount upfront to the company for any damages before they cover the remaining costs for repairs.
Car rental companies in New Zealandoften offer a daily rate to reduce this excess of between NZ$15 – NZ$30 per day,which can add up to a sizeable amount for the duration of your trip.
On top of that, damage to windscreens, tyres or towing of your damaged car may not be included in the car rental insurance the company offers.
Some New Zealand roads are particularly dangerous and you'll need to be extra cautious if they are part of your route. Skippers Canyon road, in Queenstown, for instance, lacks any guard rails, is made up of winding lanes, is prone to falling rocks,and has a spine-tingling drop into a river if you go over the cliff!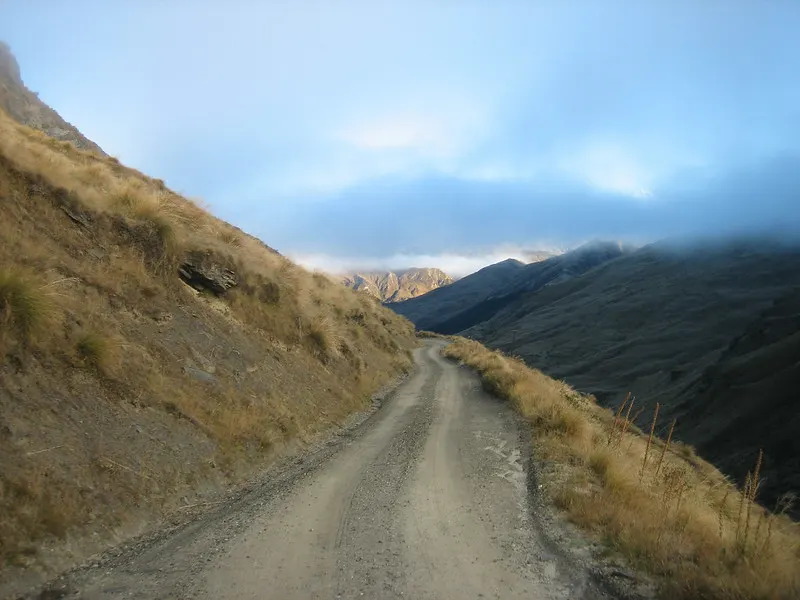 Rural roads are also no stranger toherds of sheep crossing which can be a hazard when driving too fast.
Instead of purchasing a separate policy for vehicle excess coverage, it's definitelyworth finding out if it is already included in your travel insurance policyas an add-on.
The amountyou pay for travel insurance with added car excess coverage will probably add up tomuch less than opting for a daily rate for a separatecar rental insuranceby a rental company.
Coverage for extreme sports
If you're an adrenaline junkie chasing a few thrills in New Zealand, you're in for a treat. Both islands have some of the best spots with some really scenic viewsfor bungee jumping, skydiving, rafting and plenty of other extreme sports you're looking to experience.
Whether it's a hike up Mount Hikurangi, kayaking across Milford Sound or skydiving over Queenstown, you'll have your share of adventure to experience here.
But before you go jump off that cliff, just make sure your travel insurance is there to catch you! Look for a policy which specifically coversextreme sports as not every policy includes it.
For instance, the Ergo TravelProtect policy covers mountaineering but excludes scuba diving while theAxa SmartTraveller policy covers bungee jumping but not mountain climbing.
Natural disastercoverage
Earthquakes and natural disastersare a common occurrence in New Zealand. The good news is that because it's a natural occurrence, buildings and public officials are more equipped to handle and manage them when they do happen.
While you shouldn't let this deter you from visiting this beautiful country, it's still justgood sense to stay financially protected against natural disasters. Not all policies offer this coverage since different destinations have a different level of riskwhen it comes to natural disasters.
New Zealand, which is prone to earthquakes now and then,is one place where this coverage is worth the extra penny. Travel insurance with earthquake coverageincludesAIG Travel Insurance and the Allianz Travel.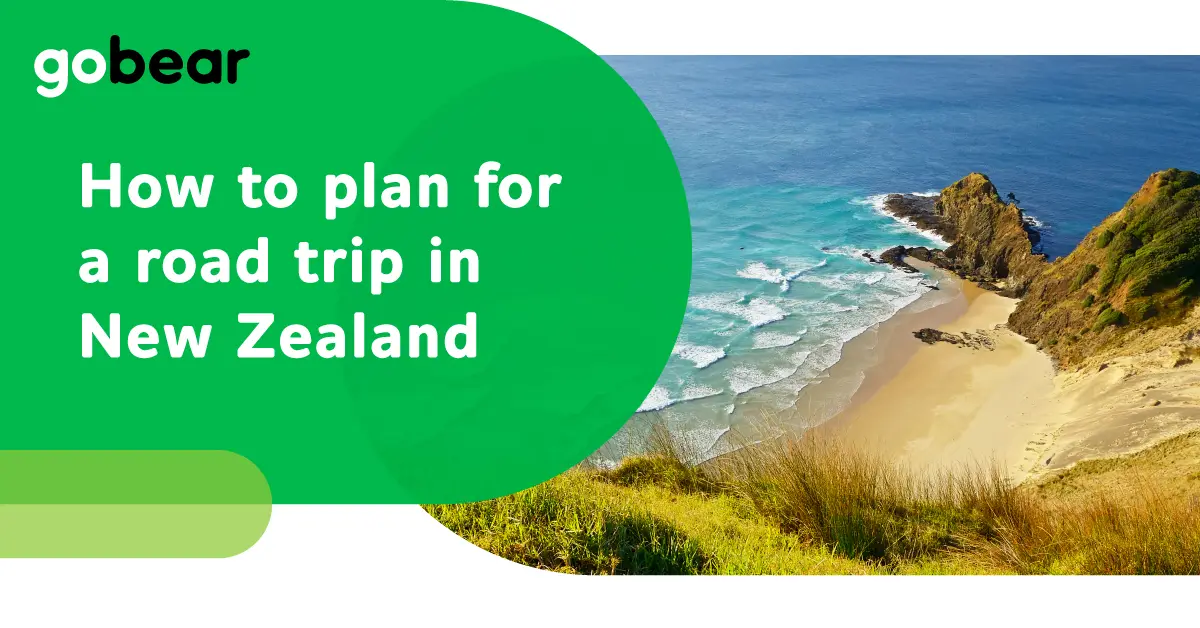 Medical expense coverage
Of course, if you'll be driving for the majority of your trip, you can't do withoutcoverage for medical expenses.
While you may consider yourself a safe driver, driving in a foreign country always needs a certain level of adjustment to roads and different driving practices.Hence,it's best to have your bases covered should you find yourself in any accidents major or minor.
Ready for your New Zealandroad trip?Let GoBear's comparison tool help you findthe best travel insurance you need for your next adventure!