Finder is committed to editorial independence. While we receive compensation when you click links to partners, they do not influence our content.
DBS Multiplier Review
Multiply your savings with competitive interest rates when you meet the account requirements.
The DBS Multiplier Account offer the potential to earn up to 3.80% p.a. on your saving, which is over 35x more than interest rates offered by basic savings account, if you credit your income and meet all the account criteria.
What are the benefits of the DBS Multiplier Account?
Land these benefits with a DBS Multiplier Account:
Higher interest rates. Earn high maximum interest rates up to 3.80% p.a. when you credit your income and transact in three or more categories. Aside from fulfilling different categories, DBS Multiplier Account also offers various interest tiers based on the size of your account balance and monthly DBS transactions.
Multiple eligible categories. Attain higher interest rates by fulfilling one of the three options and categories suited to your savings and transaction habits.
No minimum initial amount. Starting an account is easy since there's no minimum initial deposit required.
Minimal fees. The account doesn't charge any opening, monthly and maintenance fees. However, a $5 fall-below fee will apply if your average daily balance falls below $3,000 (waived for account holders below 29 years old).
Multi-currency convenience. The DBS Multiplier Account is a multi-currency account which allows you to access up to 12 foreign currencies and the Singapore dollar conveniently and transact at your preferred rates.
No foreign exchange fees. Pay up to 11 foreign currencies with no foreign exchange fees when you travel by linking your DBS Visa Debit Card to the DBS Multiplier Account as the primary account. The foreign currency transactions will then be debited directly from the respective foreign currency wallet.
Quick and easy application. The online form takes five to 10 minutes to complete.
How does DBS Multiplier Account work?
Grow your savings with higher interest rates on your DBS Multiplier Account through one of the three options offered.
Option 1. Income and transactions in credit card/home loan/insurance/investment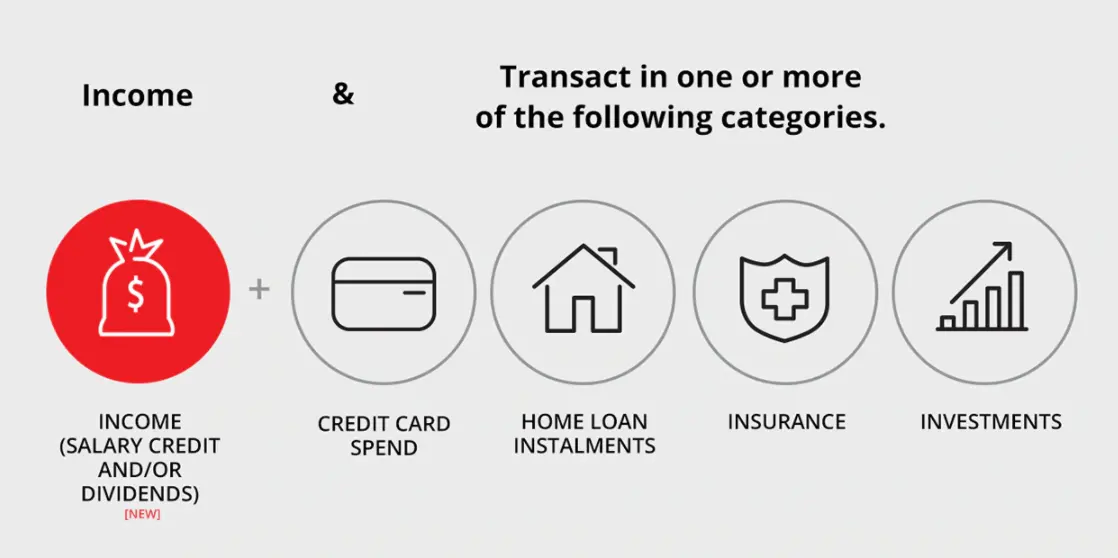 Image: DBS
The first criteria you need to fulfill would be to credit your salary and/or dividend to your DBS Multiplier Account. After fulfilling this mandatory Income category, the monthly interest rate you'll be able to earn is determined by these factors:
Number of transaction categories you fulfill:

Credit card. Make purchases using any DBS or POSB credit card, including supplementary cards.
Home loan. Purchase a DBS home loan and servicing your monthly installments (both cash and CPF components included).
Insurance. Purchase any regular premium insurance policies from DBS' insurance partner, Manulife after account opening. Only the first 12 consecutive months will be recognised.
Investments. You may fulfill this category in a few ways. Either make a new unit trust lump sum investment and contribute via DBS; or make a fully settled 'BUY' trade using DBS Vickers or DBS Online Equity Trading; or initiate a new DBS Invest-Saver plan (only recognised for the first 12 consecutive months).

Total value of eligible transactions:

The more you spend per month, the higher your interest rates will be.
Six interest tiers for total eligible transactions, starting from less than $2,000 to over $30,000 per month.

Average daily balance for the month:

Earn higher interest rates with a larger account balance (capped at $100,000).
Three levels of interest sets for account balance: first $25,000, first $50,000 and next $50,000.
DBS Multiplier Account interest tiers
You'll qualify for different interest tiers based on the number of categories you fulfill and total transactions per month. The following interest rates are accurate as of 30 September 2020 and are subject to change:
Total eligible transactions per month
Income + 1 category
(balance capped at $25,000)
Income + 2 categories
(balance capped at $50,000)
Income + 3 or more categories
(balance capped at $100,000)
< S$2,000
0.05%
0.05%
0.05%
≥ S$2,000 to < S$2,500
0.70%
1.30%
2.00%
≥ S$2,500 to < S$5,000
0.90%
1.50%
2.20%
≥ S$5,000 to < S$15,000
1.10%
1.80%
2.40%
≥ S$15,000 to < S$30,000
1.20%
1.90%
2.50%
≥ S$30,000
1.30%
2.80%
3.80%
Alternative tracks to earn extra interest
For those without or unable to fulfill credit card, insurance, home loan or investment transactions with DBS, you can also earn extra interest by fulfilling the criteria outlined in Option 2 and 3:
Things to look out for
Before applying for the DBS Multiplier Account, make sure that you're aware of these caveats:
Low base interest rates. The base interest rate of this account is only 0.05%, which is incredibly low.
12-month limit on insurance/investments. Signing up for a new insurance/investment product will only fulfill the categories and be recognised for bonus interest in the first year. After that, it'll no longer be counted as a multiplier action.
Compare with other savings accounts
Disclaimer: Interest rates are applicable for deposits between S$1,000 and S$49,999. Interest rate and initial deposit are shown in Singapore dollars. Please check with the provider for deposits and rates in other amounts and currencies.
How do I open an account?
To begin your application for the DBS Multiplier Account, simply head to DBS' website and click 'apply now'. Before applying, you should make sure that you meet the eligibility criteria and have the required documents on hand.
Eligibility
To apply for a DBS Multiplier Account, you must be:
A Singaporean, Singapore PR or foreigner with a valid visa.
At least 18 years old.
Required information
If you're a new DBS customer, you should have the following documents on hand to speed up your application:
Singaporeans and permanent residents:

Front and back photocopy of your NRIC/passport
Proof of residential address (if it's different from the one in your NRIC)

Foreigners:

Valid passport
Proof of employment/study or visit pass
Proof of residential address: e.g. utility bills, telco bills, bank statements or letters from government bodies dated within the last 3 months.
Online application process
Click on the 'Apply now' button on the DBS Multiplier Account page.
Select your preferred mode of application.
For existing DBS customers: choose between iBanking or debit/ATM card.
For new customers: click on 'none of the above'.
Select 'Use MyInfo' if you have a SingPass account to prefill your application.
If you have none of the above, click 'Continue without MyInfo' to proceed.
Fill in the required fields and upload any necessary documents.
Submit your application.
Allow time for DBS to get in touch with further instructions.
How do I contact support?
If you have any enquiries, you may reach DBS Bank directly through the following contact details:
24 hours hotline: 1 800 111 1111
Live chat: The DBS DigiBot is available 24/7 on DBS website.
Bottom line
With a maximum interest rate of 3.80% p.a., the DBS Multiplier Account is most ideal for mid-to-high income adults with regular paycheck and/or dividends.
As long as you're capable of balancing several financial products with DBS and maintain a high volume of monthly transactions, you can grow your savings faster than any other savings accounts in Singapore. Even if you're only able to credit your income and fulfilling one transaction category, you'll still earn a significantly more interest than the low base interest.
However, if you're unable to fulfill the requirements (or has financial products with other banks instead) to unlock higher interest rates with this account, you should compare other high interest savings accounts to find one that suits your banking habits.
Frequently asked questions
More guides on Finder