Finder is committed to editorial independence. While we receive compensation when you click links to partners, they do not influence our content.
Credit Scores: What are they and how do they work
Credit scores are something of an enduring mystery to Singaporeans.
We all know they affect our loan applications, but many aren't sure of how the system is derived, how to make sense of your credit report and more importantly, how they can maintain a healthy credit score.
To get you started, we've summarised all the essential points inGoBearTV episode 12, which you can watch below.
What is a credit score?
Credit scores are an indicator of your credit-worthiness. They determine how likely you are to repay your loans.
In Singapore, consumer credit scores are recorded by the Credit Bureau of Singapore (CBS). Banks and financial institutions contribute data to CBS, which compiles information on your various loans and repayments. CBS then uses a proprietary (read: secret) algorithm, to determine your creditworthiness based on this information.
Read more: Credit score 101

Credit scores: what are they and how do they work?
How do I check my current credit score?
Usually, you need to pay $6.42 forCredit Bureau Singaporeto generate your personal credit report. However, for the month of March, you can download your credit report for free when you submit your details at the Credit Awareness Month page.
Note that only you, and the institutions you apply for credit from, can see your credit score. It is not possible for anyone else, even your spouse, to check your credit record.
How do you read your credit score report?
Your credit score is a four-digit number, which leads to a risk grade. The higher your score, the better your credit worthiness. Here's how it works: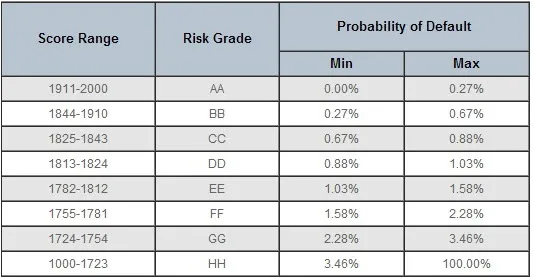 In addition to the above grades, there are "special" risk grade. Possible reasons for these special risk grades include legal issues due to bankruptcy proceedings. In some cases, you might not even have a credit score as you rarely use credit.
The first step in credit awareness goes beyond seeing your credit score – you've got to understand why you have these credit scores. So it's important to know how to read your credit report.
Learnmore:How to read your credit score report
What can a good credit score do for me?
A good credit score opens up various options for your financial portfolio.
In the simplest terms, you are looking at ease of approval when it comes tocredit card and loan applications. After all, banks and financial institutions use your credit score as the litmus test to your credit worthiness.
Looking beyond credit cards and loan applications, your healthy credit score can also help in with your housing needs and even your job.
In short, the benefits are aplenty, if you are able to maintain and improve your credit score on the upward spectrum.
Learn more:What can a good credit score do for you
How can I maintain and improve my credit score?
There are a fewways to do this. The tried and tested method is to always, and we do mean always, pay your bills on time. Sounds simple enough but it also involves a huge level of self-discipline to track your spending and ensure you pay everything before the due date.
If you have a long history of making reliable payments, you will of course have a better credit score than someone who doesn't. Importantly, you'll also have a better credit score than someone who has never used credit before.
In case you think the more the merrier, this does not apply with credit. In fact, keep your credit use lean. Don't apply for more credit cards and credit lines than you need. If you find that you have "excess" sources of credit, pay them off and close the account.
The biggest takeaway is this – be prudent with your line of credit. Don't go overboard, moderate your usage and you'll be in good financial health.
Anything else?
Keeping your credit score healthy is mainly about having good financial sense and habits. In general, if you develop a good habit of keeping your finances in check, you are on track for a good credit score.
Put it this way – if you adopt a good saving habit and allocate a certain percentage of your income, the self-discipline also applies towards maintaining your credit score.
Likewise, putting some checks in place, such as limiting your expenses and avoiding these bad habits, can provide you with the much needed cash liquidity in the event of any emergency. Instead of falling into a debt situation, you can clear it off and maintain your healthy credit score.
Take your first step towards credit awareness
GoBear and Credit Bureau Singapore want to empower you and help you manage your finances better. The first step is to know your credit score, so remember to redeem your free credit report during Credit Awareness Month. There are only 200 free reports, so don't miss out on this exclusive offer in March!