Low interest rate credit cards
Find out if you could save more by switching to a low interest rate credit card.
Low interest rate cards offer lower interest rates than the market standard. These cards typically offer less rewards, benefits and other perks. If you regularly have a balance on your credit card, switching to a low rate card could help you save every month. We'll help you decide if a low interest rate card is right for you.
Compare low interest rate credit cards
What is a low interest rate credit card?
Low interest rate cards offer a much lower interest rate for purchases than standard credit cards. Credit cards in Singapore typically have interest rates that range from 22% to 29% per annum and interest rates have been going up for most credit cards year on year. However, some cards offer promotional low interest rates of 15 to 18% per annum.
A low rate credit card makes sense if you regularly pay with plastic and know you won't always pay off the balance in full each month. It gives you the flexibility to pay off your balance over time, without the higher interest charges of some other cards.
How much money can I save with a low rate credit card?
Even a small difference in credit card interest rates can save you a lot of money. Say you have a S$2,000 balance on your credit card and you take 6 months to pay it off. With an interest rate of 20% p.a., you'd pay S$118.30 extra on your debt.
But if you had a low rate card that charged 12% p.a., you'd pay S$70.60 in interest over the same time period. That's a saving of S$47.70. And the bigger your expenditure, the bigger the difference gets.
How to compare low interest rate credit cards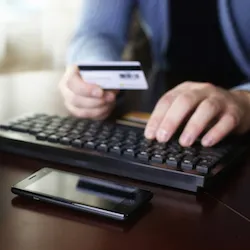 While choosing between credit cards depending on their interest rates, these are the key factors you should consider:
Pros and cons of low rate cards
Pros
You'll pay less interest on purchases, making it easier to manage your credit card debt.
Many low rate cards also have low annual fees.
You can often combine low rate cards with other features such as balance transfers or zero foreign transaction fees.
Cons
You're less likely to receive reward points and other perks.
You may not qualify if you have a poor credit history.
If you opt for a card with a 0% purchase rate, it'll only be available for a promotional period.
If you often carry a balance, a low interest credit card could help you save on additional fees and charges. Just remember to consider the other features – such as introductory offers, annual fees, and complimentary extras – to help you find a card that best suits your needs.
Compare low rate cards and apply securely
Frequently asked questions on low interest rate credit cards
Read more on this topic