Finder is committed to editorial independence. While we receive compensation when you click links to partners, they do not influence our content.
Corporate Credit Cards Singapore
Manage your cash flow, save time on expense reports and more with a business credit card.
Corporate credit cards are designed to suit the financial needs of different types of companies, ranging from small start-ups to major corporations. These cards let you keep your business and personal expenses separate. Plus, there are a number of other features which separate them from personal credit cards. Let's take a closer look.
Compare business credit cards
What is a business credit card?
You can use a business credit card to free up cash-flow by using a line of credit to pay for business expenses. They also usually come with perks including rewards programs, additional cardholders and expense reporting systems. Unlike a personal card, the company is liable for the debt, not the individual.
Types of business credit cards
Whether you're looking to keep your business' credit card costs low, want to earn rewards points as you spend or want to take advantage of interest-free days, there are business credit cards on the market to suit many different types of cardholders:
Rewards business credit cards
These cards reward you for paying with a credit card, usually offering reward or frequent flyer points for every S$1 spent on eligible purchases. Unlike personal credit cards, a business credit card with rewards will let you earn points on your work spending. It's important to remember that these cards usually come with higher annual fees and interest rates, so you'll need to make sure that the value of the rewards will outweigh any costs.
Some business credit cards also allow you to earn rewards points on utilities and government bills, unlike most personal credit cards.
Frequent flyer business credit cards
This type of rewards business credit card is linked to an existing frequent flyer program. Some business frequent flyer credit cards allow you to directly earn frequent flyer points for every S$1 spent on the account, while others let you transfer rewards points to a wide range of frequent flyer programs. These cards are suited to businesses that have existing ties to a frequent flyer program, or those that want to offer additional benefits to employees that use a supplementary credit card for business expenses.
Low rate business credit cards
These business credit cards have low standard variable interest rates for purchases and can give companies or sole traders a more affordable option if they need to pay off spending over a longer period of time. Some options even offer the same standard interest rate for purchases, cash advances and balance transfers.
Many low rate business credit cards also have a low annual fee, which makes them popular for small businesses that need a cost-effective way to finance major expenses as they arise. They can also suit businesses that want a credit card on hand for any unexpected costs, or have seasonal and variable amounts of revenue.
Low fee business credit cards
Similar to low rate options, low fee business credit cards are designed for companies and sole traders that want affordable access to a line of credit. These cards generally have low annual fees or may waive off the annual fee if certain requirements are met. This type of feature can make having a business credit card more affordable.
Business credit cards with interest-free days
These credit cards offer businesses a competitive interest-free period for making purchases. A range of business credit cards offer an interest-free period (for example, "up to 55 days interest-free") if you pay your balance in full by the statement due date. Depending on the card, they may include other features such as rewards, low fees or complimentary insurance.
Other business cards with interest-free days may actually be classified as charge cards, with no interest rate or pre-set spending limit, but a requirement to pay off the entire balance by the statement due date. Both of these types of interest-free options are suited to businesses looking for a short-term cash flow solution.
Corporate business credit cards
These credit cards are designed for larger businesses that want one account for business expenses. Corporate business credit cards can provide supplementary cards and offer pre-set spending limits for each additional cardholder.
How to compare business credit cards
Comparing business credit cards side-by-side allows you to find an option that is suited to your business's specific needs. Some of the core factors to compare when weighing up business credit cards include:
Business spending habits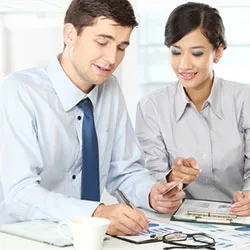 It's important to choose a business credit card that matches your existing business spending. Business cards that offer a lot of "bells and whistles" may seem like an attractive offer, but not all offers will help maximise value while operating your business.
Choosing a card should depend on the types of transactions your business undertakes. In credit card terms, this would include eligible purchases, capital expenses, additional cardholder spending and business travel needs. You can then match the types of transactions with the card features.
For example, if your business uses a credit card for flights and regularly pays it off, a frequent flyer card might offer competitive value. Learn more about how frequent flyer credit cards work. On the other hand, if your business relies on the card for credit, a low rate, low fee or interest-free days business credit card might be the most affordable option.
Fees and charges
Business credit cards feature a range of fees and charges. Some of the most common include:
Annual fees. Business credit card annual fees range typically from S$150 to S$300.Some cards might waive the annual fees for a few years on application, typically 1 to 2 years.
Standard interest rates. Business credit card interest rates can be as high as 26% p.a., with some cards charging the same rate for all transactions and others applying different rates depending on whether it is a purchase, cash advance or balance transfer.
Currency conversion fees. This charge is applied for transactions made overseas or in a foreign currency and is typically 1.5 to 2% of the transaction value.
Cash Advance Fees. Cash advance fee per transaction could be around 5 to 6%, additionally, some cards would charge additional finance charges at 0.077% per day on the amount withdrawn from the date of the transaction until the date of full payment./li>
Late payment fees. If you don't make a payment on your business credit card, you could be charged a fee may be applied. Some banks charge a percent of the overdue amount while some charge a fixed fee. Few banks charge both.
Liability Conversion FEES/ Lost /Stolen Card. A fixed charge of say S$100 may be charged for these services.
Pros and cons of business credit cards
Pros
Potential tax deductions for claiming a business credit card or charge card annual fee
Simplified book-keeping/accounting process
Expense and cashflow management
Builds business credit
Additional cardholders
Complimentary extras specifically designed for businesses
Cons
Typically requires an excellent credit score
Personal liability options can expose you to legal issues
Expensive fees
Interest charges if you carry a balance
Can be hard to keep track of employee spending if you're a small business
Limits spending to business expenses only
Should I consider an SME credit card?
The Singapore government defines small to medium enterprises (SMEs) as businesses with an annual turnover of less than S$100 million. SMEs face unique financial and credit challenges, which in turn require specialised solutions.
An SME credit card may be a consideration for you if like the idea of a higher credit limit than a standard credit card would and allow you to earn rewards and rebates quicker. However, since SME credit cards come with high annual fees, they may not be the ideal option if you don't charge business expenses to your card.
Different SME credit cards are designed to meet these diverse requirements and they can be broken down into four broad categories:
0% interest instalment plan. SME credit cards that offer interest free or low interest loans give an SME breathing room when times are lean. While most credit cards offer 50-60 days of interest-free purchases, some cards could provide up to a 36-month 0% interest instalment plan.
Cashback. If you're looking to maximise the rebates you'll receive on your spending, you'll want to consider a cashback card. The percentage of the rebate varies significantly between cards.
Business travel. For those who frequently travel for business and may need to entertain their clients overseas, consider a business card that offers rebates on travel, dining, entertainment and foreign currency spend. You could enjoy a range of travel perks including complimentary access to Priority Pass lounges worldwide for every cardholder and complimentary travel insurance.
Supply procurement. Some credit cards give SMEs access to B2B procurement platforms that bring buyers and sellers together in a safe and secure digital environment for simpler supply management. Some SME cards also provide exclusive discounts and privileges on purchases from reputable suppliers of events and catering, utilities, office supplies and travel and logistics.
What about business charge cards?
A charge card acts as a short-term (usually monthly) loan to a business for any purchases charged on the card. These cards defer payment until the end of the statement period, when you're required to pay off the account in full. Interest rates do not apply to charge cards as there is no revolving line of credit, but they often apply hefty late fees if you don't pay the balance in full by the due date.
Business charge cards are designed for organisations that have the financial stability to clear their balance each billing cycle, which will typically be between 25 and 51 days. If you are looking to borrow funds over a longer period of time, business credit cards may offer more flexibility.
Despite these different account structures, charge cards do have many similar features to conventional credit cards, including supplementary cards, rewards programs and complimentary extras. As a result, they are often put in the same category as business credit cards.
How do I apply for a business credit card?
If you're interested in getting a business credit card, the first step is to compare a range of options to find one that is convenient and affordable for your business. Once you have found one, you can usually apply online via a provider's website.
Before you apply for a credit card, you'll need to make sure that you meet the set eligibility requirements, and have organised the necessary documents to complete your application.
Business credit cards vs. regular credit cards: which is best for me?
Unlike standard credit cards, business credit cards are designed specifically for work spending and often include features such as:
Additional cards for employees
Customisable spending limits for different users
Expense tracking
Some business credit cards may even have analytics tools designed to help with business reporting and budgeting.
But in most other ways, business credit cards are similar to regular credit cards. With either option, you'll get access to funds up to a certain limit and be able to pay off what you spend over time (with interest charges). Both regular and business credit cards also include costs in the form of annual fees and interest rates, as well as extras such as rewards programs or perks like complimentary insurance.
Currently, Finder Singapore doesn't offer any business credit cards. However, it's easy to start a comparison for personal credit cards.
Frequently asked questions
More guides on Finder