Finder is committed to editorial independence. While we receive compensation when you click links to partners, they do not influence our content.
Advantages and disadvantages of a credit card
Decide if a credit card is right for you with our comprehensive list of pros and cons.
Credit cards can be a convenient way to manage your finances, but they can also be expensive and risky. If you're deciding whether or not a credit card is right for you, here are some of the main advantages and disadvantages you can weigh up to make your decision.

9 Advantages of using a credit card
Some of the perks of paying with credit card include:
A credit card is safer than carrying cash. While there's only a small chance of having lost or stolen>cash returned, a credit card can quickly be cancelled if you lose your wallet. Most banks also have security processes in place to protect you if your card has been lost or stolen or if you suspect your account has been used for a fraudulent transaction.
A credit card can build your credit rating. Your credit card account details and payment history make up a key part of your credit file. If you keep your account in good standing, this information will help you build up a good credit score, which could increase your chances of approval for other products such as car or housing loans.
You can get interest-free days. If you pay your balance in full before the statement period ends, you can reap the benefits of the interest-free days.
Earn reward points when you spend. Rewards and frequent flyer credit cards allow you to earn reward points on every dollar you spend on eligible purchases, such as groceries and fuel. Rewards credit cards let you earn reward points to redeem with the bank's rewards programs for perks including flights with partner airlines, products from the rewards store or cashback. Frequent flyer miles credit cards, on the other hand, let you earn flights with specific airline loyalty programs.
You can request a chargeback if you're unhappy with a product or service. You can request a chargeback through your credit card company if you have a dispute with a merchant, either in-store or online.
Credit cards work in any currency. Although currency conversion fees usually apply, you can use your credit card overseas to make purchases in a foreign currency. There are even credit cards that waive fees for international purchases, which could be useful if you often shop at international online stores or have an overseas holiday coming up.
Credit cards give you an emergency line of credit. Credit cards can be a financial safety net if you don't have enough cash or savings to cover any unexpected costs that arise. Remember that you have to repay everything you owe, though.
Credit cards often have complimentary extras. Credit card features such as travel insurance, purchase protection and extended warranty insurance can save you money and give you peace of mind. Other value-adding features include complimentary flight offers and airline lounge passes.
You can consolidate debts and save money on existing balances. Balance transfer credit cards allow you to move existing high-interest debts to a new account with a low or 0% promotional interest rate. This can save you money on interest charges and help you pay down debt faster.
7 Disadvantages of using a credit card
The downsides of spending with a credit card include:
Paying high rates of interest. If you carry a balance from month-to-month, you'll pay interest charges. Purchase and cash advance interest rates can be higher than the average 28% p.a., so you can end up paying hundreds or thousands more than you initially charged in interest if you're unable to make repayments each month.
Credit damage. Missed credit card repayments and ongoing debts are recorded on your credit file and can impact your chances of getting a loan down the track.
Credit card fraud. There is a range of fraud schemes that target credit cards. While you can be compensated for illegal transactions on your account, dealing with credit card fraud can still be a time-consuming and stressful experience.
Accessing cash is expensive. Banks make it very expensive to use your credit card to get cash out or make other "cash equivalent" transactions (such as buying foreign currency or gambling). Using a credit card for a cash withdrawal will attract a cash advance fee worth around 6% of the total transaction amount. It also typically attracts an interest rate of 28% or more right away.
Annual fees. While you can often get debit cards without annual fees, most credit cards have them. These can cost as little as S$25 per year, or as much as S$500 or more depending on the card that you choose. Generally, the more perks you want, the higher the annual fee. If you want to avoid this charge, you can consider a no annual fee credit card – but make sure you look at all the other features to help find a card that works for you.
Credit card surcharges. Businesses often apply a surcharge when you pay with a credit card. For Mastercard and Visa products, this fee is usually 0.5-2% of the total transaction cost, while for Amex cards it could be closer to 3%. Whatever the case, this is an extra cost for the convenience of cashless payments.
Other fees can quickly add up. Depending on your card, you could be charged fees when you miss a payment, fees if you spend past your credit limit, fees for overseas transactions, balance transfer fees and even some rewards programs fees. If you carry a balance or don't have access to interest-free days, there's also a good chance interest will be applied to these charges.
---
Should I use a credit card?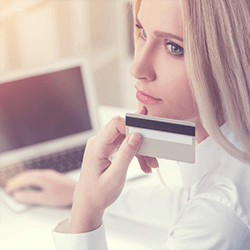 Credit cards are suited to certain types of people, but not others. As well as considering the pros and cons, you may like to look at the following factors to help decide if a credit card is right for you.
A credit card may suit you if you
Are at least 21 years of age
Are a Singapore citizen, permanent resident or hold an eligible temporary visa
Have a regular source of income
Regularly pay your bills on time
Want to keep certain transactions separate from your everyday bank account
Are keen to earn rewards for your spending
Need more flexible cash flow
Can afford to pay a little extra for the convenience
A credit card may not suit you if you
Don't meet the age or residency requirements
Often struggle to pay bills on time
Don't have a regular source of income
Can't afford annual fees or interest charges
Have bad credit
Are happy to just use a debit card
If you're thinking about getting a credit card, it's important to consider the benefits and disadvantages they offer based on your own circumstances. As well as helping you decide whether a credit card is right for you, this process can narrow down the range of cards you compare so that you can find an option that works for you.[treasure_hunt]
Compare credit cards