Credit cards for retired applicants
Want to get a credit card when you're retired? Compare your options and learn how to apply here.
You may still apply for credit cards when you're retired. But you may be required to meet some extra conditions and provide additional documents before a credit card company will approve your application.
According to the Monetary Authority of Singapore (MAS), a person above 55 years old (which is the age you are allowed to withdraw your CPF savings) with an annual income of at least S$15,000 can apply for an unsecured credit card. If your annual income is less than S$30,000, your maximum credit limit is twice of monthly income. If your annual income is above S$30,000, your maximum credit limit is up to four times your monthly income.
For most banks, retirees are only eligible for secured credit cards, meaning that you will need to have a minimum amount of fixed deposit with them in order to qualify. Bear in mind that the credit limit will mirror the amount of fixed deposit you place with the bank (i.e. if you pledge S$50,000, you will have a S$50,000 credit limit). Also, you will no longer be able to withdraw your fixed deposit as long as you own the secured credit card.
Most banks do not publicise a secured credit card option, so you will need to contact them directly if you wish to apply. You can use this guide to learn about the Singapore credit card providers that accept retired applicants, as well as the minimum amount for fixed deposits. Do note that the sum stated is indicative only and subject to changes.
Mistakes to avoid when applying for a credit card
Not doing research on credit cards for retirees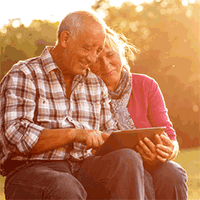 When you apply for a credit card as a retiree, you'll need to meet specific eligibility requirements and submit a range of documents to support your application. Comparing credit cards and researching your options before you apply will help you make sure you meet these requirements and can increase your chances of approval.
If you're unsure of what you need to provide for a specific credit card, you can contact the provider to confirm any queries you have before applying. Keep in mind that rejected applications will have a negative impact on your credit file, so doing this research will help maximise your chances of approval.
How to ensure your credit card application is approved?
Applying for several cards in a short time period
If your previous credit card application has been rejected, don't immediately apply for another one. Instead, consider why you weren't accepted. If you hadn't organised the necessary documents, confirm which ones you're missing before applying again. If you were rejected because of your credit history, you'll need to take some time to improve your credit score before applying again.
If you're retired, there are a variety of credit card options to choose from. However, as you'll need to meet a separate set of terms and conditions, so it's important to do your research and compare a range of cards so you can apply for one that fits your circumstances and needs.
Pictures: Shutterstock