Finder is committed to editorial independence. While we receive compensation when you click links to partners, they do not influence our content.
Use the right credit card to buy the expensive iPhone XS Max
Let's put it out there, even if the new iPhone XS Max will cost a liver to buy, diehard Apple fans will splurge on Apple's latest smartphone.
So don't be surprised when these Apple fans don't bat an eyelid and buy an iPhone XS Max 512GB that costs $2,349.
Let that sink in. $2,349.
You could have gotten a decently powerful laptop for that price. But we're not here to debate the insanely high price tag of the top-tier iPhone XS Max.
What we're going to discuss, is how you can lessen the heartache of splurging more than $2,000 for a smartphone.
Use the right credit card to maximise the purchase
When it comes to big ticket items such as a smartphone, it's safe to say that you'll rely on your credit card.
For one, think about all the points you can get just for charging over $2,000 to your credit card.
That's a lot of air miles to clock, perhaps a dinner for two with the cashback or a decent amount of reward points to offset your next purchase.
The choice is really yours, and we've made it easy for you to compare which credit card is the right fit.
Compare Credit Cards
with GoBear
But you know what – we're going to do you a solid. When it comes to big ticket purchases, these credit cards arebang for buck to get the much desiredair miles, cashback and reward points.
Citi PremierMiles Visa Card
1.2 Citi Miles per $1 spend in local currency
30,000 Citi Miles when you apply and spend $7,500 in 3 months upon card approval and annual fee payment
For air miles: Citi PremierMiles Visa card
The Citi PremierMiles Visa card can make it worth your while for the amount you're spending on the iPhone XS Max.
If you're a new applicant of this card, and you play your cards right with more purchases after the iPhone, you can get a return air ticket to Taiwan.
First, let's talk about the instant miles you're getting – at 1.2 miles per dollar, you get 2,818 miles out of this purchase.
Further to that, you would have clocked $2,349 out of the minimum $7,500 spend for the bonus miles. How many miles, you ask? A whooping 21,000 if the minimum spend is achieved within three months.
Considering the fact that your monthly expenses would probably hit the $2,000 range, achieving the required spend to get those 21,000 miles is pretty easy.
In total, just by hitting the $7,500 spend across three months, you're looking at accumulating 30,000 air miles. Yup, that's a return air ticket to Taipei in the bag.
HSBC Advance Card
2.5% cashback (minimum spend $2,000 per month)
3.5% cashback for HSBC Advance banking customer
Cashback capped at $70 per month on whole card ($125 for Advance customers)
For cashback: HSBC Advance
Few cards have the kind of cashback value like the HSBC Advance card does. For one, buying the iPhone XS Max would have hit the minimum spend of $2,000 to qualify you for a 2.5% cashback.
If you're a HSBC Advance banking customer, this cashback amount is bumped up to 3.5%. So potentially, your cashback value just for this purchase is at least $82.
Not to mention, as a new applicant, when you spend at least $600 within a month of card approval, you also get a free Samsonite Astra 55cm luggage worth $350. Alternatively, you can opt for the $100 cash back.
Oh, did we forget to mention that there's also a slew of 1-for-1 dining offer with the HSBC Advance card, through the Entertainer app?
Yup, something to ponder upon when you are choosing this card to buy the iPhone XS Max.
American Express CapitaCard
5 STAR$ per $1 spend, 15 STAR$ per $1 spend at CapitaLand Malls
No rewards cap
Spend $1,500 within the first 3 months upon card approval to receive $60 CapitaVouchers (awarded in the form of 60,000 STAR$)
For reward points: American Express CapitaCard
There are two things to consider before you use the American Express CapitaCard – do you want to get the iPhone XS Max at the Apple Store on Orchard Road or from a shopping mall under Capitaland? See other privileges of American Express credit cards.
If you opt for the Apple Store, the service level is impeccable. The only downside is that your rewards is pegged at 5 STAR$ for every dollar spend.
If you were to purchase the iPhone XS Max at an authorised Apple Premium Reseller or major electronics store, you could get 15 STAR$ if that store is located within a Capitaland mall.
Potentially, you could get 35,235 STAR$ for purchasing the iPhone XS Max. That translates to CapitaVouchers worth $35. New card applicants are also getting 60,000 STAR$, which amounts to $60 CapitaVouchers.
In essence, you get an extra $95 in vouchers, which you can use to accessorise your brand new iPhone XS Max.
To buy the iPhone XS Max with or without contract
Getting a phone without a subsidy is like ripping a bandaid off. You'll definitely feel the pinch from that one-off, huge purchase. The upside to this? You are not bound by any contract, free to switch out the phone.
Seedly has done a comprehensive comparison between getting a mobile plan with or without contract. The findings confirmed what everyone should know by now – in a span of two years, a full-priced smartphone with a no-contract mobile plan is significantly lower compared to what you pay to a two-year contract with a telco.
So why should I get an iPhone XS Max with contract?
One reason: because you can't afford to get the phone at full price.
But what of the interest-free installment that credit cards offer, you ask? Here's something you should know – these installment plans might not offer air miles, cashback or points for the purchase.
So if you are really, really keen on the iPhone XS Max, getting it with a two-year contract will reduce the initial price. But mind you, the additional cost will be spread out across the two years under your mobile plan.
Our opinion? Buy the iPhone XS Max without contract only if you can afford to.
Should I even consider the iPhone XS or iPhone XR?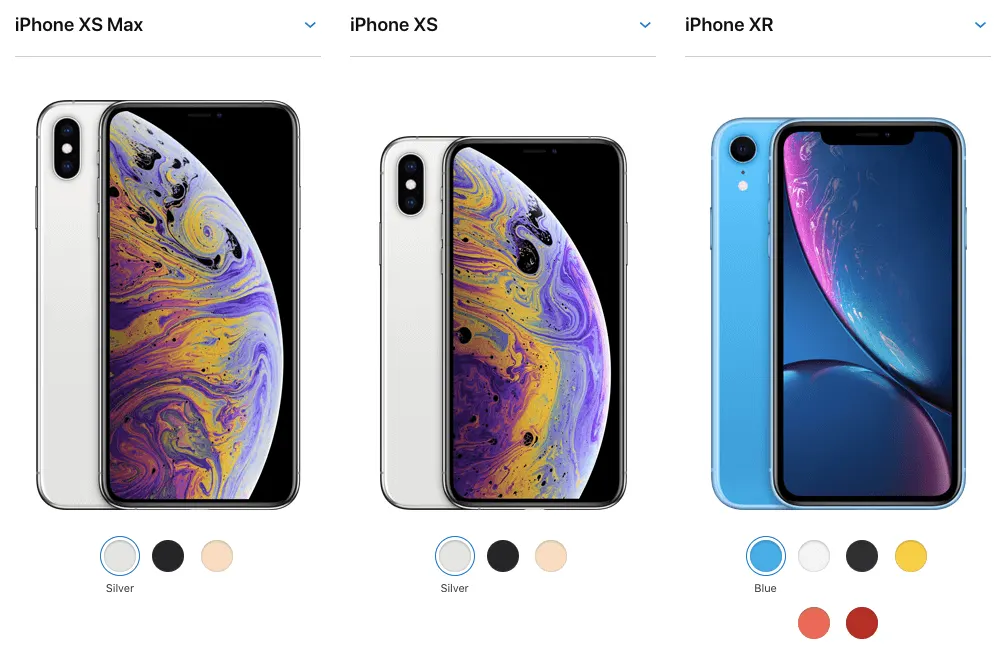 Go big or go home, right? But there are nuanced differences between the iPhone XS Max, iPhone XS and iPhone XR.
iPhone XS Max

iPhone XS

iPhone XR

Price

$1,799 (64GB)
$2,039 (256GB)
$2,349 (512GB)

$1,649 (64GB)
$1,889 (256GB)
$2,199 (512GB)

$1,229 (64GB)
$1,299 (128GB)
$1,469 (256GB)

Screen

6.5-inch Super Retina HD Display

5.8-inch Super Retina HD Display

6.1-inch Liquid Retina HD Display

Camera (rear)

Dual 12MP wide-angle and telephoto cameras

Dual 12MP wide-angle and telephoto cameras

12MP camera

Camera (front)

7MP TrueDepth camera

7MP TrueDepth camera

7MP TrueDepth camera

Water resistance

Up to 2m for 30 mins

Up to 2m for 30 mins

Up to 1m for 30 mins
It might be tempting to get the highest end phone for the larger screen, dual camera setup and insanely large storage to keep an insane amount of videos and photos.
At the end of the day, it boils down to a budget that you can afford.
That said, if you are confidentof paying your credit card bill in time, this big-ticket purchase will provide extra air miles, cashback or reward points.