Finder is committed to editorial independence. While we receive compensation when you click links to partners, they do not influence our content.
Black Friday, Cyber Monday and SITEX 2019 Electronics Deals
Black Friday, Cyber Monday, and SITEX 2019 electronics deals are headed your way!
Another year, another electronics shopping spree! If you've been patiently waiting all year to hit up Black Friday and Cyber Monday sales, or the SITEX show to stock up on your favourite tech gadgets; you deserve a big bear hug —because patience is a personal finance virtue. Being patient can yield big savings, especially when it comes to shopping for electronics. Speaking of which, here' s our guide to thebest Black Friday, Cyber Monday, and SITEX 2019 electronics deals.
SITEX 2019
What is it?
You probably already know, but just in case you don't —SITEX, is a long-standing IT exhibition in Singapore. It returns in 2019 with attractive promotions on game consoles, laptops, smartphones, headphones and speakers, wearable technology, drones, and pretty much all kinds of consumer electronics. You name it, they probably have it.
With over 40 exhibitors, the brands of electronics you'll find at SITEX are a mix of big names like Samsung and Dell, as well as local ones like APOL(they make gaming chairs) and multi-brand distributors like AV One.
SITEX 2019 venue
Singapore Expo Halls 5 and 6
SITEX 2019 dates
It's happening from 28 November to 1 December 2019, from 11AMto 9PMdaily.
SITEX 2019 deals
Curious about the types of discounts and promos at the fair this year? Check out these featured deals:
Vivo discounts
If you're in the market for a new phone, then you might be interested to check out the Vivobooth for big discounts. Here are two Vivo deals we found:
The 2019 Vivo NEX Dual Display model is available at S$799 for SITEX 2019 customers. The usual price for this phone is S$1,099 — that's a 27% discount (approx.)
If your budget is a little more petite, then check out the 2019 Vivo 15 Pro. This model retails for S$699, but at Sitex 2019; you can get it for just S$499, at a 28.6% discount.
Check out the Vivo booth (5C01) for more information.
Samsung promos
Visit the Samsung booth (5A20) at SITEX 2019 for big discounts on TVs and soundbars (up to 50% off). They are also offering free gifts, cashback, shopping vouchers (worth up to S$200), an EZ-Link Prepaid Mastercard worth up S$800, and more.
Online specials:
Samsung is enticing us with big online purchase discounts on their UHD 4K smart TV model NU7090 and their J5250 full HD smart TV for SITEX 2019 customers, from 28 November to 1 December 2019.
For instance, the listed usual price for the Samsung NU7090 50"screen is S$1,499 (S$1,199 on Shopee), but SITEX customers can get it via the online special offer for just S$999. Use the QR code on the second page of this flyerto make the purchase or find out more from the Samsung booth.
AV One discounts and promos
This local distributor of premium audio-visual brands and products, have quite a few awesome discounts at their booth (5E05).
Here's what we found:
Looking for a pair of quality wireless headphones at discount prices? Then check out the 1MORE E1026BT-I, which is being offered at a promo price of S$99 for SITEX customers (normal price S$169). That's a lean discount of slightly over 40%!
Aspiring filmmakers might be happy to learn that the Parrot Anafi FPV4K HDR Drone (with cockpit glasses and backpack) is being offered at a discounted price of S$1,099. It normally retails for S$1,399, so that's a discount of 21%. Not too shabby…
Up your audio game with new wireless speakers, perfect for your desktop PC. The Audioengine A2+wireless speakers normally retail for S$469; get it at SITEX for S$419 (10% discount), plus a free DS1 speaker stand worth S$49, while stocks last.
For your living room setup, check out the A5+ wireless speakers in bamboo (to match your décor). This set normally retails for S$849, but at SITEX 2019; it's just S$749 (12% discount).You'll also get a DS2 speaker stand worth S$59, while stocks last.
AIRSIM discounts
Those who are planning to travel might want to get in on this AIRSIM promo. If you don't already know what AIRSIM is, let us fill you in. It's a travel data SIM card that can be used in over 130 countries; you can immediately access mobile data upon arrival. Now that's super handy! Also, it's reusable; so you can use the same SIM card in different destinations.
The SITEX 2019 promo gives you at least 25% off when you buy from the AIRSIM booth (5D50)and a free travel bag when you two buy AIRSIMs (while stocks last).
Get cashback at Sitex 2019
Apart from buying cool new gadgets, if you want to sell or trade-in your consoles, phones or laptops; you can do so via buybacksat the fair. How much can you get back? This depends on the condition of your device. For instance, you can sell an original Sony PS4 that is still in working condition and has a seal for S$100, or S$120 for a trade-in.
What will they trade-in/buyback?
Traders accept models of Sony PS4, PS3, PS2, and XBox; Nintendo Switch; various models of Apple iPhones and Samsung phones; as well as AMD and various Intel Core processors, and Macbooks among others.
Tips for shopping at Sitex 2019
Here's sage advice on how to make the most of your SITEX 2019 trip:
Know where you're going
The exhibition area is massive —it's possible to end up spending the whole day wandering aimlessly and never finding what you're looking for, and only stumbling into it if you are lucky. OK, maybe that's an exaggeration, but it certainly won't be easy getting through the crowds, which are huge, especially on the last two days of the exhibition (Saturday and Sunday). So, your best bet is to download the visitor floor planand plan your path.
Set out a budget
It can be tempting to buy the coolest gizmos and gadgets on display, especially when attached to these magic words: discount or sale. Still, you don't want to be stuck with buyer's remorse. Simply draft out a plan of how much you can spend and what it is you want to buy. This way, you can avoid making impulse purchases and overspending.
Compare prices of electronics
Bring your internet-enabled phone with you to quickly check and compare prices online to see if you are really getting the best deal. You can also do this ahead of time and bargain for the lowest price.
Inspect your package
Check your items at the point of purchase to make sure that it is working properly. If for some reason, you can't test out the item —find out what the return policies are. If there are significant costs/inconveniences to bear when returning, decide if the purchase is worth making at all.
Pay with your credit card
To speed things along (as payment lines are very long) and to enjoy the peace of mind that comes with not having to carry wads of cash around in an insanely crowded space; use your credit card to make payment.
In addition to these benefits, a good credit card also offers things like high cashback and purchase protections that can reimburse you in case your item is damaged or gets stolen, which is incredibly useful when shopping at fairs.
Just make sure to pay off your bill within the grace period to enjoy interest-free convenience and rewards.
Compare Credit Cards On GoBear
Delivery
Most items are small enough to carry with youbut there may be some buys that require inconvenient lugging, like a 65-inch TV, for instance. If cost-effective delivery is available, do yourself a favour and consider it. Otherwise, bring a friend to help out and have your transport prepared. Again, imagine waiting for a taxi, among hundreds with a 65-inch TV in hand…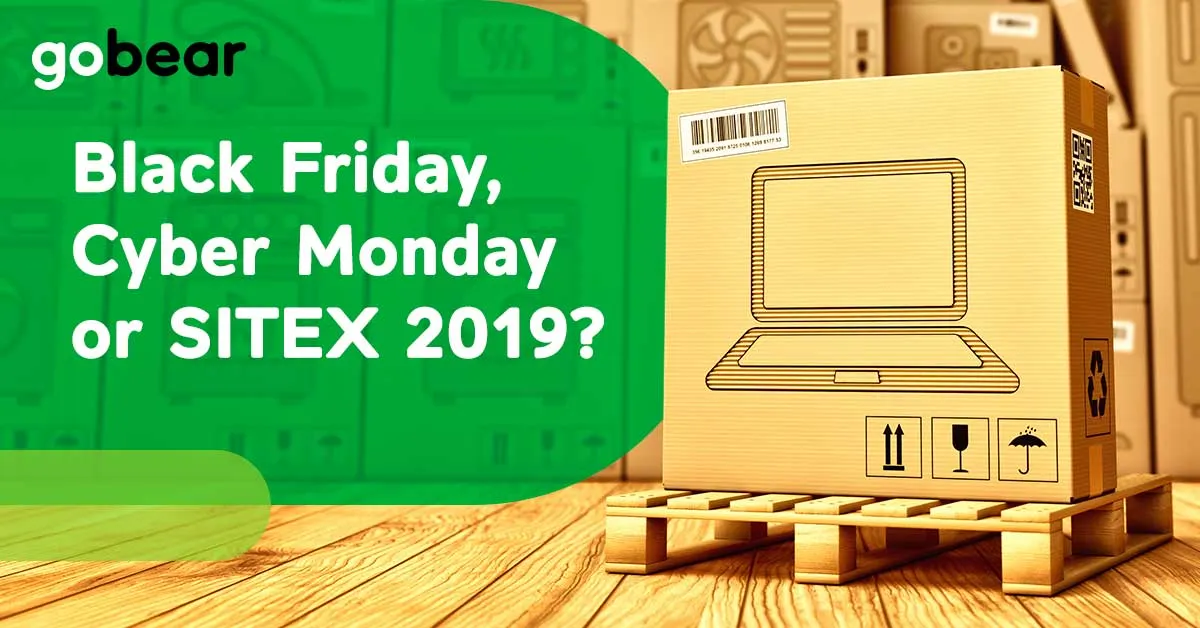 Black Friday and Cyber Monday electronics deals
If you're not one for IT fairs, you might prefer to shopfor electronics online on Black Friday or Cyber Monday where the discounts and deals are plentiful!
When are theBlack Friday and Cyber Monday 2019 sales happening?
Black Friday is on 29 November and Cyber Monday falls on 2 December. But the sales can kick off earlier, run through the weekend and even continue right on till 12 December (also known as 12.12 sales) — exact sales dates depend on where you shop.
Black Friday and Cyber Monday deals
Save more and still get the quality electronics you want with these promos from top merchants and shopping sites:
Harvey Norman
Harvey Norman kicks off their Black Friday promos on 25 November and lasts till 28 November, here's what they are offering:
Lenovo
Black Friday sales from Lenovoare expected to start on 24 November till 26 November, with discounts up of S$250.
Amazon Black Friday Deals
Black Friday sales have already begun on Amazon's US store, but it has yet to start in Singapore (at time of writing). So if you want to start shopping for Black Friday deals from Amazon right now, you'll have to shop from the US store and have it delivered to Singapore. There are some obvious limitations with this option. For instance, some of the items you might be interested in may not ship to Singapore. And if it does; the delivery costs might shave off/contra your savings.
The second way is to simply wait for Amazon Singaporeto roll out their first ever Black Friday sales.It's happening on 28 and 29 November, but Prime members get to shop earlier on 27 November.
| See also:9 tips to get the best deals on Black Friday and Cyber Monday|
Use the right credit card for SITEX 2019, Black Friday, and Cyber Monday deals
If you're going cashless at SITEX 2019 or spending online for Black Friday or Cyber Monday deals, consider using a credit card that rewards your cashless habits with cashback rewards! The Standard Chartered Spree Credit Cardis a good online shopping card; it gives 3% cashback on online spend in foreign currency and on all vPost spend. For local online shopping, as well as mobile and contactless payments, you get 2% cashback.
In addition, the card also provides an Online Price Guarantee. With it, you'll receive reimbursements if you find a lower price (up to S$1,000 price difference) for the same item on another website within 14 calendar days of the date of purchase (with terms). This could really come in handy. Remember that time you excitedly bought something on sale online, assuming you got the best deal, only to later find out that another site was offering an even lower price! We've all been there…
Here's wishing you safe and happy shopping days ahead!
Related articles: