BitConnect Controversy
Update 17/1/2018:
BitConnect has now shut down its operations following a slew of legal troubles, cease and desist letters and negative publicity.
---
BitConnect has been accused of being a Ponzi scheme and a scam, offering a "too good to be true" return on investment of about 1% a day.
On January 3, 2018 the Texas State Securities Board issued an emergency cease and desist order to BitConnect with several claims against the company, including that BitConnect is intentionally failing to disclose financial information about how they are going to pay those who have invested in coins in the BitConnect-QT wallet. They're also accused of using misleading and deceptive statements by not clearly disclosing the risks involved with investing in cryptocurrencies.
On 7 November 2017 the UK government issued BitConnect a notice saying that it has 2 months to prove its legitimacy or be dissolved and have all its assets confiscated.
If BitConnect does not adequately prove its legitimacy and ends up being shut down, there is no guarantee of you being able to recover any investment you had in it at the time.
If you are thinking about investing with BitConnect you may want to wait at least 2 months first. By then it should either have been proved to be legitimate, or will have been dissolved.
If you are a current investor in BitConnect you may want to consider withdrawing your funds until the situation is resolved one way or another.
---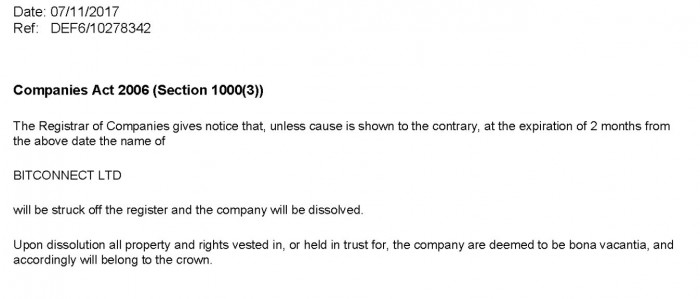 Source: www.gov.uk/companieshouse