Finder is committed to editorial independence. While we receive compensation when you click links to partners, they do not influence our content.
How to choose the best student credit card
We'll help you decide if a student credit card is right for your needs based on the way you spend, your lifestyle and more.
Getting a student card could be a convenient way to independently manage your finances and help you learn how to budget well.
Use this guide to learn how to compare the different types of student credit cards available, rebates and rewards on offer and other important card features.
Best for
Everyday Spending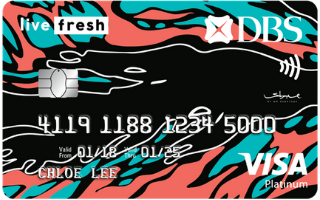 Best for
Base Rate Cashback
Best for
Deals and Discounts
How do student credit cards work?
What's unique about a student credit card is that there's no minimum income requirement and you generally only need to be 18 or older – rather than 21 – to apply. Those under 21 may still be required to have their parent or guardian consent to their application and guarantee any payment of outstanding balances.
While the annual fee on student credit cards is usually low (or fee-free), banks offset the risk of default by placing a low credit limit on the card, which is usually S$500.
With a student credit card, you'll have the flexibility to pay for expenses even when you don't have cash available immediately. You'll also receive rewards and rebates tailored for young people, such as discounted or free entry to clubs popular with university students and other dining and entertainment discounts. Some cards allow you to accumulate reward points and enjoy cashback benefits too.
Otherwise, student credit cards function in the same way as a regular credit card.
Best student credit card comparison
How to choose the best student credit card
The best student credit card for you depends on what you want from the card, your spending habits and how responsibly you handle your credit limit.
Consider the following factors before deciding:
Minimum spend. If you're signing up for the rewards, remember to read the fine print. Often, the rebates kick in only after you've spent a certain amount within a designated time frame.
Types of rewards/discounts. Consider whether the rewards available are ones you will actually utilise. Will you have the time to go clubbing to make the complimentary entry worthwhile? How often do you make online purchases to benefit from the online shopping credit you gain? Some students cards, such as the Maybank eVibes Card - The Student Card, are also linked to bank-wide reward programs so that you can access a wider range of discounts, offers and promotions across dining, shopping, entertainment, beauty and wellness, and more.
Miles or cashback? For those who want cashback, you'll need to compare earn rates which are usually between 0.25% and 1% and may be subject to a minimum spend requirement and rebate cap. If you'd prefer earning mile points rather than receiving cashback, your range of student credit card options is more limited. For those who spend a large portion of their money on food, you may prefer a card that provides you with access to a bank-wide dining privileges program for deals and discounts at popular merchants and higher-end restaurants.
Fees and charges. All credit cards incur significant interest if you fail to pay your balance by the due date. Choose a card that gives you adequate time to repay before the charges are levied. You'll also want to consider how large an annual fee you can afford. If you're likely to want cash advances, check whether the cash advance fees and charges are affordable for you. For those who plan to use their student card when travelling overseas, it's also important to compare the foreign transaction fees you'll be charged.
Eligibility requirements. Some student cards may have stricter eligibility requirements. Typically this type of card is only open to university students from specific institutions in Singapore; you'll definitely need to provide proof that you're a tertiary student to apply.
Participating merchants. Not all purchases are eligible for rebates so it's easy to overestimate how much you'll earn in rebates before reading the limitations.
Exclusions. It's important to compare the exclusions stipulated by each credit card. Some student cards will exclude cashback (or reward-earning) on insurance and utilities spend, while other cards also exclude payments made on education, transit and top-ups. If you're looking for a card that provides a rebate on all spend, you'll be better off picking a flat, unlimited cashback card.
EZ-Link compatibility. If you want the convenience of sporting a student credit card that also doubles as your daily EZ-Link transport card, only several cards offer this feature.
Income level. As a student studying full time, you won't have to meet any minimum income requirements. However, if you're studying part time and working on the side, you'll need a minimum annual income of S$18,000 and not exceed S$30,000 to be eligible for a student card.
Residency status. Some student cards only accept applications from Singaporean citizens and permanent residents, while others are also open to foreigners. If you're an international student, you'll need to check eligibility criteria with the individual banks.
Back to top
Pros and cons of student credit cards
If you're unsure whether a student credit card is right for you, consider the following pros and cons:
Pros
Manage your own finances. Learn how to manage your own finances and have the freedom of making purchases without needing your parents' permission first.
Earn rebates and other perks. You'll earn a mix of reward points, rebates and other perks targeted at students. These include discounted or free entry to popular clubs, discounts on eating out, movies, travel, and more.
Build your credit score. If this is your first time using credit, you probably won't have any credit history. If you want to apply for other forms of credit in the future, such as personal loans, car loans or mortgages, getting a credit card and paying your bills on time is a good first step to building up a good credit history and making it easier to gain approval for other financial products later.
Safer than carrying cash. Rather than carrying cash which is more easily lost or stolen, a credit card can be easily cancelled. Banks also typically have security processes in place to protect your money from theft or if you suspect fraudulent transactions are occurring on your account.
Emergency line of credit. If you don't have enough cash or savings available, a credit card could be an emergency line of credit for unexpected expenses. Just remember that you'll need to repay your balance in full or you'll be charged hefty interest fees.
Cons
Lower earn rates. A student credit card may not offer the best reward earnings or rebate rates and may exclude many types of expenses from qualifying for such rebates.
High interest rates. If you can't fully repay your balance on time, you'll be charged high interest rates which you may not be able to afford. If you're looking to withdraw cash in advance, these fees will also be costly.
Credit damage. If you miss credit card repayments or acquire debt, these will be recorded on your credit history and make it more difficult to gain approval for loans in the future.
Credit card fraud. While there are security measures in place to protect you against credit card fraud, reporting fraud and reclaiming your money can be a stressful and time-consuming process.
Credit card surcharges. Paying with a credit card usually attracts a surcharge fee of around 0.5% to 2% for Visa and Mastercard holders.
How to apply for a student credit card
Eligibility requirements checklist
Age. You need to be at least 18 years old in order to apply for a student credit card. You will need a copy of your parent's/guardian's NRIC if you are below 21 years old.
Student Matriculation card. Depending on the bank, you will need to prove that you are a current student at one of the approved tertiary institutions.
Residency Status. Some cards are only open to application from Singaporeans citizens and PRs, while others are open to foreigners.
Income. There is no minimum income required for student cards since the assumption is that most students are studying in a full time basis. However, for those who are studying part-time or earning a side income, the minimum income requirement is S$18,000 annually and not exceeding S$30,000.
Credit history. For most applicants, a student credit card is their first credit product, meaning they do not have existing credit history. Credit limits for most student cards are low to minimise the bank's risk of default and give students a pathway to build their credit history. As long as there are no blemishes on any existing credit reports, your application should be approved if you meet all of the other eligibility requirements.
The documents and information you'll need to provide
If you meet these application criteria, you can go ahead to fill out the online form. You'll need to provide some personal details, including:
Personal information. This includes your full name, NRIC number, date of birth, residential address, email address and phone number. Student information. You'll need to include details of the educational institution you're enrolled in.
Legal Guardian's Details. For those who are below 21 years old, you will need to fill in your legal guardian's or parent's details, including their name, NRIC/Passport number, relationship to you, contact number and their employer details.
What happens after I've applied?
Once you have filled out the online application, you will arrive at the last page where you can review all the information you have filled in before you hit "submit". You should reach a screen that informs you that your form has been submitted. The processing for card approval can take anywhere within a week to 2 weeks.
Once it is approved, you will receive the card in your mailbox and you'll need to activate it before you can start using it.
Back to top
Alternative money options for students
Before applying for a student credit card, you should consider what other options are available to you.
Prepaid card
With a prepaid card, you can preload money onto it. This will not attract interest fees since it is not considered credit and you won't fall into debt. With this card, you could gain the flexibility and convenience you're looking for, as it will be accepted just like any Visa or Mastercard.
Supplementary credit card
As long as you're at least 18, you can request to become a supplementary cardholder on your parents' credit card account. Your credit card will be linked to their account, meaning they will remain legally responsible for all expenses incurred on your card.
Debit card
If you're looking for quick access to funds, you could consider opening a savings account to pay for any unexpected emergencies and linking that to a debit card. This may be a more affordable option as withdrawing from a savings account won't incur any interest fees and you won't have to worry about repaying balances by a due date. The difference between a debit card and a prepaid card is that a debit card is limited by your bank account balance, while a prepaid card is restricted by how much money you've preloaded onto it.
Bottom line
A student credit card could help you learn how to manage your finances and build a good credit standing while enjoying rebates and perks targeted at students. Plus, you could free up some helpful cash flow while you study. However, keep in mind that other financing options may suit you better. If you're ready to find the best student credit card, start comparing your options now.
Frequently asked questions