Finder is committed to editorial independence. While we receive compensation when you click links to partners, they do not influence our content.
Best air miles cards in Singapore
Reward yourself with free flights when you spend with an air miles credit card.
Find out what you need to look for when choosing the best air miles card for you.
Best for
Bonus Loyalty Miles
Best for
Frequent Flyers Points
Best for
Flexible Redemption
Compare some of the best air miles cards
Air miles cards are designed for frequent travellers and those who want to use credit overseas. These cards can help you avoid travel-related fees by offering lower currency conversion fees and waiving ATM fees. Additionally, air miles cards typically come with bonus perks such as complimentary travel insurance, 24/7 concierge services and accelerated reward-earn rates. However, it is important to find the best air miles card for you, which depends on your travel preferences, lifestyle, and spending habits.
What is an air miles card?
Air miles, also known as frequent flyer points, are a type of incentive program offered by airlines and credit card issuers. Like reward points, air miles can be earned and accumulated when you charge purchases to your card. These air miles can then be transferred to a frequent flyer programme (for example, KrisFlyer or Asia Miles) and redeemed for flight fares and even cabin upgrades. Simply put, airline miles is just another loyalty program whereby you earn and accumulate points from your charged amount, and eventually redeem them for a reward of your choice.
Not all air miles cards are the same. Some allow you to earn reward points that can be converted into air miles, while others award air miles directly. Some may allow you to redeem the air miles across a wide range of airlines (also referred to as indirect earn cards), while some only allow flight redemption on a specific airline. Besides this, some cards offer miles with no expiry while others are only valid for a certain set period (for example, two years). When choosing the best air miles card for you, it's important to compare these factors and decide which perks matter to you the most.
Types of air miles cards
Before you choose the best air miles card for you, understand that there are two types of cards to choose from: co-branded airline cards and general travel cards. Depending on your travel style and preferences, you may benefit more from one type of card than the other.
Co-branded cards. Most airlines partner with credit card issuers to offer co-branded cards that grant exclusive perks to their customers. The American Express Singapore Airlines KrisFlyer Ascend Credit Card, for example, is a co-branded card that rewards you with KrisFlyer miles. These miles are automatically credited to your KrisFlyer account without any conversion fees. Generally, when you charge expenses made with their associated airlines, you'll earn accelerated miles on every dollar spent. These co-branded credit cards also tend to offer exclusive perks like priority boarding, lounge access and discounts on in-flight purchases.
General travel cards. General travel cards, on the other hand, aren't affiliated with a specific airline. Instead, you earn travel points from the credit card issuer. Though these cards don't come with the exclusivity of co-branded cards' airline-specific perks, you do have the added flexibility to use the accumulated travel rewards points with a variety of airlines. Besides airfares, these miles are usually redeemable in plenty of other categories including shopping, dining and hotel stays.
Can I only earn air miles from flights?
No, there are many other ways to earn air miles without flying. Most airlines have partnerships with establishments that will reward you with miles or travel points (which can then be converted into miles) when you spend with them.
How to earn air miles on your credit card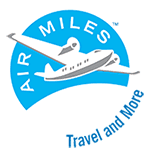 Eligible purchases. The most regular way to earn miles on your card is by charging eligible purchases to it. Eligible purchases typically include ordinary purchases and exclude cash advances, balance transfers, interest, fees and government payments, but you should read your credit card Product Disclosure Statement or contact your credit card provider to clarify.
Fly Frequently. No guesses for this one! The more you travel, the more miles you can earn on your credit card. Air tickets, hotel bookings and overseas spending usually earns you more miles per dollar than local or online shopping for other products and services.
Supplementary cardholders. Get your partner or family members to help you earn air miles by giving them a supplementary card. You can easily double or triple your earn rate this way, but it's important to remember that you'll be accountable for all purchases made on the additional card.
Bonus points on sign-up. Also known as Welcome Miles, this is now a common feature in credit card promotions where you can earn a chunk of points when you sign up for an introductory offer. Be aware that you may have to do something to activate the offer and receive your points, e.g. spend S$500 in the first month to receive 10,000 bonus points.
Bonus points partners. Some card companies have partnerships with other stores and businesses, so you can earn extra points when using your credit card at their stores too. However, some conditions may apply, so be sure to read the fine print and make sure you're doing what's necessary to earn the bonus points, such as book online or within the promotion period.
Other bonus point offers. As well as bonus points on sign-up, some card issuers offer bonus points for existing customers during promotions. American Express, for instance, awards bonus points to card members for successfully referring friends and family members.
How to spend your miles
Flights. The mainstay of frequent flyer programs used to be flight redemptions, and although you can nowadays redeem almost anything via the frequent flyer store, flight redemptions still usually offer the greatest value in terms of dollar per point. You can redeem your flight through your frequent flyer online account or the airline website.
Flights with partners. You can usually use your points to redeem flights with any of your frequent flyer program's partner airlines as well, although some routes and seat classes may be excluded. You should be able to do this through the partner airline's website – you'll just need to quote your frequent flyer number and nominate to pay with points before you finalise the booking.
Travel packages. The range of travel rewards has extended to include travel packages and holiday itineraries, so your frequent flyer store can now be your one-stop shop when it comes to vacations.
Hotel accommodation and car rental. Frequent flyer programs now supply the full gamut of travel needs. You can book your overseas hotel stay and car rental using your points at the same time, which can be done when booking through your frequent flyer website. If not, you might also need to provide your frequent flyer number and elect that you'd like to pay with points when making the booking.
Products from the rewards store. Frequent flyer stores these days appear more fully stocked than department stores, with their wide range of clothing, jewellery, homewares, electronics and toys. These online stores can usually be accessed through your online frequent flyer account.
Lifestyle offerings. You can even spend your points on theme park tickets, concert tickets, wine and restaurant dining.
Shopping and gift vouchers. Most frequent flyer programs have large retail partners, so you can exchange your points for store vouchers either to be used online or at their bricks-and-mortar outlets.
Frequent flyer programs
There are hundreds of frequent flyer programs worldwide. While most credit card issuers are affiliated with a range of airlines, two of the most prominent airline miles programs in Singapore are KrisFlyer and Asia Miles. Here are some of the top frequent flyer programs for you to choose from when considering the best air miles card for you.
Hailed as the most popular frequent flyer program in Singapore, KrisFlyer allows you to earn and redeem miles on the Singapore Airlines Group portfolio of airlines (Singapore Airlines, SilkAir, Scoot and Vistara), as well as their partner airlines under Star Alliance, such as ANA, Garuda Indonesia, Thai Airways and United Airlines.
Anchored by Cathay Pacific, Asia Miles is yet another popular airline miles program partnered with most credit card issuers in Singapore. You may earn and redeem miles on Cathay Pacific and all its partner airlines under the OneWorld alliance, which includes American Airlines, British Airways, Japan Airlines, Malaysia Airlines, Qantas and Qatar Airways.
AirAsia
's frequent flyer program, BIG Loyalty allows you to earn BIG Points when you fly with AirAsia. These points are redeemable for flights, cabin upgrades, accommodations and other promotions. As BIG Loyalty is still relatively new to the air miles scene, only DBS bank and Maybank provide reward redemptions for AirAsia.
How to choose the best air miles card
When shopping for your new air miles card, there are several factors you need to consider including your travel style, preferences and spending habits. On top of that, you'll also need to compare the benefits and features of the various air miles credit cards before signing up.
Here are some considerations when choosing the best air miles card for you:
Miles earn rate. The earn rate determines how fast you can get your next reward. You can typically earn 1.2 air miles for each $1 spent on eligible purchases locally, and 2 air miles for each $1 you spend overseas. The higher the earn rate, the more you get out of every dollar spent. Certain spends such as airfares and hotel bookings may provide an accelerated earn rate, such as 3 miles per $1 spent. However, take note that credit cards with higher earn rates generally come with higher annual fees and interest rates as well.
Introductory bonus. Some air miles cards entice customers to sign up by offering large, lump-sum bonus points that may allow you to instantly redeem a return flight. Other complimentary travel gifts may include luggage bags or hotel stays.
Partner airlines. Having the option to transfer mile points to various frequent flyer programs and access a large network of partner airlines is advantageous. This is especially beneficial when you fly further and require a variety of flight connections.
Range of rewards. Make sure to browse both your credit card issuer's and the frequent flyer program's website before signing up to see if they offer rewards that you'd truly enjoy. Some air miles cards also give you the option of redeeming the miles for shopping vouchers or cashback.
Card perks. Air miles cards generally offer a broad range of travel-related benefits such as free travel insurance, airport lounge access, limousine services and concierge services.
Redemption rules. Usually, you're only allowed to redeem accumulated air miles in a predefined number, for example, 1,000 miles or 10,000 miles per redemption. Therefore, you should consider how long you will need to wait before you can make redemptions on a particular card.
Annual fee. Travel cards typically cost more than other reward credit cards. Annual fees usually range from $200 to $600, depending on factors such as earn rate and the perks offered by a card. When you're choosing the best air miles card for you, make sure you're paying for a card that comes with perks you'd actually use. Otherwise, you may end up paying more than what you save with the card.

Foreign transaction fees. Some air miles cards come with lower foreign transaction fees, so make sure to sign up for one that would incur the least fees on your overseas spend (especially if you plan to use the card overseas).
Overseas ATM withdrawal fees. The best air miles cards often waive or offer low overseas ATM withdrawal fees. This can help you save while travelling, in case you need to access foreign cash.
Interest rates. Pay attention to the card interest rates if you intend to carry a balance. It is highly advisable to make regular repayments and settle your credit card bills in full so that this will be less of a consideration.
Miles conversion fee. You may be charged a conversion fee each time you request for a conversion of reward points into air miles.

Pros and cons

Pros

Be rewarded for travelling. Air mile cards are designed for the frequent traveller and offer extra rewards on overseas purchases. Simply using your credit card overseas or charging any online spends in a foreign currency will give you more from your credit card.
Save on travel-related expenses. Air mile cards can help you save on expenses such as foreign transaction fees and ATM withdrawal charges, along with free travel insurance.
Widely accepted. Air mile cards are usually widely accepted in most countries so you don't have to worry about not being able to use your card when you travel.

Cons

Higher annual fees. If your card comes with premium complimentary perks, such as high travel insurance coverage or 24/7 personal concierge services, it will most likely come with higher annual fees.
High interest rates. Air mile cards tend to incur higher interest rates than regular credit cards. Besides this, you may incur excessive interest if you carry a balance.

When choosing the best air miles card for you, make sure to check that the benefits offer more value than the cost. An easy way to calculate this is by summing up the value of the rewards you'd receive in a year and comparing this to the costs that you'd pay per annum. While air miles card may be a great idea for frequent flyers, they may not be suitable for everyone. Don't be too eager to sign up for a card if you haven't looked at its downsides. Always consider your personal needs, lifestyle and spending habits before deciding.

FAQs about the best air miles cards