Finder is committed to editorial independence. While we receive compensation when you click links to partners, they do not influence our content.
Best DBS Credit Cards in 2020
On the hunt for a credit card that fits yourspending habits to a T this new year?
A credit card that rewards your lifestyle and spending habitsis one of the biggest hackstosave big on your dailyexpenses.
Do you travel a lot? Or shop at retail outlets frequently? There's a credit card out there that's going to suit you and reward you for your existing spending patterns.
And here's the good news –DBScredit cards cater toevery type of spender – whether you're big on retail spending over the weekend, shopping at your favourite department store, counting theair miles for your next trip or trying to save on the essentials, DBS has something for everyone!
,
Best DBS credit cards for petrol and fuel savings
DBS Esso Card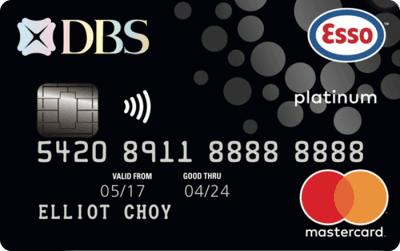 If you're looking to save on your fuel expenses, DBS Esso Card could be a great fit to consider.
Not only will you be accumulating up to21.2% in fuel savings with the credit card, if you're a regular Esso customer and have already signed up for the Esso Smiles Drivers Rewards Programme, you'll get an additional 2.4% Smiles savings!
Here's how to get the most out of the DBS Esso Card with theEsso Smiles Driver Rewards programme:
Earn 1 Smiles Point for every litre of Synergy fuel purchased at any Esso station
Enjoy S$10 instant fuel redemption with as low as 300 Smiles Points earned or up to S$30 instant fuel redemption with 750 Smiles Points earned.
The DBS Esso Card helps you go further for less with excellent fuel savings opportunities.
Best DBS credit cards for retail rewards
DBS Woman's Card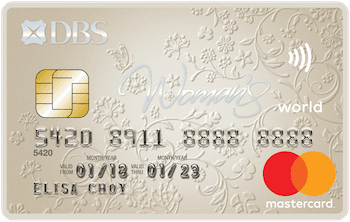 This card is a dream for those of you big on shopping at popular retail fashion, beauty and diningoutlets in Singapore.
Sephora? Anna Sui? Aldo?
This credit card's got you covered with some of the bestdiscounts at these popular retailers. For instance, get 15% off all products at beauty brand SkinInc, or 15% off at Love, Bonito with every S$100 spent!
Enjoy up to 5x the DBSpoints on all your online purchases or 10 miles for every S$5spent. With the DBS Woman's World Card, double those points with 10x the DBS points for online purchases and 3x the DBS points for overseas purchases.
On top of that, enjoy 0% interest payment plans with this card and complimentary e-commerce protection which protects you in case of the following:
Incomplete delivery or wrong item delivered
Improperly functioning due to physical damage to delivered items
Non-delivery of purchase after 30 days of the scheduled delivery
DBS Takashiyama Visa card
Are you a regular shopper at Takashiyama? If so, this card is sure to speak to loosen yourpurse strings.
With a host of privilegesof 5 –6% voucher rebates at Takashiyama Department Store and Takashiyama Square, B2, this card lets you spend at your favourite department store guilt-free.
Earn Takashiyama Bonus Points with all your spending at the store, 2 points for every S$12 spent for the DBS Takashiyama Visa Card and 2 points for every S$10 spent for the DBS Takashiyama American Express Card. For every 100 Takashiyama Bonus Points you accumulate, redeemS$30 worth of gift vouchers at the store.
Happy shopping!
DBS Black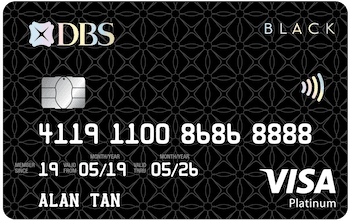 If you're looking for a card that gives you the trifecta of dining, travel and retail rewards, look no further than the DBS Black card.
Earn 3x the DBS points with this card and enjoy major discounts such as a 10% discount at bothretail partners,Brooks Brothers and Timbuk2, 1-for-1 dining discounts at House of Seafood and Wooloomooloo Steakhouseand a 10% cashback rate and 5% off travel partners, Booking.com and Klook respectively.
What's not to love here?
Best DBS credit cards for airlines
For the avid traveller or jet-setter, you'll need a card that racks up the air miles quickly for your upcoming adventures.
Here are a few ofDBS Bank's best credit card offerings for the avid traveller.
DBS Altitude Visa Signature Card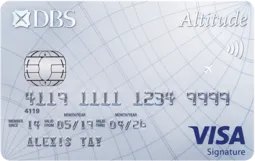 The DBS Altitude Visa Signature Card lets you go further for every dollar with 3 miles for every S$1. Having partnered with major flight and hotel providers such as Agoda, Expedia, Airbnb, Singapore Airlines, Qatar Airways and Cathay Pacific, you'll be accumulating a load of points to save on your next trip.
Oh, and your points never expire. So not to worry about booking unnecessary trips or travelling more than you normally would!
You'll also get 15% off retail rates for airport transport services and two complimentary lounge access passes for a 12-month period to any of over 1,200 airport lounges worldwide. Here's to travelling in style!
DBS Altitude American Express Card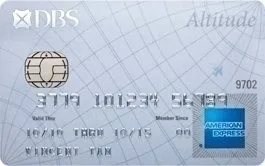 Like the Visa Signature version, the DBS Altitude American Express Card also earns you 3 miles for every S$1 spent on flightand hotel bookings.
However, it comes with some sweet privileges of its own. For instance, get up to 50% in savings for dining, accommodation and more with the American ExpressLive the World programme.
Get packing!
Best DBS credit cards for cashback or rebates
POSB Everyday Card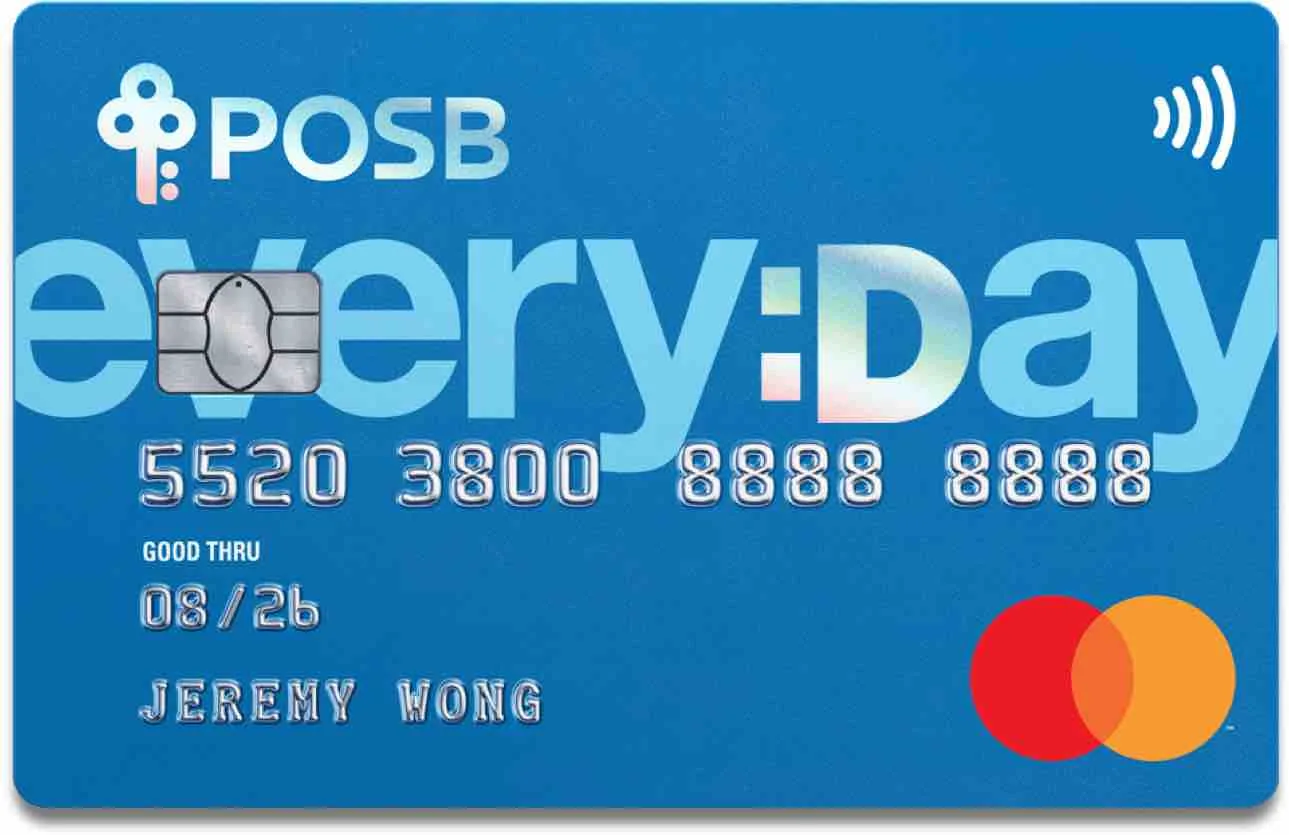 If you're after a card that lets you save on necessary spending or daily essentials, it's really hard to beat the POSB Everyday Card.
With up to 15% cash rebates, the POSB Everyday Card is a great way to save on your everyday essential spending like groceries and online dining or catering. Plus, your cash rebates never expire, meaning you don't have to buy more groceries or order more food than you normally would.
It doesn't stop there. The card also lets you save big on fuel with its partner fuel provider SPC where you can accumulate up to 20.1% in fuel savings!
You'll even get a 1% cash rebate for your utility bills with selected partners. You've gotta pay your bills anyway, why not get something back in return?
Overall, the POSB Everyday Card is a great option for people looking for a credit card for the bare essentials or asimple, fuss-free option that provides some great cashback and rebates. Spend as you normally would and watch the savings add up!
Still not sure which credit card is right for you? Don't worry!GoBear's got you covered with our trusty comparison platform.
There, you'll be able to compare, contrast anddecide which credit card to apply for with all the information in one place.
Easy, right?
What are you waiting for?