Finder is committed to editorial independence. While we receive compensation when you click links to partners, they do not influence our content.
Best cars for dog owners
Your guide to finding a car that loves your dog as much as you do (or at least comes close…)
It's no secret that dogs love cars. Tell a dog they're going for a ride and watch the excitement happen. But not every vehicle is as dog-friendly as the next. From pet hair to lax safety features, the wrong car could make for some uncomfortable trips for you and your dog. If you're in the market for a car or want some tips on making your car more dog-friendly, this guide is for you.
Features you want in a dog-friendly car
What makes a dog-friendly vehicle? Keep a lookout for the following features:
A pet barrier. Some cars come with a built-in pet barrier, but most require you to buy your own. The barrier keeps your pet in the back seat of the car so they can't clamber over the seats. (See the section below on AVA (

Agri-Food and Veterinary Authority of Singapore)

safety standards for restraining your dog.)
A spacious cargo-style boot. This is a flat boot where your pet can sit. This can prevent pet hair building up in the back seat and works especially well for larger dogs.
Waterproof pet seat cover and pet barrier. You can purchase seat covers that spread across your entire back seat and also create a barrier between the front and back seats. It's best to get ones that are waterproof and washable.
Rear air conditioning. This is especially useful considering the weather in Singapore. If you have a pet seat cover or barrier, make sure it doesn't block the air conditioning.
Childproof window and door locks. It's easy for dogs to step on door handles and window controls, so this is a handy safety feature to have.
Best cars for small or medium-sized dogs
Travelling with a small or medium-sized dog can be a lot easier than a larger dog, but you still want your pet to be as comfortable as possible for the ride. Here are the cars to consider:

BMW 3 Series
This luxury vehicle, while on the pricier end of the spectrum, comes with rubber mats for the back cargo area and built-in dividers. The car also comes with a sunroof with a shade cover – perfect for those summer days. The rear seats can fold down to provide extra space and the boot window can also be opened to provide extra ventilation when needed. Medium-sized breeds such as French Bulldogs will feel right at home in this car.
MINI Cooper Countryman
Zip around the city with your pup in tow. With a wider wheelbase, this sporty model is significantly bigger and more spacious than other MINI models. Perfect for accommodating for a small-sized dog. Comes with plenty of storage and is ideal for a pair of Dachshunds or even a Beagle.
Toyota Prius
This innovative vehicle is ideal for dogs of any size – from Chihuahuas to Golden Retrievers. The solar ventilation system can cool your car when parked in direct sunlight, and the air conditioning system provides bursts of air when you drive. Accessories such as the boot liner and scuff guard protect your new Prius if you want to keep your dog in the back.
Mazda CX-5 Grand Touring
A spacious SUV for all kinds of trips, you and your pup will be comfortable with a tilt glass sunroof and plenty of space with a 40/20/40 split-folding rear seat. Accessories include a boot lip protector so your dog won't scratch the paint getting in and out, a cargo barrier and tray and also rear seat covers to catch pet hair. Bull Terrier pups will feel right at home in this Mazda.
The cars that will accommodate your large dog
Your pup may have started off small, but it won't be long before they will be outgrowing everything – including your car. Here are the cars that your big friend will be the happiest in:
Volvo XC90
One of the most popular SUVs in Singapore, the Volvo XC90 ranks highly for multiple winning factors. The car comes with four-zone climate control, a roomy cargo area and third-row air-conditioning to keep you and your dog happy. Leather seats also make for easy cleaning of dog hair if you have a dog that sheds, like a Labrador. Notable accessories include a dog gate for the rear of the car that keeps your pup in place, even when the boot is open.
Subaru Outback
The Outback is extremely roomy and suitable for owners and dogs with an active lifestyle. Plenty of room for your dog to move around without sacrificing storage space for all of your beach essentials and other gadgets. Perfect for larger breeds like German Shepherds.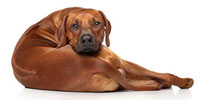 Honda Odyssey
A popular choice for families, the 7-seater Odyssey is pawfect for ferrying your kids and dogs. Featuring one-touch dual power sliding doors and magic slide seats, getting your passengers and large dogs in and out of the car is a breeze.

Kia Sorento With over 2 cubic metres of cargo space with the seats folded down, the Kia Sorento has more than enough room to carry the whole pack to the park. There's also a retractable rear-door window sunshade to help your rear passengers and dog stay cool on sunny days.
On the road – know the safety standards about restraining your pet
Compared to other countries that may impose laws regarding the restraint of your pet in a vehicle, the Singapore government is considered somewhat lax in this context. As long as you adhere to the minimum standards set by the AVA to keep your pets safe and comfortable during transportation, you are good to go.
Dogs aren't necessarily picky, but that doesn't mean you shouldn't be. Choosing the right car or even making your existing vehicle more dog-friendly can make your next car trip a lot easier and safer.
---