Finder is committed to editorial independence. While we receive compensation when you click links to partners, they do not influence our content.
Bear Chat with Alvin Chow, CEO of Dr Wealth
In this month's edition of Bear Chats with Chiefs, we speak to Alvin Chow, CEO of Dr Wealth, a leading investor-centric platform providing education and portfolio management tools, with more than 4000 graduates to date. He shares with us how to invest in yourself to profit from this Global Crisis and more importantly, how to make a good flip on his first love – whisky! (Note: He is still denying that it is his first love.)
GOBEAR: Lets start easy – can you share some Personal Development Courses that have made a mark on you.
I haven't really attended any personal development classes (excluding investment classes), however, I did attend a leadership program when I was in the Singapore Armed Forces (SAF). It was conducted by a retired warrant officer. I have been inculcated with the SAF values since enlistment so I thought it was another go-through-the-motion session. But I was wrong. I finally understood what values meant. He gave a scenario of a humanitarian aid expedition and the mission was to save as many lives as possible. However, your boat has limited capacity and a family member is in danger of drowning. You can save this person or you can save 3 other strangers.
Your personal values are probably in conflict with the SAF values. You want to save your family member but the SAF wants you to be loyal to the country, be professional and accomplish the mission of saving as many lives as possible. This is where you have to stick to the organisational values, and not your own. Hence, values are important to align everyone in the organisation about what actions to take. Otherwise everyone will bring along their own values to do things.
I learnt this well when I started my own business, I focused on establishing values for my company so as to align everyone's action and evaluate their performances and behaviour according to these values.
GOBEAR: What do you think when people say that personal development courses (or investment courses) are a waste of money?
Depending on the context, and depending on how driven you are. There are people who are very driven, and they will not go for courses like these. However, these people are just a very small portion of the population. Otherwise, I think it makes sense to attend paid courses. Typically, these courses are designed with structure, to bring you from point A to point B and it forces you into a system to learn. Now, if you include the opportunity cost spent on inefficiently researching on an unfamiliar topic, the total payoff could be even greater.
GOBEAR: Many of our visitors are mid-career professionals, who might be considering between spending on an MBA or a personal development course. What are your thoughts on that?
I think both serve very different purposes. In certain professions or multinational companies, an MBA is a prerequisite for promotion, where it counts as a required skillset or academic profile. Alternatively, management consultants will definitely find value in an MBA, in order to even get through the door for interviews. MBAs can also help you network with classmates who are future leaders of their companies. So it depends on what you need for your career, otherwise in any other situation, personal development skills course would be more relevant.
GOBEAR: We drink a lot of whiskies together. Do you think that people on the road to financial freedom should be wasting money on such endeavours? Is it a sin of the F.I.R.E. generation?
Everyone will value different things in life, it is an intangible satisfaction when you buy the things you value. To get there, the first step is to figure out what you value in life. I do like alcohol, but as long as I drink responsibly, I don't think it's a waste of money because I enjoy it too. Anyway I don't really drink expensive whiskies, mostly are $200 or below. I may buy more expensive ones for investment but limit to a small proportion of my portfolio. I just see whisky as part investment and part enjoyment.
GOBEAR: Since we are on the topic of inexpensive whiskies. What are some great "deep value" whiskies that you have bought?
To be honest I don't really know how to value whiskey. However I noticed that whiskey is a Veblen good – the more expensive it is the higher the perceived value is. Similar to gold and bitcoin, they don't really have Net Asset Value (NAV) or generate cashflow as normal stocks do but carry perceived value. My own experience was, I always look for whiskies from duty free shops all around the world for good deals and ask friends to buy it back for me. On one occasion, I got a bottle of Karuizawa whiskey from Taipei that cost me about $2,000 and flipped it on Carousell for $3,000. We met up around Orchard, and the buyer paid me with an envelope of cash. It was a one of a kind experience, and 50% gain within a week!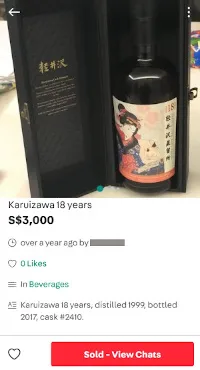 Carousell Screenshot – © Alvin
GOBEAR: What is your rating, or evaluation structure in buying whiskies.
I'm trying to learn, but I don't consider myself a whisky investor because the amount is small. I find that when you invest in ghost distilleries or whiskies that have stopped in production, there tends to be more value. Take for example, 10 years ago, a Hibiki 17 was $300. We enjoyed it along the way and almost finished the bottle when Suntory announced it will cease the production of aged Hibikis. The price doubled and tripled within months. There are other ghost distilleries like BRORA or Port Ellen, however, they are also very hard to find now, you can only get it in secondary markets. I get confused by all these from time to time too, so I have decided to only focus on 1 brand and that's Macallan. I see it just like a blue chip that everyone knows and the value tend to stay.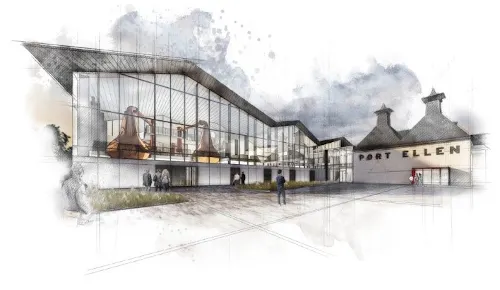 An artist impression of the new Port Ellen Distillery ©Diageo
GOBEAR: Share with us some interesting Whisky brands and vintages that we can buy for drinking now?
I don't really know, maybe the Game of Thrones series? But it is on discount now, so I'm really not good at this, even some ghost distilleries can reopen (like Port Ellen). Join some whisky Facebook groups, sometimes you'll find some good deals there. People in these groups are very generous to share, you would able to find some insights there too. (Editor: Alvin is invested in the Game of Thrones series and there are sellers pricing the series at half the price!)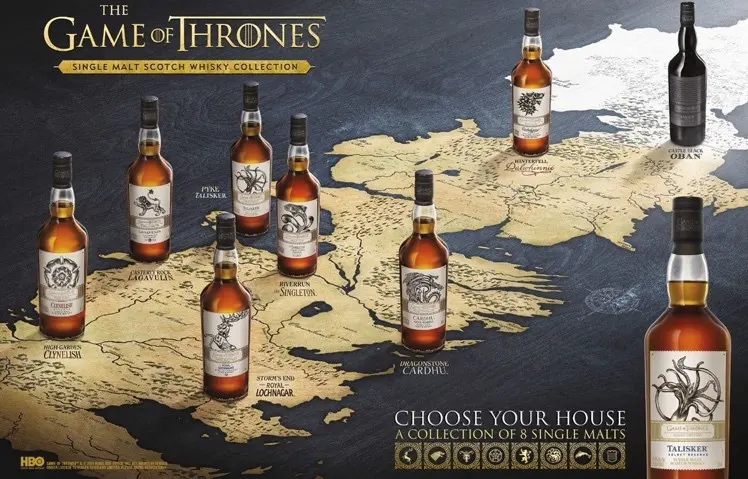 The Game of Thrones Single Malt Scotch Whisky Selection – © Diageo
GOBEAR: Do you think it is a good time during volatile times like this, for people to start on active trading? I would expect a surge in interest for trading or investing courses?
I have the same observation, even my wife has asked me how to set up a stock trading account. From my broker friends as well, the new account opening volume just increased like mad. Come to think of it, when I started investing in 2007, it was also a volatile time. People don't wake up and start thinking about investing, they need triggers like this and then people will start giving attention to the stock market. I think it's a good thing, otherwise if the market has been stable; new investors wouldn't be drawn in.
GOBEAR: I believe that investing is simple, but not easy. As we both know, it doesn't take a straight As student to do well in investing, hence, do you think it is still necessary for people to attend investment courses?
People always know to buy at the bottom, but the question is most people don't know what to buy. I find that it has more value to attend courses now than any other time. For a bear market like this, it is the best time to buy growth and bluechip stocks, the ones that are usually expensive, you can only get them cheap during crisis like this. I'll suggest everyone to start building a watchlist now, the 2008/2009 financial crisis was a V shape recovery, we don't know if this one will be the same but over the long run we should be rewarded handsomely.
GOBEAR: Some people can make the fortune of a lifetime, if they capture the once-in-a-decade opportunity. Many experts consider the covid-19 sell off as one of such opportunity, right up there with the Global Financial Crisis, SARS epidemic (circa Asian Financial Crisis too). How can DrWealth help in this endeavour?
This really depends on one's personal experience, there isn't a one size fits all solution. An ideal candidate should have a fresh mind that doesn't get held back by any past experience. Also, the person needs to be action oriented, when you learn something new you must do it. As we execute, we will make mistakes, but we continue to invest and learn from those mistakes. Here at Dr Wealth, we try to give knowledge and share as much experience as possible, but it is still personal responsibility for their own action. It's like learning how to ride a bike, we can teach you about balancing and what to watch out for, yet you must get onto a bike yourself to master it.
About the Series
Bear Chats with Chiefs is a series hosted by our Singapore Country Director, Winston Ng, with the sole purpose of discovering the soul behind the movers and shakers of today. It is 10 straight questions, no fluff, all personal, and with a dash of fun.
More guides on Finder
Singapore Airlines KrisFlyer Rewards Program

The Singapore Airlines KrisFlyer program is a frequent flyer program ideal for people travelling to Asia on a regular basis, offering great benefits including a high rate of return on mileage points.