Finder is committed to editorial independence. While we receive compensation when you click links to partners, they do not influence our content.
Bank vs Money Lender vs Pawn Shop
It seems like everyone wants to lend you money. From shady phone message ads to fancy pamphlets, everyone's got an angle. But before you sign on that dotted line, here's what you need to know about the three most common credit institutions. Keep this in mind before borrowing:
1. Banks
Banks are the most common source of loans, as they're tightly regulated and convenient. Some of the main benefits of banks include:
Tighter regulatory controls
Ease of access
Wide variety of loans for different purposes
Generally, provides the largest possible loans
Easy to compare
Tight regulatory controls
Banks are subject to more regulation than almost any other kind of financial institution. The Monetary Authority of Singapore (MAS) ensures that banks are honest in publishing interest rates, imposes curbs on how much they can loan out and will act if they try to push predatory loans or products.
In fact, banks have so many regulations to follow that an entire specialised field (called compliance) exists just to make sure they follow all the rules.
Ease of access
Bank loans are the easiest to access. An obvious example is the credit card, which is essentially a pre-approved loan. You can swipe it to pay at any time, without having to put in a loan application every time you need credit.
Other forms of bank loans include credit lines and personal loans. Once you have a credit account open with the bank, you can often be approved for loans within the same day (sometimes as little as 15 minutes).
You rarely need to go to the bank branch to apply for a loan. You can do it with a few taps of your smartphone, or a quick phone call.
Wide variety of loans for different purposes
There are many bank loans, for specialised purposes. For example, there are renovation loans, car loans, housing loans, and education loans.
When you take a loan for a specialised purpose, the interest rate tends to be lower. For example, a renovation loan may only cost around 5.7 per cent interest per annum, whereas a personal loan could cost between six and nine per cent.
The variety of loans means you can minimise cost, by taking the one most appropriate to your needs.
Generally, provides the largest possible loans
Moneylenders and pawn shops can't provide the same kind of loan quantum (total amount borrowed) that banks can.
For example, if you are buying a house, banks can loan you up to 80 per cent of the property value or price, whichever is lower. That's a loan of up to $280,000, for a $350,000 flat.
Moneylenders seldom loan out such large amounts – many of them will lend you a maximum of twice your monthly income, as shown in your CPF statements.
With pawn shops, you must have a pledge that exceeds the amount you want to loan.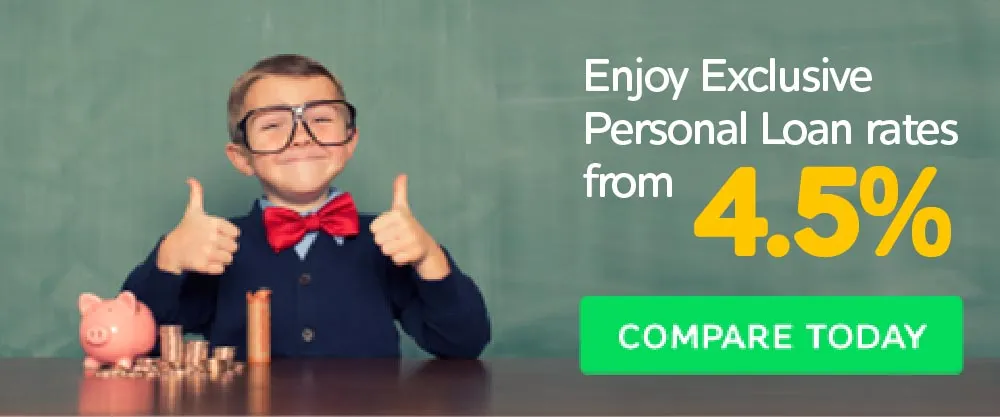 Easy to compare
It's easy to compare bank loans and find the lowest interest rates, through GoBear's comparison tools.
With pawns shops, interest rates tend to be quite standardised, so you can only look at different valuations. That is, you need to find a pawn shop willing to value your pledge (the item you are pawning) at a higher price. This could mean visiting a lot of them.
Licensed moneylenders offer a wide range of interest rates, based on their own policies, and how much of a risk they think you are. You'll have to visit several to find the cheapest option.
Drawbacks of banks
The main drawback to using banks is that you must get initial loan approval. There are basic requirements to this.
For example, most credit cards and credit lines will require you to earn at least $30,000 per annum, and it may be higher for foreigners. Bigger loans, such as mortgages, have even more stringent requirements. You may have to apply at more than one bank before you get approval.
Banks also check your credit score, which you can obtain from the Credit Bureau of Singapore (CBS) for $6. If you have a history of late payments or non-payment, it could be impossible to get credit from the bank.
2. Pawn shops
Pawn shops only provide secured loans. This means you must provide an item (called a pledge) that is of greater value than the amount borrowed.
For example, if you pledge a jade bracelet worth $60,000, you may get a maximum loan of $42,000 (70 per cent of the value).
There is no fixed formula as to how each pawn shop will value your pledge. It is possible for one pawn shop to value your pledge at a much higher price than another. You'll have to look around for the best deal.
Pawn shops will hold on to your pledge for up to six months. Every time you make a repayment (usually a minimum of $50), they will renew the loan and hold your pledge for another six months.
Once you have fully repaid the borrowed amount, plus interest, you will get your pledge back. If you don't make any repayments for six months, the pledge will be auctioned off, and you don't need to make any further payments (you have effectively sold the pledge).
Some benefits of pawn shops are:
No snowballing debt if you can't make repayment
Accessible to recently discharged bankrupts
Useful for the asset rich with limited or no income
Relatively low interest rates
No snowballing debt if you can't make repayment
If you can't repay the loan, the worst that happens is you lose the pledge after six months. After that it's over; your debt won't continue to compound. This is different from credit cards or moneylender loans, where your debt continues to grow even if you can't repay it.
Accessible to recently discharged bankrupts
If you were bankrupt but have received the official letter of discharge, you cannot immediately get credit from banks. Local banks will require you to wait for around five years after getting discharged, and foreign banks can require up to seven years.
Pawn shops don't really care about this, as they have security from your pledge. You may have to use pawn shops as a credit service until you can get bank loans again.
Useful for the asset rich with limited or no income
For retirees with no income or the recently retrenched who happen to own jade, diamonds, expensive watches, etc., pawn shops are probably the easiest loan option.
Pawn shops do not base their loans on your income. So long as you have something to pledge, it doesn't matter even if you have zero income.
Amongst the lowest interest rates
Most pawn shops in Singapore charge the same interest rate (see the interest rate chart below). Their low rates are due to the exclusive use of secured loans.
Drawbacks of pawn shops
Pawn shops can be deceptively expensive if you hold on to your pledge for too long.
For example, if you pay for your pledge for three years, but then give it up, you would have wasted a lot of money on interest repayments but gotten nothing out of it. It's important to set a time limit for yourself, as to when you will let the pledge go.
The other drawback of pawns shops is, of course, that you must have something of value to pledge in the first place. Banks and money lenders often don't require this sort of collateral.
Pawn shops are not as convenient as banks. You must go to the shop and get your items valued, it can't be done over the phone. There's a lot of legwork involved in finding the best valuation for your pledge.
3. Licensed money lenders
These are private businesses, which choose to take the risk of lending out money. Moneylenders have widely different interest rates and policies, and contracts they offer are seldom standardised (read everything carefully before signing).
The main benefit of licensed moneylenders is that, if a bank won't give you a loan, a moneylender might. In fact, one of the main customer demographic of money lenders are people who can't get bank loans (and don't have valuables to pawn).
Drawbacks of moneylenders
Moneylenders have their rate capped at four per cent per month, which is still shockingly high (see the interest rate chart below). In addition, some money lenders are known to charge high fees for "renewing" loans.
Note that, assuming the full interest rate of four per cent per month, a loan of $1,000 would compound to just over $50,420 in 10 years. It can be a bit hard to repay a loan at that rate.
Interest rate comparisons:
Banks:
Credit card loans – 24 to 26 per cent per annum
Personal loans – Six to nine per cent per annum
Renovation loans – 5.7 to 7 per cent per annum
Car loans – 2.78 to 2.99 per cent per annum
Home loans – 1.8 to two per cent per annum (as low as 1.08 per cent on GoBear)
Pawn shops:
Typically one per cent per month for the first month, and 1.5 per cent per month on subsequent months (approx. 18 per cent per annum).
Licensed money lenders
Varies, but capped at a maximum of 48 per cent per annum by law. Some moneylenders may offer unusual repayment periods, such as daily repayment or fortnightly repayment, which makes it difficult to calculate the actual rate of interest.
Actual repayment rates may be higher than interest rates suggest (e.g. you may have to pay fees to "renew" or "re-contract" the loan every few months, which don't factor into the interest rates).