Stream movies and TV shows, play games and control your smart home on the big screen, all from a single box.
What is Apple TV?
Apple TV is a streaming-media device built by Apple and capable of displaying a wide range of content on modern HDTVs. It hooks up to your TV via an HDMI cable and acts as a receiver for video and audio content streamed from services like Netflix and YouTube or from local sources like an iPhone, iPad or other iOS devices. This content is then displayed on your TV similar to the way various smart TV apps work.
One thing to note is that, unlike most other media boxes, Apple TV does not have any physical buttons. Instead, you control your Apple TV using the included remote or through the Apple TV app on compatible iOS devices.
It's also important to remember that most Apple TV functionality requires a constant Internet connection. If you don't connect your Apple TV to your local network via Wi-Fi or Ethernet, you won't be able to access iTunes, stream online video and music or make use of Siri's voice commands.
What can Apple TV do?
Streaming video is the primary function of Apple TV. Not only can you buy and rent movies and TV shows from the iTunes store on Apple TV, but you can also download an extensive range of third-party apps for services like Netflix, Amazon Prime Video, YouTube and Toggle in order to stream content from their libraries to Apple TV. Of course, for paid services like Netflix, you'll need to log in to your account before you can start streaming.
Playing music through Apple TV is similarly simple. Along with the ability to stream music and podcasts from your iTunes library, Apple TV sports dedicated apps for a number of music streaming services like Pandora, Vevo and, of course, Apple's own Apple Music.
---
Whether you want to show off happy snaps from your recent trip overseas or liven up your house with a slideshow generated from every photo you've ever taken, Apple TVs got you covered. Its Photos app provides built-in syncing with your iCloud photo library, while AirPlay support lets you share images straight from your iOS device to the big screen.
App support was a big selling point for the most recent generation of Apple TV, and key to its popularity was the ability to play games using the new Apple TV remote. Thanks to the inclusion of an accelerometer, a gyroscope and a touchpad, you can use the new remote to play racing games like Asphalt 8, arcade games like Pac-Man 256 and action-adventure games like Transistor.
The fourth-generation Apple TV also saw the addition of Siri, Apple's voice-controlled virtual assistant. Using voice commands, you can have Siri read you the latest news, sports scores, weather forecasts and more. Siri can also perform a universal search across services like Netflix, Amazon Prime Video and iTunes for any movie or TV show you want to watch, saving you the hassle of manually trawling through each service's library.
Smart-home functionality is one of the latest features to make it to Apple TV. By installing the Home app on your Apple TV, you can use it as a hub to control any HomeKit-enabled smart device in your house. In addition to telling Siri to adjust your thermostat, dim the lights or display the video feed from your security camera, you can remotely control all of your smart devices from your iPhone while you're out of the house so long as you leave your Apple TV turned on and connected to your home network.
What can't Apple TV do?
Despite the name, Apple TV does not contain a TV tuner and cannot display traditional television broadcasts. Instead, you'll need to use dedicated TV apps like Toggle and Singtel TV GO or the TV app built into tvOS 11 to watch free-to-air TV through Apple TV.
If you're looking to record your favourite TV shows, you're sadly out of luck with Apple TV. The device does not support video recording of any kind.
You'll also want to be aware that movies rented through Apple TV can only be watched on Apple TV. This is in contrast to regular iTunes rentals, which can be watched across multiple different iOS devices.
What is AirPlay?
AirPlay is the network protocol that allows different Apple or AirPlay-enabled devices to stream audio and video to Apple TV along with other compatible devices. In practice, this lets you connect an iOS device or a computer running iTunes to your Apple TV and stream supported content to your TV. Certain apps like YouTube have support for AirPlay built in, while newer iOS devices also allow for mirroring their screens directly to Apple TV.
What media formats does Apple TV support?
The latest model of Apple TV, the Apple TV 4K, is capable of playing a wide variety of media formats at resolutions up to 4K. Here's the breakdown:
Video formats
H.264 up to 2160p at 60fps, with support for Main/Main 10 profile
HEVC Dolby Vision (Profile 5)/HDR10 (Main 10 profile), up to 2160p
H.264 Baseline Profile 3.0 or below with AAC-L audio at 160Kbps per channel. Maximum 48kHz stereo audio in .m4v, .mov and .mp4 formats
MPEG-4 up to 2.5Mbps at 640 x 480, 30fps. Audio support for AAC-L at 160Kbps per channel, 48kHz, .m4v, .mov and .mp4 formats
Audio formats
MP3 (16-320Kbps)
MP3 variable bit rate
AIFF
Apple lossless
WAV
HE-AAC (version 1)
AAC (16-320Kbps)
Protected AAC
Dolby Digital 5.1/7.1
Image formats
What's up with the different generations of Apple TV?
Apple TV has changed considerably since it was first released in 2007, going through three hardware revisions prior to its current fourth-generation model. Each generation has introduced new features, and many apps will no longer work on older generation Apple TV devices due to reliance on these new features.
First generation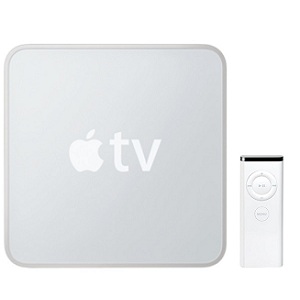 Launched in March 2007, the first-generation Apple TV originally came with a 40GB hard drive that was swiftly replaced with a 160GB version. Initially, Apple TV could only play content synced from iTunes via a Mac or PC, but a software update in 2008 introduced the ability to rent and purchase content from the iTunes store directly from your Apple TV.
---
Second generation
2010 marked the release of the second-generation Apple TV, which ditched its predecessor's hard drive for 8GB of internal storage and shifted focus to streaming content instead of downloading it. The second-generation Apple TV also introduced the ability to stream video from computers and iOS devices through AirPlay.
---
Third generation
In 2012, Apple released the third-generation Apple TV. Unlike the second-generation model, it didn't differ drastically from its predecessor. Other than boasting faster internal hardware, the big change was support for 1080p HD video. The first- and second-generation Apple TVs could only support up to 720p.
---
Fourth generation
The fourth model of Apple TV launched in October 2015 and brought with it support for Apple's voice-controlled assistant Siri; a dedicated app store with games, streaming hubs and other apps designed specifically for Apple TV; and a new touchpad-enabled remote.
---
Apple TV 4K
The latest model of Apple TV was announced at Apple's September 2017 Keynote event, and ushered in support for 4K video along with HDR10 and Dolby Vision. Alongside the new model, Apple also announced the imminent arrival of 4K videos to the iTunes store and support for 4K content through streaming services like Netflix and Amazon Prime Video.
---
How much does Apple TV cost?
The recommended retail price for Apple TV 4K sits at S$268 for the 32GB version and S$298 for the 64GB version. The fourth-generation Apple TV, meanwhile, is now available at S$228 for the 32GB version, but you can often find units going for considerably cheaper than that.
Apple TV 4K specs
Size

98mm x 98mm x 35mm
Weight

425 grams
Storage

32GB/64GB
Video Out

HDMI
Wi-Fi

802.11ac with MIMO
Bluetooth

Bluetooth 5.0
Infrared

Yes
Ethernet

Gigabit Ethernet
USB

USB-C (for maintenance only)
---