Finder is committed to editorial independence. While we receive compensation when you click links to partners, they do not influence our content.
All you need to know before travelling to Japan
Travelling to Japan should be on your bucket list, if it isn't already. It's the type of destination that would probably satisfy every type of traveller. Japan is for nature lovers, fans of ancient architecture (shrines and temples), art, history, and culture buffs, skiers and adventure tourists, people who love cherry blossoms, beach bums (see: Miyako Island) and honestly — just about everyone! Arigato, more please!
So if you're thinking of heading to good ol' Nippon (as the locals would say), here's your very own Japan travel guide to read over a glass of Sake.
Let's jump right in!
Do I need a visa to travel to Japan?
At the moment, Singaporeans are allowed to visit Japan for up to 90 days without a visa. However, it's a good idea to check again with the Ministry of Foreign Affairs (MFA), the Embassy of Japan in Singapore or your travel agent for updated information, just before you make your travel plans.
How to get to Japan from Singapore
The easiest way to get to Japan is by flight and many airlines service routes from Singapore to major cities in Japan.
With a non-stop flight, you can reach Fukuoka in under 7 hours and Tokyo, Sapporo or Osaka in under 8 hours.
Return tickets range from $350 to $800 on average, depending on where in Japan you're headed, when you're going (e.g. peak, off-peak or shoulder), if you're flying non-stop or with stops, and how early you've booked.
The cheapest air tickets are usually in the autumn (November), whereas the highest-priced fares usually come up during cherry blossom season, which depending on location, is from mid-March to May.
Get to Japan from Singapore by train
Believe it or not, you can actually get to Japan by train! According to Tripzilla, one can take the scenic route and get to Japan via train (bus and ferry) by travelling through Malaysia, then on to Thailand, Vietnam (via Laos or Cambodia), and China, to finally arrive at Osaka, Japan.
This route, which goes through most of South East Asia will take a minimum of 8 days to reach Japan, with no rest time in between.
But expectedly, if you are choosing to travel this way, you will need your downtime (34-hr Saigon-to-Hanoi train rides are no joke!) and you'll probably want to linger and see the sights around the stops too. So be sure to factor that in when estimating how long it will take to reach Osaka.
Whichever route you choose, make sure you have travel insurance to cover you in case of travel inconveniences, theft of belongings, missed connections, etc.
When is the best time of year to visit Japan?
The land of the rising sun makes for the perfect year-round destination, but depending on your sightseeing and holiday activity preferences, some seasons may be better than others.
Here are suggestions on the best times to pay a visit to Japan:
The Japan shoulder-season
That time between peak and off-peak tourist seasons in Japan are ideal because of lower prices and smaller crowds of visitors. In Japan, the shoulder season is generally from November to March. During this time, you might enjoy lower rates for hotels, flights, and attractions, as well as fewer queues.
Obon Festival in Japan
Obon Festival, also known as Bon is a special religious event held in Japan to commemorate ancestors. It generally takes place around mid-August, but varies by location, and might also be considered a kind of off-peak/shoulder in bigger cities.
While locals in city areas return to the countryside, the city becomes less crowded. Do also bear in mind that a few family-owned businesses and others might be closed during this time, so do check ahead.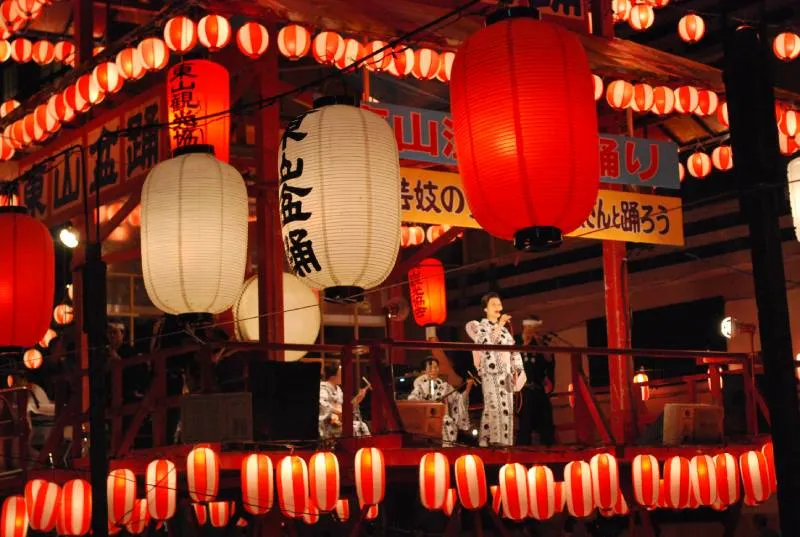 Cherry blossom season in Japan
So when should you visit if you want to see cherry blossoms bloom? This depends on where in Japan you'd like to see them.
Tourists headed to Okinawa might get a chance to catch cherry blossoms bloom in early January. If you are travelling to cities like Tokyo, Kyoto, Nagoya, and Osaka; you might get to see them in early April.
Headed up north to Hokkaido? Expect to witness the blooms in early to late May. Bear in mind that it does vary from year to year and for 2020, it's still a little early to estimate blossom dates. Official forecasts are expected to be published from mid-to-late January by the Japan Weather Association.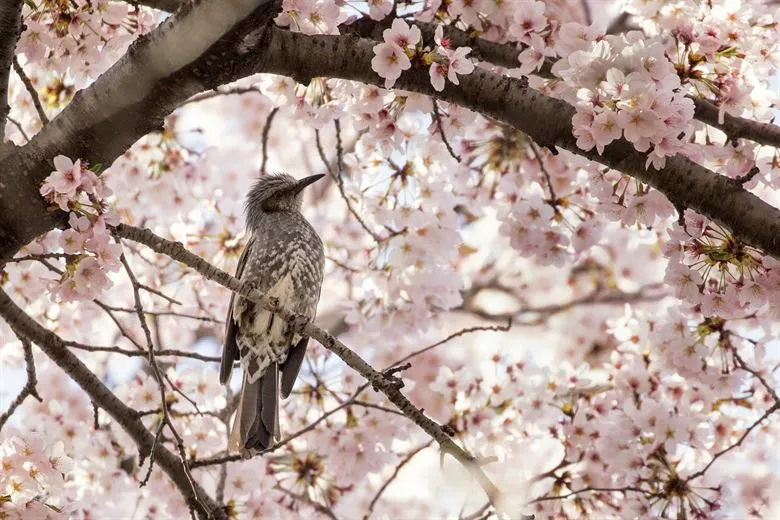 Best time to ski in Japan
Ski season generally runs from late December, often into March and early April, but sometimes as late as May. However, this does depend on weather conditions at each ski area/resort.
For instance, if you plan on skiing in Hakuba; January to February is often the best time to go for the sweetest powder snow. But you'll have to mind the peak season crowds, which by most accounts, is still highly manageable.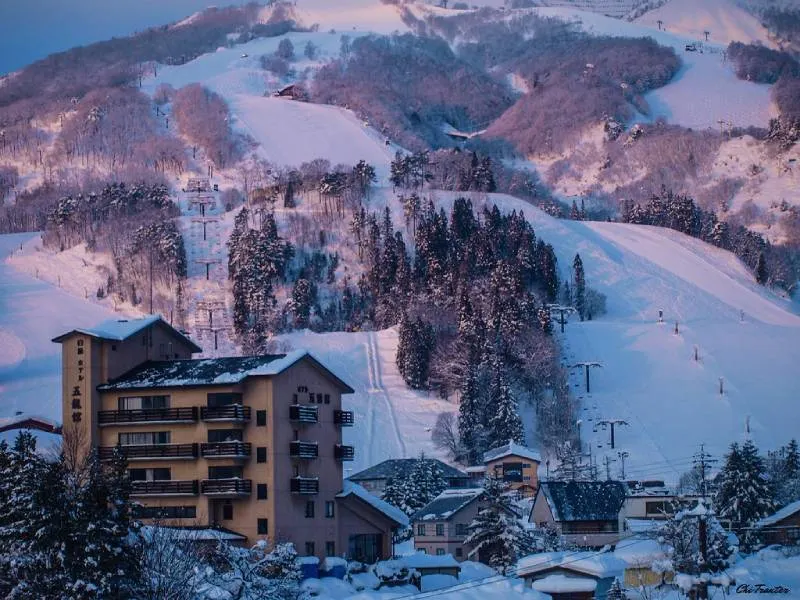 Side note: Big beautiful bears have been spotted in Hakuba. If you see one, do not approach…they don't have personal finance advice for you! You're thinking of GoBear…
Now if you're headed to Niseko for skiing, January and February are also good and popular times to visit. But if you're trying to save money, consider going in mid-February, to the end of March when prices are lower and good snow days still abound.
Don't leave home to go on your ski trip to Japan without first getting a comprehensive travel insurance plan. The American Express Standard and Superior travel insurance plans offer cover for skiing (excluding off piste runs).
It also offers optional winter sports cover for loss or damage to ski equipment, not being able to ski because of piste closure, unused ski equipment hire, lift passes and ski school expenses because you have an injury or sickness, and replacement of ski pass or ski lift pass due to theft.
Where to visit in Japan?
Not sure where to holiday in Japan? Here are three popular-for-a-reason destinations to consider:
Visit ancient temples in Kyoto
Kyoto was once the capital of Japan and is number one when it comes to magnificent temples, shrines, palaces and more! Here's what to do if you're touring Kyoto:
Start your day right by visiting one of the 1,600 Buddhist temples in Kyoto and contemplate the meaning of life, if you are so inclined. See Kiyomizu-dera, the ancient temple that is part of a UNESCO world heritage site.
If you haven't found the answer to your existence just yet, continue on your spiritual journey with a stroll through the magnificent garden at Ginkaku-ji Temple or the Zen garden at Ryoan-ji Temple.
If you're hungry after all that meditating, it's a good thing that you're in Kyoto — because it also happens to be a food paradise. Head over to Nishiki Market, just a five to ten-minute walk from the Shijō Station ( Karasuma Line) and sample the tastiest nomnoms on offer.
Other things that should be on your must-see list when visiting Kyoto include Nijo Castle (former residence of the Kyoto Shogun), the Kyoto National Museum, the Fushimi Sake District, and the Kyoto Imperial Palace.
Experience the nightlife in Tokyo
Named 2019's Best Big City to Visit by Condé Nast Traveler's annual Reader's Choice Survey, Tokyo is the place to be if you want a high-energy, metropolitan holiday.
Stay up late and enjoy the nightlife like no other when in Tokyo. Head to an all-night karaoke bar and belt out those high notes, dance like no one's watching at an exclusive nightclub like Womb in Shibuya, or take part in an Izakaya or pub crawl around Tokyo.
But if you want to feel like you're a ten-year old again, there are also arcade game centres and batting cages at your disposal, so have at it!
Once you've rested up from your awesome night out in Tokyo, here's more of what you can do in the city: shop for electronics and otaku goods at Akihabara, catch a glimpse of old Tokyo at Asakusa, and pay your respects at Sengakuji Temple, the grave site of the 47 ronin.
Skiing and snowboarding in Hokkaido
Beautiful Hokkaido is a haven for winter sports lovers, with skiers and snowboarders from all over the world even declaring love for its fine powder snow.
Get your skis and snowboards and hit the slopes at Niseko, Rusutsu or Furano (great for beginners and experts alike) to experience a winter sports holiday like no other.
See: Travel insurance and other essentials for your next Hokkaido snow trip
If you're travelling with the family and not everyone is keen on winter sports — not to worry, there are plenty of other amazing things to see and do on the island of Hokkaido during winter. Get warm at Noboribetsu, the site of healing hot springs; head to Asahikawa to spend the day at the Asahiyama Zoo, or drop by the Hakodate Tropical Botanical Garden to see something you'll probably never see again — monkeys relaxing in a hot springs tub.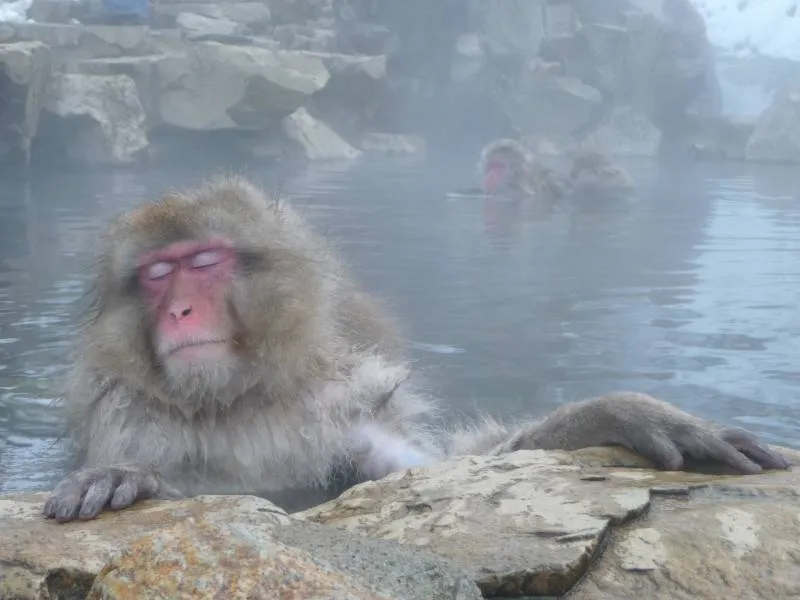 Getting around Japan – JR Pass
The JR Pass or Japan Rail Pass allows foreign tourists unlimited use/rides (for either 7, 14, or 21 consecutive days) on almost all trains operated by Japan Railways. This includes the local, rapid, express, limited express, and super express (the famous Shinkansen) trains, as well as the Tokyo Monorail to and from Haneda, JR ferry to Miyajima and local buses, among others.
You can also use your pass to make free seat reservations and get discounts for hotels affiliated with Japan Railways.
Unfortunately, the JR pass doesn't work on all trains and buses. For instance, the pass isn't valid on the Nozomi trains along the Tokaido/Sanyo Shinkansen and highway buses among others.
How to get a Japan Rail Pass?
Since the pass is only for tourists (and Japanese nationals that have been residing abroad for ten years or more), you can buy the pass online.
You can also purchase the pass at selected airports and stations in Japan, and via your travel agent; but it is almost guaranteed to be more expensive than an online purchase.
Online prices range from about $372 to $759 for an ordinary pass and $497 to $1,054 for the "green car" premium pass.
Note that you will need a separate pass for each person in your travelling party, as the pass can't be shared. On the plus side, children aged six to eleven get a 50% discount.
So that price tag is steep…but if you are making long-distance travel, between prefectures in Japan, within a short amount of time or even making spontaneous trips; then it's worth it. For short-distance or urban travel; you might want to think twice.
What you need to know before travelling to Japan
We've covered plenty in this guide so far, but here are few more things to bear in mind:
Safety in Japan
Japan is one of the safest places in the world to travel, with low crime rates and low threats of violence. Still, there are a few risks of which you'll need to be aware before you head over:
Natural disasters in Japan
Because of its natural conditions i.e. climate, position, and its environmental makeup; Japan is incredibly vulnerable to natural disasters like earthquakes and tsunamis, typhoons, volcano, floods, and mudslides.
Earthquakes in Japan
Japan experiences earthquake incidents probably more than any other country on earth, in fact;
it is estimated that 1,500 earthquakes hit the country every year and minor tremors can be felt almost every day. It happens so often that the locals are almost used to it.
Still, as a tourist, it might come as quite a shock. You'll need to be prepared to deal with earthquakes during your time in Japan.
Japan typhoons
In October, Typhoon Hagibis first made landfall on the Izu Peninsula in the Shizuoka Prefecture, triggering floods and over 100 landslides, and caused damage to homes and other buildings.
Sadly, the typhoon also resulted in the deaths of 91 people and at least four are still reported missing at this time. This was one of the worst typhoons to hit the country in decades.
A major complaint that arose from this event was the lack of information available for tourists and people in Japan who do not speak Japanese.
If you are headed to Japan or are in the country, make note of the channels for contact and alerts for warnings/advisories. If you need help, here are some important contacts:
Rubella in Japan
There has been a significant resurgence of Rubella from 2018 in Japan, with outbreaks reported mostly in the Kanto region.
Thus, if you are planning on travelling there; the US Centers for Disease Control and Prevention recommends getting vaccinated (read: who should not get vaccinated).
The advisory also states that "pregnant women who are not protected against rubella through either vaccination or previous rubella infection should not travel to Japan during this outbreak."
Does travel insurance cover natural disasters in Japan?
For the most part, travel insurance plans do typically cover claims from natural disasters, with a few exceptions. Your travel insurance may not cover claims arising from naturals disasters, if it was a 'known event'.
For example, if an earthquake happened after you purchased your plan; it is very unlikely that your plan will cover claims, like trip cancellation due to the same incident, because it was 'known'.
Nevertheless, it is still highly recommended or perhaps necessary, to buy travel insurance when you book your trip.
Need help finding a suitable and affordable plan? Let GoBear hook you up with the best plans for your needs.
And here are two more to things to remember for your Japan trip
Carry cash
It's the norm to swipe your debit and credit cards in Singapore, but in Japan — not so much.
It's not as though no one accepts cashless payments, because you can likely use your card in high-end department stores and restaurants, as well as certain stores in major cities and tourist hubs. But elsewhere, they mostly accept cash.
So prepare in advance and have cash on hand. How much should you carry? About 10,000 to 20,000 yen is usually enough, unless you plan to spend more, in which case; just stack your wallet accordingly.
Mind the language
Since most of the country is not fluent in English, do brush up on your Japanese before you travel. Learning a few phrases can be incredibly helpful, especially if travelling to rural areas.
Of course, if you can't manage it; you should still be able to get around.
Just try a translation app like Yomiwa that has a real-time camera translation function, allowing you to point the camera in your smart device at a menu for instance, and get a quick translation. Or try Akebi, an app with thousands of common phrases stored and available even offline to help you communicate with ease.
And the language barrier is even less of a thing in cities and tourist spots, as it is relatively accommodating to non Japanese-speaking visitors.
Compare Travel Insurance On Finder
Conclusion
Japan is a must-see destination that is sure to leave its mark on your soul and prompt many return visits. After all, there is so much to see and do, it'll be hard to fully appreciate the value of the experience of this mystical place all at once. As amazing as Japan is, the threat of natural disasters are almost always present. Thus, you must prepare yourself with safety plans and emergency contacts before you head off.
Last but not least, you will need a dependable, comprehensive travel insurance plan to have your back and cover you as explore the wonders of Japan. Find and book the most affordable and well-suited travel insurance plan with ease, with the help of your friendly, neighbourhood Finder!
Related articles:
Planning your ski trip: Guide to destinations, flights, accommodations, and travel insurance
More guides on Finder
Starr TraveLead travel insurance

Get the protection you need when you're abroad with Starr TraveLead travel insurance, which includes personal accidents and 24/7 global assistance.

MSIG Global Study Review

MSIG Global Study offers comprehensive protection against accidents and other unforeseen consequences for students studying abroad.

MSIG TravelEasy Policy Review

MSIG TravelEasy offers extensive travel coverage for families and independent travellers, and even has an enhanced plan for those with pre-existing medical conditions.