Finder is committed to editorial independence. While we receive compensation when you click links to partners, they do not influence our content.
6 air miles hacks you probably never knew existed
Credit cards aren't just about, well, credit. By optimising your credit card use, you can garner air miles points for free flight tickets, upgrades to business class, access to special lounges, and other goodies.
Here are some secrets on maxing out your air miles.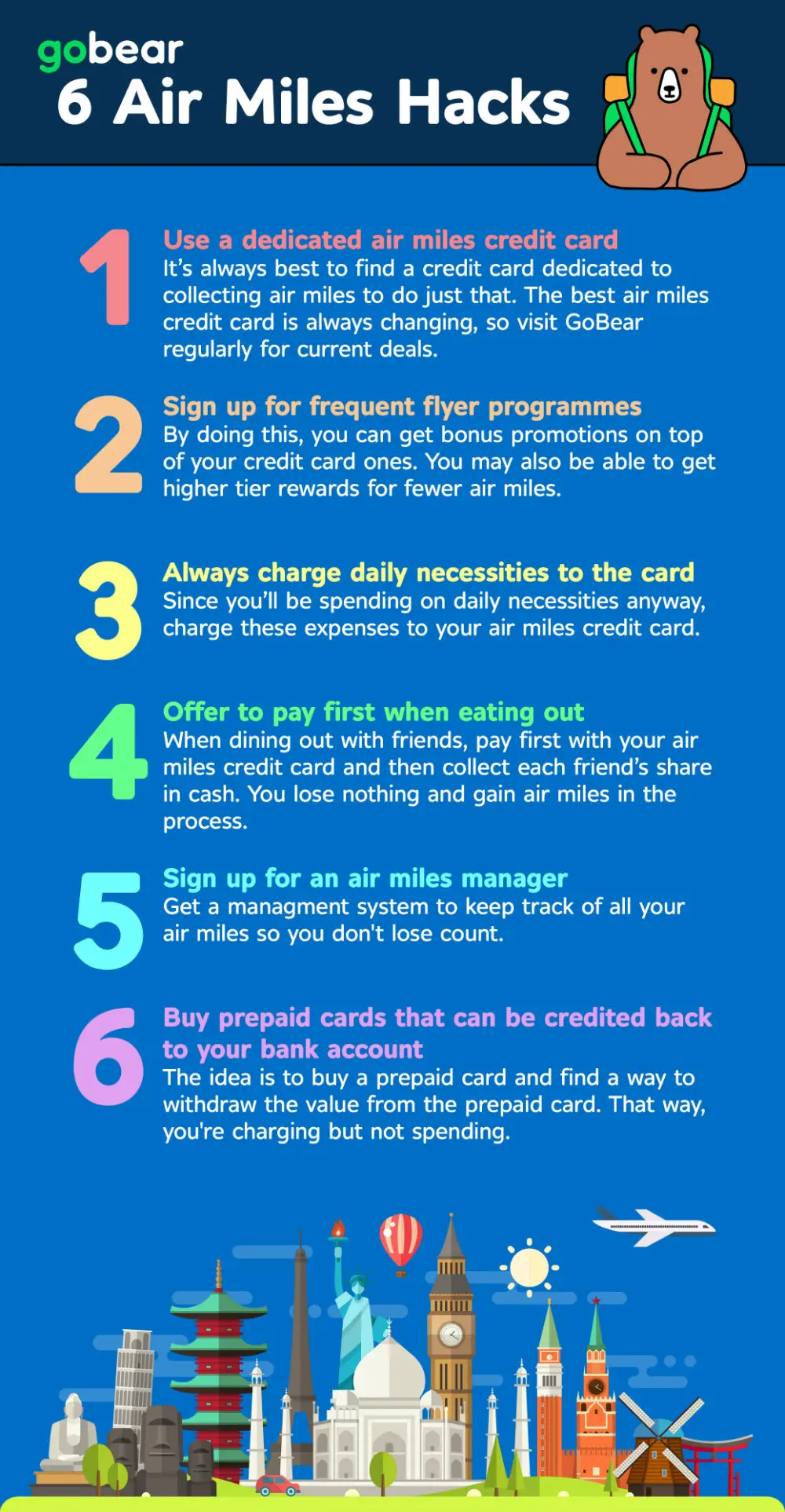 Use a specific air miles credit card
Most credit cards let you earn air miles in some form; even if your existing card doesn't let you earn miles, chances are they offer rewards that let you convert your points to miles.
Nonetheless, it's always best to find a card that's specific to this purpose.
American Express Singapore Airlines KrisFlyer Ascend
2 miles per $1 spent overseas, in June and December
Airport lounge access and complimentary travel insurance
Annual fee waived for first two years. Annual fee is also waived with a minimum spend of $10,000.
For example, the American Express KrisFlyer Ascend gives you 1.2 KrisFlyer miles per dollar spend worldwide. If you're spending during the holiday months of June and December, this increases to 2 KrisFlyer miles per dollar spend overseas.
Air miles aside, the card also gives you complimentary access to airport lounge and even travel insurance.
The best air miles card is always changing though, so be sure to check on GoBear for the best deals.
Compare Credit Cards
with GoBear
Of course, the basis for air miles accrual requires you to charge the payment to your credit card.
But what about your income tax, insurance or rent? These services might not accept credit card payment, but CardUp solves that particular problem for you.
Just sign up for an account and make these payments via CardUp and you'll be bringing in more miles than normally possible.
Sign up for frequent flyer programmes
Sign up for a frequent flyer programme, as you can sometimes get promotions that stack with your credit card. Also, you may be able to get higher tier rewards for fewer air miles.
For beginners, look for an airline that's part of Star Alliance; that's an association of airlines that allow you to use the same set of bonus miles between them. You can check this list to see which airlines are on it.
One major advantage is that, whether you're on Singapore Airlines Krisflyer, or United Mileage Plus, you'll be able to interchangeably use your bonus miles (although there may be some "exchange rate" differences).
Always charge the things you would have to buy anyway
Say you usually spend $250 a month on groceries anyway. You could pay for the groceries with the card to accumulate points, and then immediately repay the $250 before the billing cycle. This way, you never pay interest as you don't actually use credit – you only pay through the card.
You can accumulate a ton of points when there are big ticket items you need to spend on; having to furnish or renovate your house, for example, may as well get you a free ticket to Hong Kong or Perth.
Remember, for the things you might not be able to charge to your credit card, always check if CardUp can do it on your behalf. This is especially crucial if you're paying a sizeable sum for your income tax.
You don't want to miss out on the potential miles you can get from your monthly rental payment too, which can be used to redeem a free business class ticket as soon as possible.
Put the whole lunch or dinner bill on your card, then collect cash from your friends
Eating out with friends? If you split the bill, always put the total cost on your air miles card. After that, collect each friend's share in cash, and pay back the amount on the card. You lose nothing, and gain points.
If you're lucky, you'll also reap additional rewards. For example, if the restaurant has a discount for that particular card, you'll also save money.
Compare Credit Cards
with GoBear
Sign up for a points manager
You will want a points management system, especially if you have more than one air miles card. The management system warns you when miles are expiring (yes, there is a time limit), and how many miles you have on each card.
Most point managers also have systems that let you exchange one type of bonus mile for another – while the exchange rate is seldom great, it's useful for switching out miles you don't need (i.e. they are only for an airline you hardly use).
The most common management system is points.com, but browse around and see what's best for you.
As most people get deeper into the hobby of air miles hacking, it's not uncommon to have multiple cards that hold different bonus miles; so it's best to learn to organise things early.
Buy prepaid cards that can be credited back to your bank account
This is a more hardcore method, for those who wants lots of points and want them now. Make sure you have a bit of free time.
What you want to do is buy prepaid credit cards (basically debit cards) or EZ Link cards using your credit cards. Yes, that sounds silly, but hear us out.
The idea is to buy, say, a $2,000 prepaid card, find a way to withdraw $2,000 from the prepaid card (such as via EZ Link refund, or by purchasing cashier's orders with the prepaid credit card), and then put the $2,000 back in your bank account. Rinse and repeat.
This allows you to make multiple charges on your credit card, each of which is accumulating miles. But you're not actually spending any money, you're just charging to the card.
However, you need to be sure of two things: the first is that the credit card you're using will give you points for buying prepaid cards (check with the issuing bank).
Second, you must be sure that you can extract the money from the prepaid card at minimal cost (if the prepaid card in question is an EZ-Link card, for example, OCBC ATMs cap the refunds to $50 at a time, which can make it frustrating to withdraw large amounts).
Just remember though: charge, but don't spend
Ensure that you repay every dollar charged to your credit card, before the billing cycle comes around. That's what we mean by charging, but not spending.
The typical interest rate on unpaid credit card debt is around 26 per cent per annum, which is more than you'd save by accumulating air miles.
But if you have that pegged and under control, you are well on your way to getting that free flight for your next holiday. To do that, however, you'll still need the right credit card that'll help you perform these air miles hacks.
More guides on Finder
Singapore Airlines KrisFlyer Rewards Program

The Singapore Airlines KrisFlyer program is a frequent flyer program ideal for people travelling to Asia on a regular basis, offering great benefits including a high rate of return on mileage points.