Finder is committed to editorial independence. While we receive compensation when you click links to partners, they do not influence our content.
5 Things you didn't know about your credit card
In our last credit card quiz, we found that not everyone is familiar with theircredit card terms. In fact, they probably know that paying with a credit card is better than paying with cash and that they should pay off their credit card bills on time. However, many people are not familiar with some of the hidden charges and rewards limitations on their cards.
1. Credit cards can affect your credit score
If you own a credit card and you regularly pay off your bill on time, this will improve your credit score. As your credit score improves, it's telling the banks that you are trustworthy and creditworthy. This will allow you to take on bigger loan amounts, say when you want to take a loan to buy your HDB.
However, if you fall behind in your credit card payments, this can negatively affect your credit score. Also, if you're the kind who applies for all the credit cards just to get the freebies, beware! If you take on too many cards without using them, it can also negatively impact your credit score.
Yes, you should be smart about using credit cards and strategising your spend across multiple cards in order to get the most amount of cashback and air miles, but you should also be aware of the impact on your credit score.
2. Credit card spending can increase the bonus interest rate on your savings account
Many banks will offer a bonus interest rate on your savings account if you hit a minimum spending requirement on their credit cards. This is to incentivise you to spend on their cards and utilise their service as much as possible.
Indeed, if you're already spending on your cards, this can be a good way to get bonus interest on your savings. Do note that the more of your income you spend, the less will go into your savings account. Hence, you should not just spend blindly just to get the bonus interest rate.
Also, the biggest contributor to the interest rate in your savings account is usually the salary credit component, with the exception of the UOB ONE Card where you just need to clock $500 in monthly spending. Considering that the bonus interest only applies on up to the first $75,000 (depending on bank) of your savings account, some people use that as a strategy to spread their savings across multiple bank accounts.
| See: Is a savings account the best way to grow your money?
3. Watch out for cashback requirements and limit
If you're getting a credit card for the potential savings from cashback, you must find out the following:
Whatcategory of spending gets you the bonus cashback?
Is there a minimum spend required to get the cashback?
What is the maximum cashback you can get?
In our quiz, we asked, "If you're spending $1,000 on online shopping, which credit card gets you the most cashback?". Only 55% of participants got the right answer – DBS Live Fresh Card. The trick lies in the 'online shopping' category. On the Live Fresh card, you'll get 5% cashback when you make payments online or pay via Visa Paywave. There is however a cashback limit of $20 per month, so you'll not get any cashback with further spending.
25% of participants thought that the correct answer is the Citi Cashback card. While you stand to get 8% cashback on dining and groceries on this card, you'll only get 0.25% cashback on online shopping.
If all these sound like a hassle to you, you can still opt for unlimited cashback cards, but they usually have a measly 1.5% cashback (or 1.6% on the Maybank Barcelona card). The upside is that there's no spending requirement or limit on these cards. To really get the optimal cashback, you should find the cards that match your spending habits.
4. Overseas spending can be more costly than you think
Using your credit card overseas can be really convenient, and also safe, considering that you do not have to carry all the cash around with you the whole time. However, do you know that the bank admin fees and exchange rates are very costly?
If you're spending in a foreign non-USD currency, it'll not be directly converted to SGD. In fact, it'll first be converted to USD, and then to SGD, which means that you'll be incurring two times the currency exchange fees. Throw in another 1% of your transaction on Visa/Mastercard, and another 2% or more on your bank admin fees – that is how much of a premium you might be paying.
In recent months, the rise of multi-currency cards like YouTrip and Revolut offers very competitive spot rates when you make payments overseas. Their exchange rates are quite close to the live rates you see on Google, and their admin fee are also transparently laid out. Simply by using these cards, you'll be getting a 3% to 5% savings over your normal credit card.
Having said that, if you're tapping onto existing miles promotion like the 8 miles-per-dollar reward on hotel booking and 4 miles-per-dollar reward on flight booking (on theOCBC 90°N air miles credit card), it may still be viable to pay these additional fees. Case in point, if you made a $400 hotel booking and you have to make full payment in foreign currency, you can either save up to $20 (assuming a 5% saving in fees) or get 3,200 miles. While most people might intuitively take the $20 savings, miles collector will know the worth of sacrificing $20 for 3,200 miles.
5. Late payment on credit cards are very costly
Most people will know to pay off their credit card bills on time because late payments can be very costly. The interest is compounded. But what does that mean? What does 25.9% per annum in late payment charges mean?
For example, if you incur $100 on the 20thday of the month, which you do not pay up at the end of the month this is how much interest you should expect to pay (assuming a 30-month cycle, and 365-day annual percentage rate):
$100 X 25.9%/365 X 10 days = $0.71 interest on 10 days of late payment
While that amount seems small, the scary part is when it is compounded. Because if you still fail to make payment the following month, it'll multiply by the additional days of late payment i.e. 30 more days. Imagine that a credit card user does not make prompt payment, and continue to accumulate his spend because his credit limit allows him to, he'll soon find himself heavily in debt.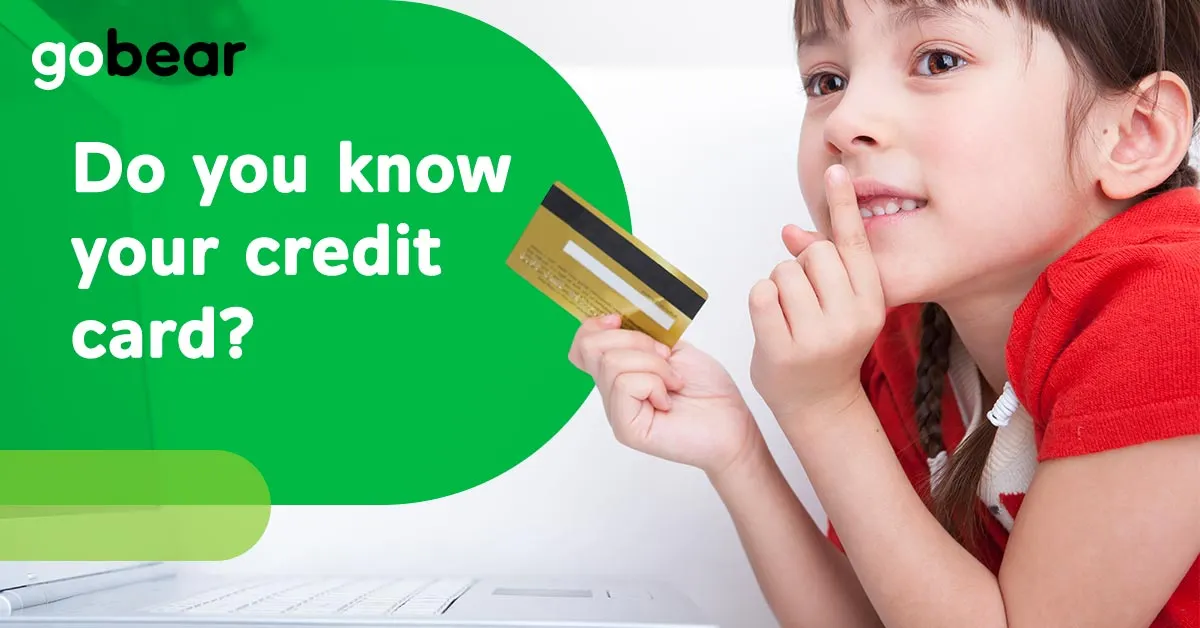 Long story short, credit cards can be your best friends. They give you interest-free payment for 30 days and you'll get to earn rewards while using them.
However, if you mismanage your card spending or if you fail to pay your bills on time, it can negatively impact your credit score. Worse still, you might find yourself buried in a mountain of debts. Be smart with your credit card spends!
Compare Credit Cards On GoBear
Related articles:
How savvy are you with your credit cards?