Finder is committed to editorial independence. While we receive compensation when you click links to partners, they do not influence our opinions or reviews. Learn how we make money.
Sendwave review
A fee-free way to send money to select African and Asian countries in 30 seconds.
Enjoy straightforward transfers through a mobile app with the only cost being a small markup on the exchange rate.
Exchange rate markups as low as 1%.
Must pay by debit card. No credit card or PayPal transactions allowed.
$2,999
Max. Transfer Amount
Within an hour
Transfer Speed
Details
Product Name
Sendwave
Min. Transfer Amount
$0
Max. Transfer Amount
$2,999
Transfer Methods
Online
Transfer Speed

Minimum transfer time

Within an hour
Customer Service
Phone, Email
Available Currencies
BDT, CAD, EUR, GBP, GHS, KES, NGN, TZS, UGX, USD, XOF
| | |
| --- | --- |
| Online Transfer Fee | USD 0 |
| Branch Transfer Fee | USD 0 |
Why should I use Sendwave?
Send money on the go.
Manage all of your Sendwave money transfers through the Sendwave app, at home or on the go.
Easy signup.
To get started all you need to submit is your name, email and phone number.
Low minimum transfer limit.
Transfer as little as $1 to most destinations.
Quick transfers.
Transfers are nearly instantaneous, according to Sendwave.
What should I watch out for?
Limited sending destinations.
Sendwave is only available for transfers to a handful of countries in Africa and Asia.
Limited payment options.
Sendwave only accepts payment by debit card when sending from the US.
Only for mobile.
Sendwave transfers must be sent through your phone, transfers cannot be sent through the Sendwave website.
How much will I pay to send money with Sendwave?
Sendwave doesn't charge transfer fees. Instead, it makes money by offering you slightly worse than the mid-market rate when you exchange currency.
Disclaimer: Exchange rates change often. Confirm the total cost with the provider before transferring money.
Keep in mind that big players like Western Union and MoneyGram make money on both exchange rate spreads and fees that can be higher for specific types of transactions, like paying with your debit card. With Sendwave, you cut out the fee altogether and only have to worry about the exchange rate.
Sendwave's exchange rates and fees
Depending on your recipient's currency, you'll see a spread on the mid-market rate that appears to top out at about 4.5%.
To give you an idea of what you could pay on the exchange rate, here are Sendwave's advertised exchange rates as of September 30, 2020.
| | Mid-market rate | Sendwave's exchange rate | Markup |
| --- | --- | --- | --- |
| Bangladesh | 84.73 | 84.03 | 1.44% |
| Ghana | 5.79 | 5.51 | 4.51% |
| Kenya | 108.50 | 105.27 | 2.65% |
| Nigeria | 381.50 | 382 | 0.88% |
| Senegal | 559.75 | 542.31 | 2.97% |
| Tanzania | 2318.31 | 2256 | 2.76% |
| Uganda | 3712.34 | 3610 | 2.97% |
What does this mean?
According to the mid-market rate, 1 USD is worth 108.50 Kenyan shilling (KES). Yet when you transfer through Sendwave, 1 USD is worth 105.27 KES.
Here's what that looks like when sending $100:
Your money is actually worth $100 x 108.50 = 10,850 KES.
Instead, your recipient receives $100 x 105.27 = 10,527 KES.
Sendwave makes a profit from the difference of 323 KES — or about $2.98.
How long does a Sendwave money transfer take?
Sendwave money transfers are typically delivered within 30 seconds to your recipient's mobile wallet. Transfers can take longer if you're sending money for cash pickup, so double check delivery speeds before sending if time is crucial.
What are Sendwave's sending limits?
Sendwave's sending limits for new customers start out at:
$999 per day
$2,999 per month.
If you verify your account with Sendwave using a government-issued ID, limits can be raised to:
$2,999 per day
$12,000 per month
What currencies can I send with Sendwave?
When sending from the US, Sendwave supports transfers to seven destinations. Supported countries and associated currencies include:
Bangladesh (BDT)
Ghana (GHG)
Kenya (KSH)
Nigeria (NGN)
Senegal (CFA/XOF)
Tanzania (TSH)
Uganda (UGX)
Is Sendwave safe to use?
Sendwave is a licensed money transmitter in every country it operates in. It encrypts transactions through a 128-bit connection and doesn't store your personal or financial info in its databases. In addition to this, Sendwave doesn't hold any of your money in its own bank accounts, all money is moved instantly to your recipient.
What payment methods does Sendwave accept?
When sending from the US, debit cards are the only accepted form of payment for Sendwave transfers. Sendwave says that it doesn't accept credit card or PayPal payments in order to keep costs down.
What are the ways I can send money with Sendwave?
Sendwave allows transfers to mobile wallets like M-Pesa, MTN and Airtel, bank accounts and cash pickup locations. Delivery methods depend on the country you are sending to, and include:
Mobile wallets
Kenya
Uganda
Tanzania
Ghana
Senegal
Liberia
Note: Not all sending destinations are supported for transfers outbound from the US at this time..
How to send money with Sendwave
You can start sending money immediately — just enter your recipient's name and phone number.
Download the Sendwave app for iOS or Android and register for a free account.
Enter debit card information.
Enter recipient name and phone number.
Send.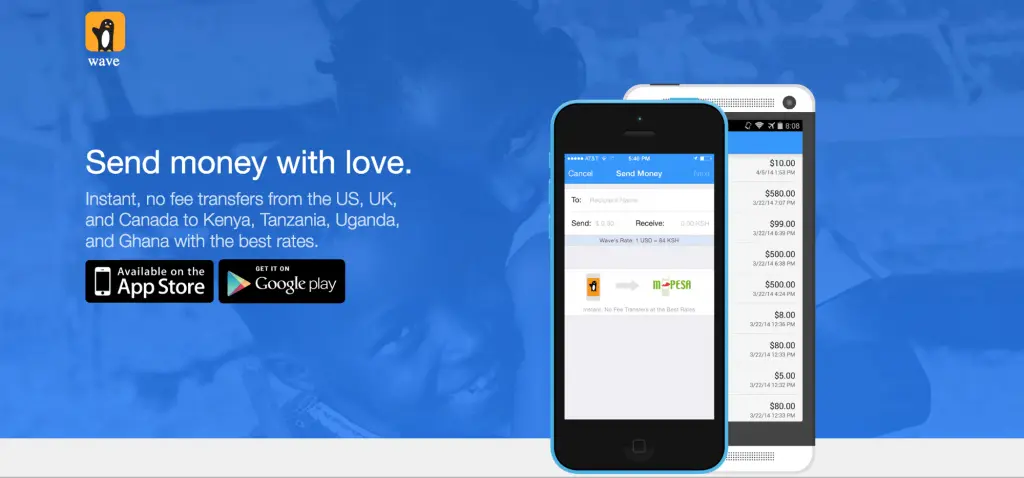 SendWave app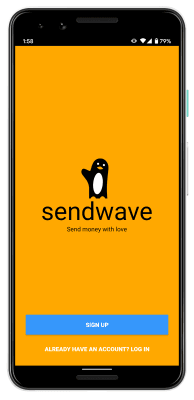 Sendwave has an app on both Google Play and the App Store. The app makes it possible to:
Signup in minutes. Creating your account typically takes only a few minutes using an email and phone number.
Track orders. Get real-time status updates on your transfer so you'll know exactly when it will arrive.
Send money on the go. Sending money through Sendwave is as easy as sending a text message.
| Ratings accurate as of October 2020 | |
| --- | --- |
| Google Play Store | 4.6 out of 5 — based on 13,606 customer ratings |
| Apple App Store | 4.5 out of 5 — based on 3,800 customer ratings |
More on the best money transfer apps
How do I track my Sendwave transfer?
Once the recipient receives your transfer, Sendwave emails you confirmation. Also, you'll see your transfer marked Funds Delivered in the app's transaction tab. If the transaction runs into any issues Sendwave will contact you to sort it out.
How does Sendwave compare to other services?
To see how Sendwave compares to some popular competitors, select your destination then enter the amount you want to send and click Calculate.

Disclaimer: Exchange rates change often. Confirm the total cost with the provider before transferring money.
Bottom line
Sendwave is a straightforward way to send money to select African countries which may not be served by other money transfer services. Sendwave's clear markups and no fees structure makes understanding the cost of your transfer easy, and money can be sent on the go from your phone at any time.
Frequently asked questions
Can I cancel a Sendwave transaction?
Yes, so long as the funds haven't been delivered yet. Because Sendwave sends fast transactions, canceling may be difficult even if you do it immediately after sending. To cancel, select the transaction in the Sendwave app and click Cancel.
How do I contact Sendwave's customer support?
Customer support information can be found in the Sendwave app. The app also allows you to call or text customer support, whichever is easier for you.
Why can't I use a credit card or PayPal with Sendwave?
Sendwave has chosen not to accept credit cards or PayPal because both options cost the company processing fees. According to the company, accepting only debit cards allows it to keep costs low and pass savings on to consumers.