New SBA Recovery Sector Loan program proposed – here's how it works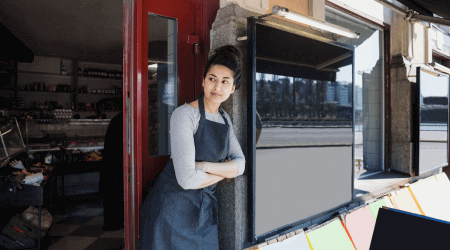 The HEALS Act would create a new COVID-19 recovery loan for underserved businesses that took a hit.
Small businesses might get another government-backed loan program if the Health, Economic Assistance, Liability Protection and Schools (HEALS) Act passes. The latest coronavirus stimulus proposal would create the Recovery Sector Loan program to offer low-cost financing to seasonal businesses and companies in low-income areas.
The HEALS Act would set aside $100 billion for this new loan program, which would accept applications until December 31st.
While it's unlikely that the HEALS Act will pass without major changes, here's a preview of what this new loans program could potentially offer.
What is the Recovery Sector Loan program?
Recovery Sector Loans is a government-backed coronavirus business loan program. It falls under the umbrella of the Small Business Administration's (SBA) 7(a) loan program — like the Paycheck Protection Program (PPP).
But while it wouldn't come with the option for forgiveness, it would offer low-cost financing with longer terms than you'd find with most business lenders.
The idea behind the program is to set aside funding for businesses that might not have had access to other coronavirus loan programs, like the PPP or the SBA's Economic Injury Disaster Loan (EIDL) program.
By focusing on low-income areas, it could work to amend some of the racial and economic disparities that critics point out with the PPP.
How would it work?
Simply put, the Recovery Sector Loan program would offer loans of up to $10 million based on the annual revenue of your business. You could use the funds for working capital, to buy fixed assets or refinance debt.
These loans would be 100% backed by the SBA, meaning that you don't have to put up any collateral. Rates are fixed at 1% — like the PPP. And also like the PPP, there are no fees to apply.
You would have up to 20 years to pay it back. And both interest and principal repayments are deferred for the first two years, with an option to apply for an additional two years of deferment.
How much could I borrow?
While loans run as high as $10 million, there are some caveats. Seasonal employers can only borrow up to $1 million. And the Recovery Sector Loan program would base the maximum loan amount on your business's annual revenue.
The HEALS Act currently states that businesses can borrow up to two times their annual revenue, but it doesn't specify if this is based on revenue from 2019, an average of several years or the 12 months prior to the loan application.
There's also an aggregate loan rule. If you get a PPP loan within 90 days of applying for a Recovery Sector Loan, you can't borrow more than a total of $10 million.
If the HEALS Act passes, it's likely the SBA will issue clarification on how this works.
Who would qualify for a Recovery Sector Loan?
Two types of businesses can qualify for a Recovery Sector Loan: seasonal businesses and businesses located in low-income ares. If your business is in a low-income area, it also must make at least 50% of its income from low-income residents.
What counts as a seasonal business?
For your business to count as a seasonal employer under the HEALS Act, it can only operate for up to seven months each year.
Your gross receipts for six months of the year must also be equal to one third or less than the other six months. So if you pulled in $120,000 between July and December, you couldn't bring in more than a total of $40,000 between January and June.
And to qualify for this loan, your business must also have no more than 250 employees for at least five months out of the year.
What counts as a low-income area?
The SBA looks at your census tract to determine if your business is located in a low-income area.
Census tracts are areas within a county with a population of about 4,000 people — though it can range from 1,200 to 8,000. Each census tract has a specific number that you can look up on the Federal Financial Institutions Examination Council website.
Rural businesses must be in an area where the median income is no more than 80% of the statewide median income.
Urban businesses must be in a census tract where the median family income is no higher than 80% of either the statewide median family income or the greater metropolitan area median family income — whichever is greater.
What about that low-income customer requirement?
Businesses that are located in low-income areas would also have to get at least 50% of their revenue from a low-income population. This means at least 50% of your business must come from a census tract where the poverty rate is also at least 20%.
Or if your customers don't come from one census tract, they must be from a county where the poverty rate is at least 20% with a median income that is equal to no more than 80% of the state median income.
Other requirements
In addition to qualifying as an eligible type of business, you'll also need to meet other requirements:
No more than 500 employees
Saw a 50% year-over-year drop in gross receipts between 2019 and 2020
Eligible for a PPP loan
Didn't also receive a PPP Second Draw loan
The SBA measures a drop in gross receipts by looking at the first or second quarter of 2020 and comparing it to that quarter in 2019.
If your business wasn't around during the first two quarters of 2019, it will look at the third or fourth quarters instead — or the first quarter of 2020. It will compare these to the most recent quarter in 2020.
How could I apply?
The Recovery Sector Loan program would be available through lenders that offered PPP loans. And like with the PPP, the SBA would likely create a template to make sure all applications contain the same information.
How does it compare to the PPP?
There's no option for forgiveness. But if the HEALS Act passes, you could borrow more through this program than the PPP offers, and there are fewer restrictions on how you spend the funds.
Since it's specifically for businesses that might have had trouble finding a PPP lender, it could also be easier to qualify for. This program doesn't come with the loopholes that allowed big corporations to snatch up PPP funding in weeks, so the funding would likely last longer.
But it's unclear if this program will ever come to be. Stay on top of the news so you can get your application in as soon as this program is launched.
Photo: Getty Images