Finder is committed to editorial independence. While we receive compensation when you click links to partners, they do not influence our opinions or reviews. Learn how we make money.
Changing your bank account? Here's what you need to know
Rate-hopping can help you grow your nest egg — if you do your research.
Switching to a savings account with an introductory cash bonus or interest rate can help you boost your savings, but you'll need to check the terms and conditions — and remember to switch when the offer is up.
Why would I want to regularly switch accounts?
The main advantage of regularly switching savings accounts is simple: you can always make sure that your savings are earning interest at the highest rate. When a better rate than the one on your current account becomes available, you can close that account and open a new one to maximize your interest-earning power.
The other reason people switch accounts is to take advantage of introductory offers. For example, some bank will offer a cash bonus when you open a new account. Others will offer a higher interest rate for an introductory period.
Check savings accounts with the best rates
Check savings accounts with the best offers
The problems with switching
There are several disadvantages to regularly switching accounts, including:
Only available for new customers. Introductory offers are usually only available for people who have never held that type of account at that bank before. For example, if you switch from Chase to Ally and then back to Chase, you can't get a second introductory offer at Chase, even if the account is new.
Strict terms and conditions. Introductory offers usually require you to keep a savings account open for a specific time period

— if you close it early, you'll lose the bonus. This limits how often you can switch accounts while still getting bonus offers.
Hidden fees. Check for any hidden fees attached to the new account you open. For example, you may be charged a monthly fee or a fee for closing the account or for making a withdrawal. If the savings account requires you to open a linked checking account, check for any fees there, too.
Minimum balance requirements. You may only be eligible for the advertised interest rate or introductory bonus if you meet a minimum balance.
Deposit and withdrawal requirements. Some accounts include conditions you must satisfy in order to earn the maximum interest rate. For example, you may have to deposit a minimum amount each month or keep your balance above a certain threshold.
Forgetting to switch. It's easy to forget to switch accounts when you've had yours open long enough to receive the introductory bonus or when the introductory rate drops down to the standard rate.
Research required. The terms, conditions and fees that often apply to savings accounts mean that it's not really possible to switch on a whim. You'll need to research the restrictions and fees that apply to each new account that you open.
Example: Sam switches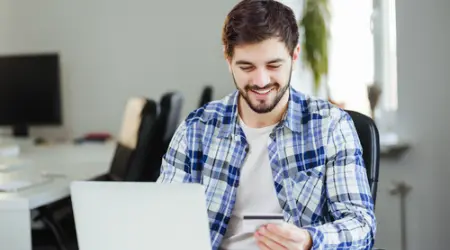 After seeing an ad for a money market account with an attractive introductory rate, Sam decides to see how much extra interest he could earn by switching accounts compared to simply leaving the funds in his current account.
Option A: Staying put. Sam decides to invest his $5,000 in a high-interest savings account that pays interest at 2.00% APR At the end of one year, Sam's balance has grown to about $5,101.
Option B: Switching accounts. Sam decides to invest his money in three accounts over the course of the year to take advantage of their introductory offers:
Account 1 has a four-month introductory rate of 3.00% APR.
Account 2 has a four-month introductory rate of 3.00% APR.
Account 3 has an introductory $100 bonus that requires the account to be open for four months.
So at the end of the 12 months of account hopping, Sam's balance has grown to about $5,201. That's an extra $100 over the course of a year.
Tips to maximize your savings power
While moving from bank to bank to maximize your savings does have its drawbacks, if you're willing to spend a few hours reading the fine print it can help you build a bigger nest egg. Here are a few more tips to give your balance a boost:
Consider the standard variable rate. If you're going to keep the account past the introductory period, a big cash bonus or high introductory rate might not be worth it if the standard interest rate is low. Also, with cash bonuses, the introductory bonus isn't always high enough to justify the account's low interest rate.
Look beyond the Big Four. To find the best interest rates, you'll have to be willing to look beyond the big players in US banking industry. Compare online banks and challenger banks for the best rates.
Read the fine print. To be a successful rate hopper and avoid any unexpected fees and restrictions, you'll need to be willing to commit a few hours of your time to read through lengthy terms and conditions documents for different accounts.
Be strong. Remember that the reason you're switching is to maximize your savings, so don't feel restricted by any sense of loyalty to your bank. Unless they're offering a better deal than you can find elsewhere, stick to your guns and look for the best value for your money.
Compare savings accounts with signup bonuses
Bottom line
Switching banks to take advantage of introductory offers can help you grow your savings, but it requires research and diligence. Compare savings accounts to find the best rates and account features for your nest egg.
Frequently asked questions
Picture: Shutterstock