Finder is committed to editorial independence. While we receive compensation when you click links to partners, they do not influence our content.
Samsung Galaxy TabPro S vs Microsoft Surface Pro 4
You're spoilt for choice when it comes to premium Windows 10 tablets -- but which one should you buy?
In the hybrid tablet space, Microsoft has long been the standard bearer with its Surface tablets, and more recently with the Surface Book as well. Samsung's enjoyed considerable success in the tablet space with Galaxy branded devices, but to date they've been Android devices. The TabPro S is a direct shot at the existing Windows Surface loving market, but is it a palpable hit?
I want to know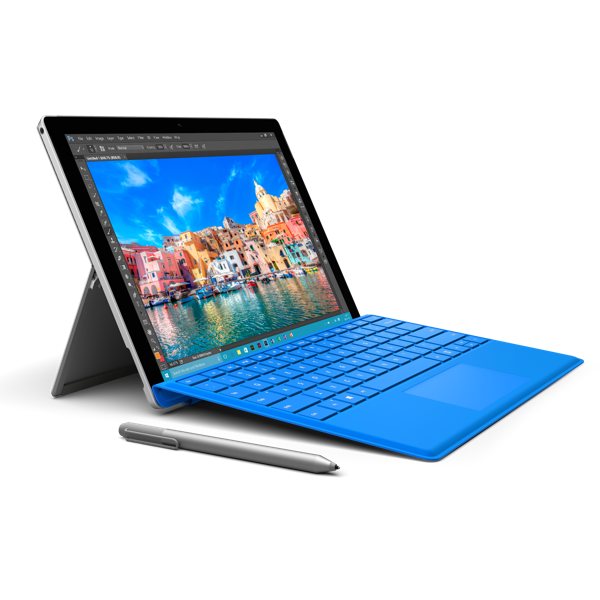 Surface Pro 4 vs Galaxy TabPro S: Specifications
| Model | Samsung Galaxy TabPro S | Surface Pro 4 |
| --- | --- | --- |
| Display | 12in | 12.3in |
| Resolution | 2160×1440 | 2736 x 1824 |
| Pixels per inch | 216ppi | 267ppi |
| Weight | 693-696g | 766-786g |
| Rear camera | 5.0MP | 8.0MP |
| Front camera | 5.0MP | 5.0MP |
| Processor | 6th Gen. Intel Core M processor (Dual Core 2.2GHz) | Intel Core M3/i5/i7 |
| Memory | 4GB | 4GB/8GB/16GB |
| Storage | 128GB | 128/256/512GB SSD |
| Battery | 5200mAh | Up to 9 hours |
| Software | Windows 10 Home/Pro | Windows 10 Pro |
| Price | Starts at $599.99 | Starts at $799.99 |
Surface Pro 4 vs Galaxy TabPro S: Style
Your perception of style is obviously a deeply personal matter, and what appeals to one user might not appeal to another. That being said, it's hard not to look at the Surface 4's rather more boxy style as feeling more "PC" than the rounded "Tablet" style of the TabPro S.
Of the two, we'd pick the TabPro S as being more of a looker, something that's accentuated by the Galaxy TabPro S' choice of a Super AMOLED screen. The Surface Pro 4 has the edge in sheer resolution terms, but side by side the Galaxy TabPro S pips it for visual fidelity. It's interesting to note, however, that in essentially the same sized frame, Microsoft manages to squeeze in an additional .3 inches of diagonal screen space, which could have productivity implications for what is, after all, very much pitched as a productivity device.
Surface Pro 4 vs Galaxy TabPro S: Performance
Both the Galaxy TabPro S and Surface Pro 4 run on Windows 10, although in the case of the TabPro S you've got the choice of Windows 10 Home or Windows 10 Pro, which is what every Surface Pro model runs on. We tested the Surface Pro 4 we had access to, which was a Core i5 256GB 8GB model.
Still, we expected that the more expensive Surface Pro 4 should perform better than the Galaxy TabPro S given their differences, and this was borne out in common benchmarks.
| Benchmark | Samsung Galaxy TabPro | Microsoft Surface Pro 4 |
| --- | --- | --- |
| PC Mark 8 Home | 2083 | 2381 |
| PC Mark 8 Creative | 1832 | 2334 |
| PC Mark 8 Work | 2133 | 2427 |
| 3DMark Ice Storm | 43686 | 45770 |
| 3DMark Cloud Gate | 3799 | 5503 |
| 3DMark Fire Strike | 509 | 838 |
| Looped video battery test | 11:10 | 8:26 |
The Surface Pro 4 outperformed the Samsung Galaxy TabPro S in everything except battery life, which was tested looping an HD video with full brightness and battery saving measures disabled. This is what you'd expect, given the differences in processor power, although the Surface Pro 4's battery life is certainly no slouch either.
Surface Pro 4 vs Galaxy TabPro S: Core M or Core i?
It's worth explaining what the difference in processors between our chosen model really means. Intel currently produces processors for tablet and laptop style devices in three distinct families. The cheapest Intel processors come from their "Atom" lines, which are designed for low power consumption but quite low processing speed as well. They're fine at the entry level, but anyone with demanding needs — and if you're going to drop north of $700 on a device, you should have demanding needs — should look further up the family tree. The top of that tree are the Core i processors, identified as either Core i3, Core i5 or Core i7, with boosts in performance generally for the higher number identifiers.
Core M sits between Atom (low power usage, low performance) and Core i (high power usage, high performance), with a typically fanless design and improved battery performance over Core processors but slightly degraded performance relative to them.
Testing the Surface Pro 4 and Galaxy TabPro S side to side you really can see, not to mention hear the differences. If you push the Surface Pro 4 hard the fans kick in quite obviously, while the TabPro S stays much quieter, but with its inbuilt heatsinks doing more work.
Surface Pro 4 vs Galaxy TabPro S: Keyboards
Both the Surface Pro 4 and Galaxy TabPro S incorporate keyboards that are also covers for each respective hybrid tablet device. Microsoft's had a number of years to work on its Surface Type covers, and the keyboard on the 4th generation Surface Pro 4 is genuinely excellent with good spacing between keys and solid response when you do hit each key.
The Galaxy TabPro S' keyboard is more reminiscent of keyboard add-ons you'd find for a number of popular tablets, with keys that are closer together and a smaller trackpad to boot. Response is fair, but it's not quite up to the standard of the Surface Pro's type cover. There are two factors that do play into the Galaxy TabPro S' favor however. If you're very mobile with both devices, the TabPro's higher angle on its keyboard — you only get fixed angles compared to the gradual angles on the Surface Pro 4's kickstand — gives it a smaller surface area on your lap. We could see that being beneficial on a crowded train or plane over the Surface Pro 4's somewhat longer footprint.
The other factor in the Galaxy TabPro S' favor is in the simple fact that Samsung provides its keyboard cover in the box with the TabPro S as part of the asking price. The Surface Pro's Type Cover is superior, but it will set you back an additional cost on top of the Surface Pro 4's asking price, or even more if you want the variant with an embedded fingerprint reader.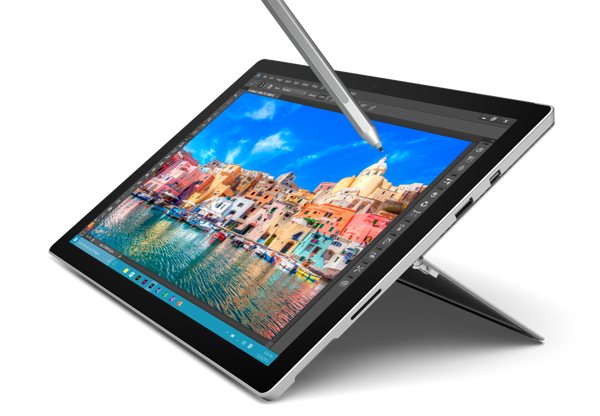 Surface Pro 4 vs Galaxy TabPro S: Ports, peripherals and special features
With the TabPro S coming out of the Galaxy Android tablet family and the Surface Pro 4 coming from Microsoft's admittedly PC-centric side, it's interesting to see how each device approaches peripherals. The Surface Pro manages a full size USB 3.0 port, Mini DisplayPort and microSDXC card reader on its right hand side. Comparatively, the Galaxy TabPro S has a single USB type C connector which acts as both the charging port and point of physical connectivity. Samsung do have an extension device that adds HDMI, USB3 and USB-C passthrough, although pricing isn't yet clear for that device.
Comparatively, the Surface Pro 4 charges through its own custom charger, where the Galaxy TabPro S is provided with a genuinely fast charger that can also charge other devices if they're USB-C already, or by simply clicking out the USB-C cable for another type. Annoyingly, you can't charge the TabPro S from a standard phone charger, even on a slow trickle charge.
The TabPro S' party piece is Samsung Flow, an app for newer Samsung phones such as the Galaxy S7 and Galaxy S7 Edge that pairs your phone to the tablet for quick unlocking and sharing of notifications. Once we'd jumped some pairing woes — we had to toggle Bluetooth on a Samsung Galaxy S7 Edge a few times before both devices would talk politely to each other — this worked very well, although it's pretty much an all-in type of notification service.
Samsung does have an active stylus device in the works, but has yet to announce availability or pricing, whereas Microsoft bundles the Surface Pen with the Surface Pro. Your tastes may vary as to the utility of pen input in the Windows ecosystem depending on usage, but if it's important to you, the Surface is the more obvious bet.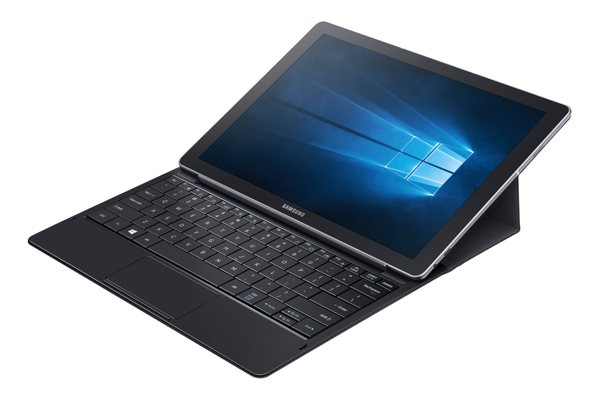 Should I buy the Surface Pro 4 or Galaxy TabPro S?
As productivity devices, both the Surface Pro 4 and Galaxy TabPro S have a lot going for them, and the choice isn't quite cut and dried. In terms of sheer flexibility the Surface Pro 4 stands out by force of offering different processor combinations, multiple inputs and a superior keyboard, but you'll pay a stiff price for that if you want the best performance, and it suffers comparatively in battery performance terms.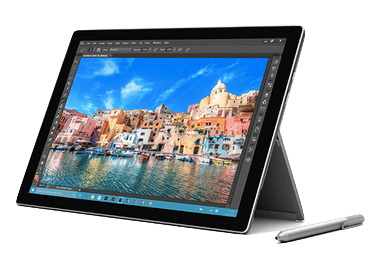 Purchase Microsoft Surface Pro 4 for $899
from Microsoft Store
With its 12.3-inch PixelSense touchscreen, Windows 10 operating system and interchangeable Surface Pen tips, the Surface Pro 4 looks to improve upon every aspect that made its predecessor so popular.
View details
The Galaxy TabPro S on the other hand is a stylish device that definitely shows off Samsung's background in tablet and smartphone design, and for productivity workers who spend a lot of time away from the office that edge in battery life could be critical. The use of USB-C is hard to balance, as while it's nicely forward looking, it also means you'll need to invest in adaptors to connect other peripherals, and you're not likely to be able to use anyone else's charger to top up your TabPro S if you're running out of power.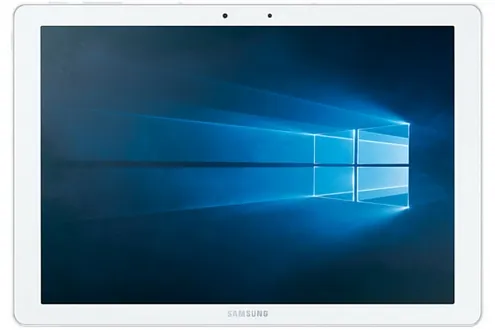 Purchase Samsung Galaxy TabPro S for $799
from Kogan AU
The Samsung TabPro S is now available at online retailer Kogan.
View details
More guides on Finder