Finder is committed to editorial independence. While we receive compensation when you click links to partners, they do not influence our opinions or reviews. Learn how we make money.
Salem Five Direct eOne Savings account review
Online application and ATM access, but transaction fees could hinder your savings.
finder.com's rating: 4.3 / 5.0
★★★★★
The Salem Five Direct eOne Savings account offers a competitive 0.8% APY, ATM access and no maintenance fees. But account eligibility is limited and an opening deposit of at least $100 is required.
$100
Minimum deposit to open
Expert review
Review by
shannon.terrell@finder.com
---
Shannon Terrell is a writer for Finder who studied communications and English literature at the University of Toronto. On any given day, you can find her researching everything from equine financing and business loans to student debt refinancing and how to start a trust. She loves hot coffee, the smell of fresh books and discovering new ways to save her pennies.
Expert review
The Salem Five Direct eOne Savings account offers a 0.8% APY, no monthly fees, ATM access and an entirely online application process. But eligibility and transfers are limited and transaction fees could hinder the growth of your savings.
What are the benefits of savings account with Salem Five Direct?
This FDIC-insured savings account offers mobile banking and ATM access alongside the following perks:
0.8% APY. Earn 0.8% APY on any balance below $1,000,000
No monthly fees. The eOne Savings account has no monthly maintenance fees.
No minimum balance. Earn interest on any amount you deposit into your account with no minimum balance requirements.
Online application. Enjoy the convenience of an entirely online application process.
What should I look out for?
In addition to the standard limit of six transfers monthly, look out for the following potential drawbacks:
$100 opening deposit. You'll need a minimum opening deposit of $100.
Limited eligibility. If you already hold a Salem Five checking or savings account, you can't apply for the eOne Savings account. It's only for new customers or customers who hold an eOne checking account.
Limited support. Since Salem Five Direct is an online bank, customer support is limited to telephone, email and live chat.
$10 excessive transaction fee. Any transaction beyond the allotted six can cost $10 for each transaction — many withdrawals could result in Salem Five Direct closing your account.
$9.95 branch transaction fee. If you conduct a transaction at a Salem Five bank branch, you're charged a $9.95 branch transaction fee.
You can explore your options with other providers before you apply to make sure you get the savings account that best fits your personal banking needs.
Compare with other savings accounts
How do I open an account?
Go to Salem Five Direct's website and click Open eOne Savings.
Go to Salem Five Direct's website and click Open eOne Savings.
Enter your full name, phone number, email address, residential address, Social Security number and driver's license or state ID number. Click Continue.
Review Salem Five Direct's account disclosures and privacy notice. Click Accept.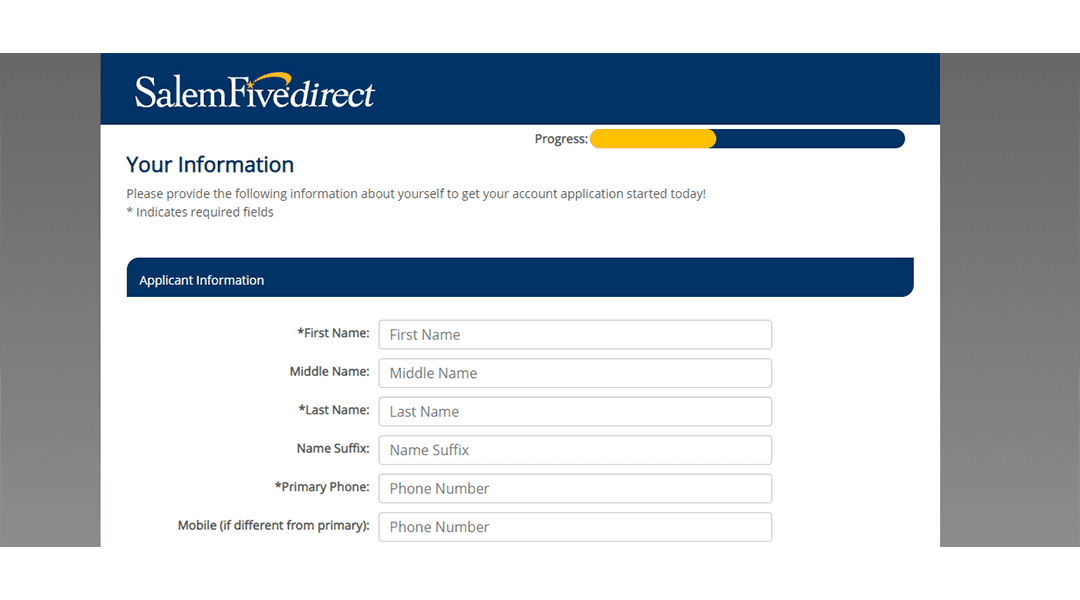 You'll need an opening deposit of at least $100. Enter the bank account and routing number of the external account you'd like to use to fund your account.
Alternatively, you can mail a check to Salem Five at Salem Five Bank, ATTN Account Opening, 210 Essex Street, Salem, MA 01970 to fund your account.
Once your account is funded, you'll receive an email from Salem Five Direct with instructions on how to register for online banking through its website. Once registered, you can access your funds through Salem Five Direct's website or its mobile app.
Eligibility
You must meet the following criteria to be eligible for an eOne Savings account:
A US citizen
At least 18 years old
Have a Social Security number
A valid bank account
A new customer with Salem Five or hold an eOne checking account
Required documents
Make sure you have the following information before you apply:
Primary home address
Valid email address
Valid phone number
Social Security number
Driver's license number
How do I deposit or withdraw my money?
You can access the funds in your eOne Savings account in four different ways:
Online deposit. Move funds electronically between your eOne Savings account and an externally linked account.
Mobile check deposit. With the Salem Five Direct mobile app, you can deposit checks with your mobile device.
ATM. Withdraw funds with your debit card at any Allpoint ATM.
In person. Deposit or withdraw funds in person at a Salem Five bank branch, but these transactions cost $9.95.
How can I get in touch with customer service?
Touch base with Salem Five Direct in three different ways:
Phone. Call 800-850-5000 Monday to Friday from 8 a.m. to 6 p.m., Saturdays from 9 a.m. to 3 p.m. and Sundays 11 a.m. to 3 p.m.
Email. Fill out a secure online form on Salem Five Direct's website for an email response from the customer service team.
Live chat. Chat with a rep from Salem Five Direct through the website's online chat feature, available Monday to Friday, 8 a.m. to 6 p.m.
Frequently asked questions
Savings account ratings
★★★★★ — Excellent
★★★★★ — Good
★★★★★ — Average
★★★★★ — Subpar
★★★★★ — Poor
We analyze top savings accounts and rate them one to five stars based on factors that are most important to you. These factors include: interest rates, monthly fees, minimum deposits, customer service and account features.