Finder is committed to editorial independence. While we receive compensation when you click links to partners, they do not influence our opinions or reviews. Learn how we make money.
Root car insurance review Oct 2020
Try the Root telematics app and see how much your safe driving could save you.
finder.com's rating: 4 / 5
★★★★★
Get a quote if you want to pay less for your safe driving.
Pick something else if you want a personal agent or don't want an app to track your driving.
Good drivers can save the most on auto insurance.
Included free
Roadside assistance
Details
| | |
| --- | --- |
| States served | Arizona, Arkansas, California, Colorado, Connecticut, Delaware, Georgia, Illinois, Indiana, Iowa, Kentucky, Louisiana, Maryland, Mississippi, Missouri, Montana, Nebraska, Nevada, New Mexico, North Dakota, Ohio, Oklahoma, Oregon, Pennsylvania, South Carolina, Tennessee, Texas, Utah, Virginia, West Virginia |
| Roadside assistance | Included free |
| Accident forgiveness | Yes |
| New car protection | No |
| Pay schedule | 6 months, monthly |
| Claims methods | Online, Email, Phone |
| Rideshare coverage | Yes |
| SR-22 support | Yes |
Pros
Low, transparent rates
Rewards good drivers
Free roadside help
Fast claims
Cons
Not every driver can qualify
Not available nationwide
App-based only
| | |
| --- | --- |
| Anti-theft device discount | Yes |
| Bundling discount | Yes |
| Defensive driving discount | Yes |
| Good student discount | No |
| Loyalty discount | Yes |
| Homeowner discount | Yes |
| Military discount | No |
| Safety device discount | Yes |
| Special employment discount | No |
| Usage-based discount | No |
Expert review
Review by
kelly.waggoner@finder.com
---
Kelly Waggoner is the US editor-in-chief at Finder. She's worked with publishers, magazines and nonprofits throughout New York City, including ghostwriting a how-to on copyediting for the Dummies series. Between projects, she toys with words, flips through style guides and fantasizes about the serial comma's world domination.
Expert review
This pay-as-you-go insurance startup may reward your good driving behaviors with lower rates than you'll find elsewhere. Root's premise is that good drivers shouldn't have to pay more for car insurance.
First, you'll prove your driving skills with a test drive with an app that monitors a few weeks of your actual driving on the road. Then you'll get a rate that's based on how much and how well you drive.
Unlike traditional insurers, Root's prices are heavily weighted based on your test drive, instead of focusing on factors like your credit score, age, gender, location and other demographics that most drivers can't help. Safe drivers stand to save the most, as long as you're comfortable leaving the app on while you're driving.
Is Root legit?
Yes, Root Insurance is a legitimate insurance company accredited by the BBB and backed by state insurance funds, just like big national insurers. Root's a startup company founded in 2015.
The company's not out to scam drivers or pull a bait and switch with low rates you can't actually qualify for. Instead, your driving will play a large part in setting how much you save. You won't get personalized support from an agent, but you can call customer support almost any time — and the claims process is all done online.
How does Root car insurance work?
Like many usage-based or telematics insurers, Root's app determines your rates based on how you actually drive. Using your smartphone's accelerometer and GPS, the Root app can determine your speed, mileage, hours driven, braking distance and more. While factors like age and marital status are still considered, your driving score is weighed much more heavily than it is with traditional car insurance companies.
Safe, low-mileage drivers often report in customer reviews that they save a lot of money by switching to Root. Drivers who can't get good rates with other insurance companies are also good candidates for Root, including young drivers and drivers with sports cars. All you have to do is prove how well you drive to get a good rate.
How much is Root car insurance?
Root helps you save by setting your car insurance rate based primarily on your actual driving. Your test drive is the largest factor that Root considers when putting together your policy and price, except in California where telematics-based rates are illegal. But, to a lesser extent, Root also considers your driving record, certain demographics and your overall credit history — factors more traditional insurers use too. But in a progressive move, Root has nixed including occupation and education in your score, and announced it plans to cut credit score from its rating factors by 2025.
If your driving doesn't meet Root's requirements, Root won't offer a price or let you open a policy. You won't be able to retake your test drive to sign up for a policy, which could be a letdown if you don't have another car insurance option lined up.
How do I sign up?
Download the app. To get started, download the app for Android or iPhone and sign up for your test drive, unless you live in California. You can go to the Root site and click Download the app now to have a download link sent to your mobile number.
Set up the app. Log in through email or Facebook, and then enable location, motion and notifications. Scan your driver's license and enter any other personal information.
Take your test drive. Root's app will monitor your driving habits for two to three weeks to decide your rate, though some drivers require as little as one week or up to four weeks to set a rate.
Keep track of your score. You can keep track of how you're doing during the test drive with the app's Driver scorecard, which rates how well you brake, turn and maneuver down the road. The app also suggests ways to improve your driving score.
See your score. After you've logged enough trips for a score, Root rates your driving on a scale of 1 to 10. If it's lower than you'd like, use the remaining time in your test drive to improve your score.
Get your custom rate. Root then calculates a quote and presents a policy that matches your on-the-road behaviors if your score meets Root's criteria.
Am I covered while I take the test drive?
That depends. For most drivers, you won't get be able to get instant coverage. Keep your current car insurance while you do the test drive and get your final rate, which could take up to 30 days. Some qualifying drivers will get access to 60 days of coverage at a temporary rate while they complete the test drive.
If you're already insured and are still considering options, stick with your current insurer until after you've completed your test drive and you get your final quote. Then you can decide whether to make the switch. If you like your final rate and experience with Root, you can even cancel your current insurance and let your lender know you've switched directly through the Root app.
How long does the test drive take?
You'll typically complete your test drive in two to four weeks. You can check on the time left on your test drive in the app. Some drivers reported getting a quote after only a week or two, though the average is three weeks, depending on how much you drive.
What coverage can I get from Root?
Many drivers who switch to Root report that they can increase their limits for less than the cost of their current insurance, according to several Reddit threads. The only caveat: Root currently doesn't offer gap insurance, which protects you if your car is totaled and your claim check is less than the amount left on your car loan.
Collision and comprehensive. Collision covers damage to your vehicle caused by an accident. Comprehensive covers the damage to your vehicle by basically everything other than an accident.
Liability. Bodily injury covers injuries to others that result from an accident you caused. And property damage protects you if you damage another person's property in an accident. Choose a limit up to $250,000 per accident.
Medical payments. Pays for medical care after an accident, whether you've collided with a car, a bike or a tree.
Personal injury protection. Covers medical expenses, lost wages and other indirect costs for you and your passengers after an accident.
Rental car reimbursement. Pays for you to rent a car or otherwise get around while yours is in the shop for repairs after an accident. You can also get coverage for using Lyft instead of a rental car, a unique option not available from most insurers.
Roadside assistance. Included free with every policy except in California. Covers any roadside service under $100, including towing, battery jumps and emergency assistance. You get up to three incidents per car for every 6-month policy term.
Underinsured motorist coverage. Pays for car repairs if you're in an accident caused by a driver without enough insurance.
Does Root offer full coverage?
Yes, you can get full coverage through Root. Full coverage policies typically include liability plus collision and comprehensive coverage. Keep in mind a full coverage policy doesn't actually include every kind of coverage — you'll typically pay extra for coverage like rental car reimbursement.
What discounts can I get with Root?
For qualifying customers, Root Insurance offers a string of discounts and rewards, but they're baked into your final rate. Root's whole premise is rewarding good drivers with low rates. And so it doesn't offer the discounts that mainstream car insurance providers do, like those for good students.
However, you can get a few discounts if you qualify:
Referral discount. Invite your friends to sign up through a personalized referral link and save $10 to $100 for each successful referral, except in California.
Tesla autopilot. Use the Autosteer option during your test drive in your Tesla and save based on how many highway miles you drive with autopilot on.
Can I bundle insurance policies with Root?
Yes, Root offers renters insurance and home policies in a select number of states. You'll get 5% off renters insurance premiums if you bundle car and renters insurance, or 10% off your home insurance by bundling car and home insurance. However, before buying Root home insurance, you'll need to start your car insurance policy with the company first.
What does the Root app look like?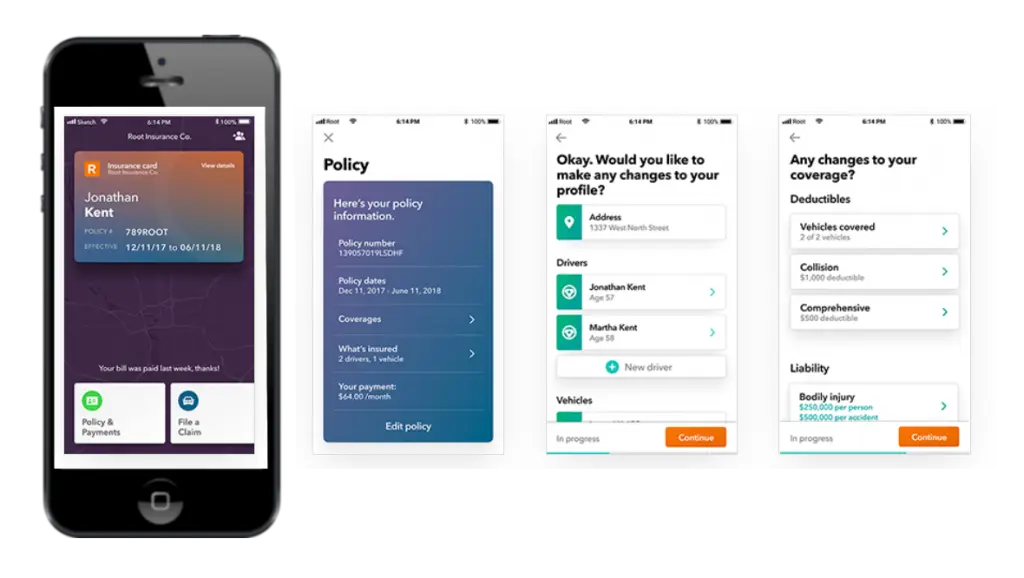 Pros and cons of Root car insurance
Pros
Low, transparent rates. Many drivers can get higher coverage limits with lower rates from Root. And it's easy to use the app to see what drives your rates.
Rewards good drivers. When calculating a quote, Root weighs your overall driving behaviors most heavily, rather than demographic information you can't control, like age or gender.
Free roadside help. Root policies include roadside assistance, which can be accessed from the app.
Fast claims. The app lets you make a claim in minutes, and Root processes most claims within 10 business days — much faster than the industry standard of several weeks.
Helps cancel your old insurance policy. There's an option from the app to start the process of canceling your current policy without a single phone call.
Cons
Not every driver can qualify. Root is upfront with the fact that not every driver will be offered a policy. But even drivers who need an SR-22 can qualify, depending on their driving ability.
Not available nationwide. Root isn't available in every state yet, though it's growing quickly and plans to roll out nationwide.
App-based only. You'll need to have your phone on and the app running while you drive, which might not be an option for every driver. Other telematics companies often offer a physical device instead of just an app.
Root car insurance reviews and complaints
Overall, customers have good things to say about their experience with Root Insurance, especially with the rates they've gotten with this startup — a few saying they've saved over $100 a month. Negative reviews focus on inaccurate driving scores on the test drive and billing issues.
As of October 2020, Root earns a little under 2 out of 5 stars on the Better Business Bureau (BBB). Two good signs of solid support is its A+ BBB rating and the fact that it's accredited by the agency, which indicates Root reps have so far replied to every negative complaint on the site.
Root Insurance

user reviews
Compare Root to other companies
Root's not the only usage-based insurance company out there. Other drivers have saved up to 40% on rates using telematics tools from national providers, like Progressive Snapshot, Allstate DriveWise, Liberty Mutual RightTrack or Nationwide SmartRide. Consider all your options before deciding on the best one for you.
Common questions about Root car insurance
Car insurance ratings
★★★★★ — Excellent
★★★★★ — Good
★★★★★ — Average
★★★★★ — Subpar
★★★★★ — Poor
Our insurance team analyzes car insurance providers to help you choose the best car insurance for you. We rank insurers from one to five stars based on key factors including customer satisfaction, policy options, price, billing, claims, and support. We create these rankings to help you narrow down an insurance provider that best suits your budget and coverage needs.