Finder is committed to editorial independence. While we receive compensation when you click links to partners, they do not influence our content.
Most romantic Airbnbs in the US
9 cozy rentals that are sure to light your fire.
A romantic Airbnb needs to be beautifully decorated, secluded from the hustle of daily life and nestled in the serenity of nature. Big, echoing houses won't do here — we prefer intimate spaces with treat-yourself perks like hot tubs and wood-burning fireplaces. Get inspired to book your next retreat-for-two by browsing some of our favorite love nests from coast to coast, then get our expert tips for finding one near you.
California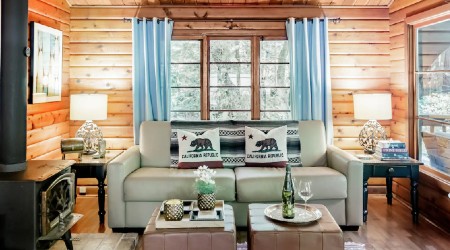 Romantic Creekside Cabin Nestled in a Redwood Forest
This hand-built cedar cabin is shielded from the outside world by sky-high redwood trees. Soak in the hot tub and listen to the gentle rustle of the trees as night falls before retreating to the tastefully rustic interior for cuddles by the wood-burning fire.
Located about two hours north of San Francisco.
Location: Guerneville, California
Cost: $179 nightly
Pennsylvania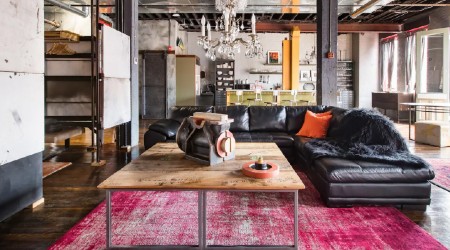 Stylish vibes in a Renovated Flashlight Factory
This sophisticated loft is literally called the Prosecco Room, which means popping open the bubbly and clinking glasses is required. The space is exquisitely decorated with upcycled materials and eccentric touches — like chandeliers over the kitchen bar — so you'll have lots to admire without venturing into the public eye.
Whip up fancy drinks in the espresso machine, with complementary pods.
Location: Pittsburgh, Pennsylvania
Cost: $275 nightly
Georgia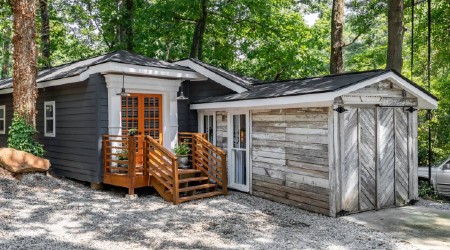 Trendy Tiny Farmhouse with Hot Tub near Downtown
Be whisked away to the quiet, slow serenity of an easy evening in Georgia. This compact space, complete with 150-year-old oak countertops and a chicken coop in the backyard, is perfect for intimate moments with your boo. Take a dip in the hot tub to steam things up.
Splurge for an onsite couples' massage at $110 per person.
Location: Atlanta, Georgia
Cost: $90 nightly
Tennessee
Dreamy Mountain Views for Miles
Start a fire with your love in the Smoky Mountains. This elevated take on a classic cabin comes with a hot tub that faces west, so you can watch the sun set while relaxing in tandem. It's only about five to 10 minutes from bustling Gatlinburg, which means you can easily order food for romantic dinners on the balcony.
It comes with a fully stocked hot chocolate bar.
Location: Sevierville, Tennessee
Cost: $205 nightly
Wisconsin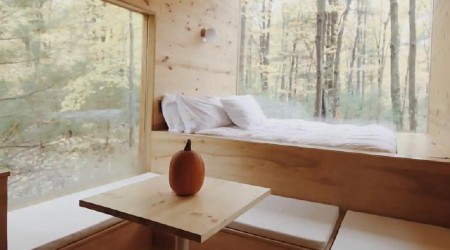 Off-Grid Inn
You won't be distracted by vibe-killing stressors at this minimalist cabin, aside from how fabulous your partner looks in the natural light streaming in from between the trees. Your host provides free firewood, just in case you need more than your love to stay warm.
To see more stunning pics, check out its Instagram @offgridinn.
Location: Fall Creek, Wisconsin
Cost: $199 nightly
Montana
Rock Creek Cabin retreat
Right next to a private river in the wide-open spaces of Montana, you'll find this romantic retreat. It's newly remodeled and has bunk beds in case you decide to bring the kids, along with a hot tub. Wake up, brew a coffee in the Keurig and reconnect with the one you love beneath the endless blue sky.
A little bridge leads to a private island that's yours to explore.
Location: Roberts, Montana
Cost: $157 nightly
New York
Woodstock Historic Artist Estate
This is the perfect place to stay if your partner is a design snob. One reviewer notes that "every little corner of the house was so beautiful and artistic, I felt like my eyes wanted to drink it all in." The floor-to-ceiling windows in the bedroom, looking out over the woods, will make each of you feel like a million bucks.
It's on the family estate of social realist painter Reginald Marsh.
Location: Woodstock, New York
Cost: $489 nightly
Vermont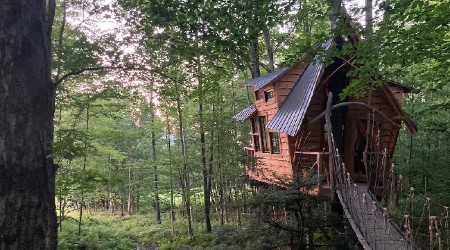 Treehouse at Bliss Ridge Farm
Rekindle your amour among the treetops in this Dr. Suess-inspired, sky-high hideaway. It's perched on top of a hill overlooking an organic farm, with stunning views and peaceful hiking trails to spend the day roaming through nature. There's a giant hammock for cuddles and a swinging rope bridge lit up at night.
Wake up to panoramic views of the Worcester Mountains.
Location: Moretown, Vermont
Cost: $250 nightly
South Dakota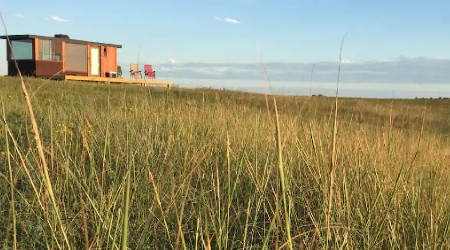 Micro-Cabin in Pheasant Country
There's no better way to reconnect with your S.O. than retreating to the middle of a swaying prairie, three hours from the nearest town. It's isolated, yes, but it'll feel like you've escaped to another planet altogether, a planet where gloomy headlines don't exist and errands never need to be schlepped through.
Fly into Fargo then drive three hours southwest to reach this special oasis.
Location: Mansfield, South Dakota
Cost: $96 nightly
How to find a romantic Airbnb near you
Not all Airbnbs are created equal, especially when it comes to booking one that sets the mood just right for your lovey-dovey escapade. Here are our best tips for finding a romantic Airbnb near you.
Opt for Plus properties. Airbnb Plus properties are hand-picked for having excellent design and all the amenities you need to feel at home, like coffee and bathroom essentials. Plus stays also have easy check-ins — usually contactless — and hosts with strong reputations for superior hospitality. To see Plus properties near you, select More filters then Plus.
Splurge for luxury amenities. An indoor fireplace and outdoor hot tub can take your stay from just alright to extra-special. You can filter your search to only see Airbnbs that have the luxury amenities you don't want to go without.
Make sure it's private. Staying in somebody else's spare room is not romantic. Select Type of place then choose Entire Place to filter your search by Airbnbs that offer true seclusion.
Keep an eye out for natural light. The flaming colors of sunrise and sunset will make you and your partner glow. Look for Airbnbs that have big windows and spanning views.
Consider something unique. Did you know that Airbnb has treehouses, houseboats, yurts and even domes that you can stay in? Couples with quirkier tastes might get a kick out of an outside-the-box retreat. Select More filters then scroll down to Unique Stays and select the category that most intrigues you.