Finder is committed to editorial independence. While we receive compensation when you click links to partners, they do not influence our content.
Roborock E35 Xiaowa Plus review
Your smart home will be looking sharp.
Roborock is becoming a game changer in the smart vacuum sphere. Its E35 Xiaowa Plus model ($350 on Amazon) boasts advanced features like independent path planning, a dual-gyroscope high-precision navigation system, app-based controls and the ability to sweep and mop.
So how does this robot vac stack up against the competition? I gave it the ultimate test in my farmhouse — where hay, dirt, dog hair and spills reign supreme.
Roborock sent me this robot vacuum for free so that I could try it out. I've used and tested it thoroughly before writing this review, and you can rest assured you're getting an honest, unbiased opinion.
Robotic vacuum review
Setting up the vacuum
Unpacking my Xiaowa Plus robo vacuum was a piece of cake. Everything comes neatly packaged, and the vacuum is completely set up, charged and ready to clean. Here's what's inside the box:
Roborock E35 Xiaowa Plus robotic vacuum
Charging station
Charging cord
Mop attachment
Extra mop cleaning pad
Extra filter
Cleaning brush/tangle remover
Safety instructions and user manual
Setting up the Mi Home app and connecting it to my new vac was a bit trickier, but the tinkering was well worth it. Once set up, the app allows you to control the vacuum from your phone, set timer cleaning modes, engage the carpet boost and mop functions, check your battery life and more.
Quick tip
If you're getting a time-out error when you try to sync your device to your vacuum, try joining a different Wi-Fi network. For example, I have both 5G and "regular" (2.4GHz) Wi-Fi options in my home. When I switched from 5G to regular Wi-Fi, the app connected in a snap.

Initial thoughts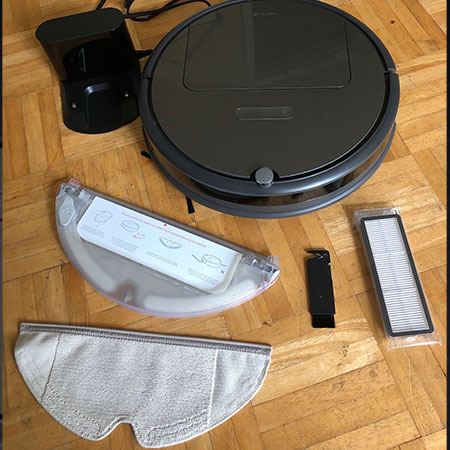 Full disclosure: I've used other robotic vacuums before and have been underwhelmed by their performance. But the E35 Xiaowa Plus blew me out of the water. The first thing I noticed is that it vacuums back and forth in straight, methodical lines. Most other similarly-priced robo vacs I've tried turn at random, bounce off objects and clean the same spots over and over again. Xiaowa Plus cleans in straight lines, speeding up when it detects a wide open space. When it does encounter an object, it methodically moves around it and resumes its cleaning pattern.
The second thing that stood out to me about this vacuum was its ability to suck up pet hair with ease. My 115-pound shepherd mix leaves hair everywhere, and robo vacs I've used in the past seemed to just blow it around on hard surfaces. But this one has a built-in diffuser in the vacuum's exhaust system to eliminates that problem. I have both hardwood flooring and carpeting, and the vac tackles pet hair on both.
One week in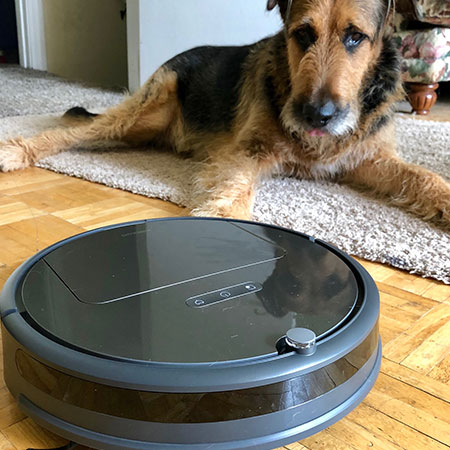 After about a week of getting to know my new vac, my first impression of its sweeping power holds true. Unlike other models I've used, the primary spinning brush on the belly of the vacuum doesn't clog or tangle often.
I'm also finding more and more cool features in the app that make it super handy, like the silent, standard, strong and max modes to choose from, maintenance monitors that tell you when it's time to change your filter or clean your brushes and the map of the cleaning area that the robot's covered.
But when it comes to the model's mopping ability, you might not want to ditch your old faithful hand mop just yet. It does make a difference on relatively clean floors. But if you have, say, a red fruit punch stain on the floor, don't count on this vac to scrub it out. The mopping function seems best for light maintenance rather than deep cleaning. Roborock also recommends that you switch out the mop pad every 30 minutes while in use, and this function can't be used while moving between carpeting and hard flooring.
Pros and cons
Pros
Cleans in straight lines. Roborock's advanced navigational system makes for quicker, more efficient cleaning.
Great for pet hair. Easily sweeps and traps pet hair without blowing it across the room.
Easy-to-use app controls. Once you get your Mi Home app set up, controlling and monitoring your robo vac is a piece of cake.
Cons
Mopping function is subpar. Don't expect a deep scrubdown with this model's mopping function.
Bottom line
Overall, I'm impressed with the Roborock E35 Xiaowa Plus smart vacuum. It's exceeded my expectations in the pet hair department and works well on all types of flooring in my home. If you're thinking about springing for a robo vac, this one could be a worthy contender.
Check out our robotic vacuum buying guide to compare other popular brands, or find a traditional vacuum that's right for you.
Would you recommend this smart vacuum to a friend?
Yes! In fact, I've already told friends about it. It cleans faster than other models on the market and, in my opinion, requires less maintenance and brush cleanings. If you spend a lot of time vacuuming and have a pooch that tends to shed, this smart vac is worth a look.
Buy now from Amazon
More guides on Finder