Rise in Natural Disasters Accounting for Increase in Home Insurance Rates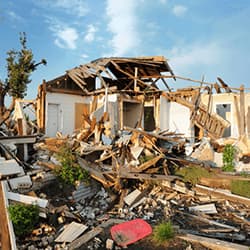 Insurers scramble to pay off losses due to hurricanes, typhoons and fires in 2018.
When it comes to natural disasters, 2018 was a costly year. Hurricanes Michael and Florence; typhoons Jebi, Mangkhut, and Trami; and California's Camp and Woolsey fires contributed to a global $160 billion loss, according to Munich Re. Of this, only $80 billion was insured.
For homeowner insurers, this rise in natural disasters have resulted in increased insurance rates. As insurance companies scramble to pay off ever-growing damage tallies, they are pushing their losses off on the consumer.
Aon, in its "Weather, Climate & Catastrophe Insight: 2018 Annual Report," estimated the total economic cost of 2018 natural disasters to be $225 billion, with weather-related disasters accounting for $215 billion. "Economic losses from natural disasters in 2018 were significantly diminished from the major losses incurred in 2017," the Aon report reads.
"However, the USD225 billion total marked the third consecutive year of catastrophe losses surpassing the USD200 billion threshold and was the 10th time since 2000. In terms of economic losses resulting solely from weather disasters — which are defined as events caused by atmospheric-driven scenarios — the global total was USD215 billion."
According to the National Association of Insurance Commissioners' recently released report on 2016 home insurance data, Oklahoma experienced the greatest rate increase in HO 3 policy premiums from 2007 to 2016 in the United States. On average, an Oklahoma homeowner pays $821 more as of 2016 than they did 10 years earlier. These numbers do not take into consideration 2017, which was the costliest year on record for insurance losses.
In the center of "Tornado Alley," Oklahoma is a strike zone for tornados, cyclones, thunderstorms and hailstorms. Second only to California in the number of natural disasters, Oklahoma is first in tornados and third in flooding, according to the Federal Emergency Management Agency.
Completing the top five are Kansas, with a premium increase of $644, Colorado with $620, Nebraska with $595 and Arkansas with $586. These Great Plains states have been subjected to an increase in tornadoes and windstorms in recent years.
While tornadoes and hailstorms have traditionally driven insurance losses, the proliferation of wildfires in the Western states have been the largest cost drivers in recent years. "The costliest individual insured loss," the Aon report reads, "was Northern California's Camp Fire. That blaze was expected to cost insurers more than USD12 billion. This is the first time in the modern record that a wildfire has been the most expensive industry event in a year."
The Insurance Protection Gap
A takeaway from the Aon report is that in 2018, 60% of the global natural disasters — totaling $90 billion in losses — were not covered by private insurance or by government-sponsored insurance or disaster relief.
In the United States, the least-covered "billion dollar" disasters were Hurricane Michael and Hurricane Florence. Hurricane Michael, which made landfall in the Florida Panhandle on October 10, 2018, and left the American mainland in Southern Virginia on October 11, had a global economic cost of $17 billion and an insured loss of $10 billion. Thirty-two deaths were reported.
Hurricane Florence, which made landfall September 14, 2018, at Wrightsville Beach, North Carolina, before degrading to a frontal storm on September 19, had a global economic cost of $15 billion. The insured loss, however, was just $5.3 billion. Fifty-three deaths were reported.
While the insurance protection gap is at its lowest level in recent years, this may offer little comfort for those that are unprotected. "The complex combination of socioeconomics, shifts in population and exposure into vulnerable locations, plus a changing climate contributing to more volatile weather patterns, is forcing new conversations to sufficiently handle the need for mitigation and resilience measures," Steve Bowen, director and meteorologist at Aon's Impact Forecasting team, said.
"Natural disasters are always going to occur. How well we prepare can and will play a key role in future event losses."