Finder is committed to editorial independence. While we receive compensation when you click links to partners, they do not influence our opinions or reviews. Learn how we make money.
How to find a Ria location
Pick up cash in 149 countries at over 350,000 agent locations worldwide.
COVID-19 update
Your nearest Ria location may not be open, so call ahead.
Sending money online
or with a money transfer app could be safer and easier.
Ria's huge network of cash pickup locations makes it a major player in the money transfer game. But sending cash in person is only available in 30 countries and there's a maximum send amount of $7,999 per month.
How do I find a Ria location near me?
The Find Locations tool on Ria's money transfer website is a user-friendly way to scout your destination options. In the box beneath Where would you like to send your money? enter the city, state or a postal code closest to your recipient. A map will pop up showing the agent locations nearby.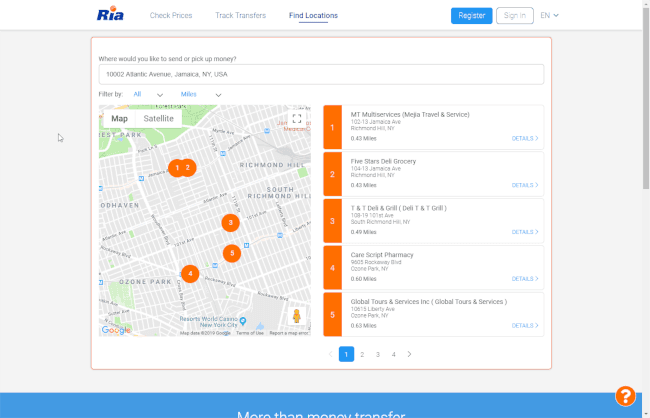 Countries where cash pick up is available include:
However, you can't send money from agent locations in Africa, Asia, or the Middle East. Other countries without in-person sending abilities include:
Argentina
Bolivia
Chile
Colombia
Costa Rica
Dominican Republic
Ecuador
El Salvador
Guatemala
Guyana
Honduras
Mexico
Nicaragua
Panama
Paraguay
Peru
Suriname
Uruguay
Antigua
Barbados
Haiti
Jamaica
Trinidad
Virgin Islands, US
Albania
Belarus
Bosnia and Herzegovina
Bulgaria
Croatia
Estonia
Greece
Hungary
Latvia
Lithuania
Montenegro
Portugal
Moldova, Republic of
Romania
Serbia
Slovenia
Switzerland
Cook Islands
Fiji
Tonga
Vanuatu
What do Ria locations offer?
At most Ria agent locations, you can either send money or pick up cash. Be sure to double check using the Find Locations tool on its money transfer website. Simply enter your destination location, click Details, and see what's listed under Services Offered.
However, if you want to limit your search options to Ria's own locations, head to the Ria Financial site and choose Find a Location. The spots are only available in the US, but services there include:
Cash pickup
Cash transfer
Currency exchange
Check cashing
Bill pay
Mobile top-up
Compare Ria to other money transfer services
Disclaimer: Exchange rates change often. Confirm the total cost with the provider before transferring money.
How do I send money from a Ria location?
Use the Find Locations tool on Ria's website to find an agent location. To send cash, you'll need:
Your government-issued photo ID.
Cash to cover the amount you're sending, plus the service fee.
Contact info of the person you're sending money to including name (as it appears on their government-issued ID), phone number and email address.
To track the transfer, go to Ria's website, hit Track Transfers and enter the order number, reference number or PIN then click Search.
Remember to share the order number with your recipient so they can pick up the money.
Sending money online for in-store pickup
To send money online, go to Ria's website and log in or create an account. This brings you to your dashboard. Choose your destination and payout currency, and enter the amount to send. For payment method, you can choose between bank, credit or debit transfer. Next, select Cash as the payout method.
At this point, Ria gives you delivery fee estimates and the total cost. Hit Continue. Ria asks for recipient details, choose a pickup location and provide payment info, and the transfer is on its way.
Sending money from a bank account can take up to four days because Ria has to verify your account.
With online transfers, you can send a minimum of $1 and a maximum of $2,999 per transaction.
What countries offer online transfers?
Currently, online transfer is only available from the following countries:
How much does it cost to send money online?
Delivery fees vary depending how you're sending money and where you're sending it. For example, sending $500 from your bank account in NYC to Mexico for cash pickup, you'll pay a delivery fee of $1. However, if you use a credit card to pay it'll cost $10; a debit card costs $4.
How can I pick up money from a Ria location?
First, choose a Ria agent location that's convenient for you. Double check the hours of that particular location, then make sure you bring:
Identification. Government-issued photo ID, such as a passport or driver's license.
Order number. You're recipient gets a copy of the receipt when you initiate the transfer. The order number (also referred to as the PIN) is on there.
Does Ria have any 24-hour locations?
Yes. For in-person 24/7 pickup, choose an agent location that's open around the clock.
Since Ria offers online money transfers, you can send or receive money 24/7 through its website.
Alternatives to sending cash
The quickest and cheapest way to send money is through a bank-to-bank transfer on Ria's website. Choose Bank as both the payment and payout method, click Continue, then enter the recipient's details and input the routing and account numbers for your banks. Ria saves your information so it's easier next time.
Ria also offers courier delivery so that you can send money directly to the recipient's home or office. This is available in the following countries:
Vietnam
Philippines
Dominican Republic
Nicaragua
Peru
Bottom line
If you're looking for a place to pick up a cash transfer, one of Ria's 350,000 locations will likely suit your needs. But if you're hoping to send more than $2,999 per transaction or are in a country without in-person send capabilities, you'll need to find a different transfer service.
Frequently asked questions.