Revlon shares almost doubled today. Time for an exit?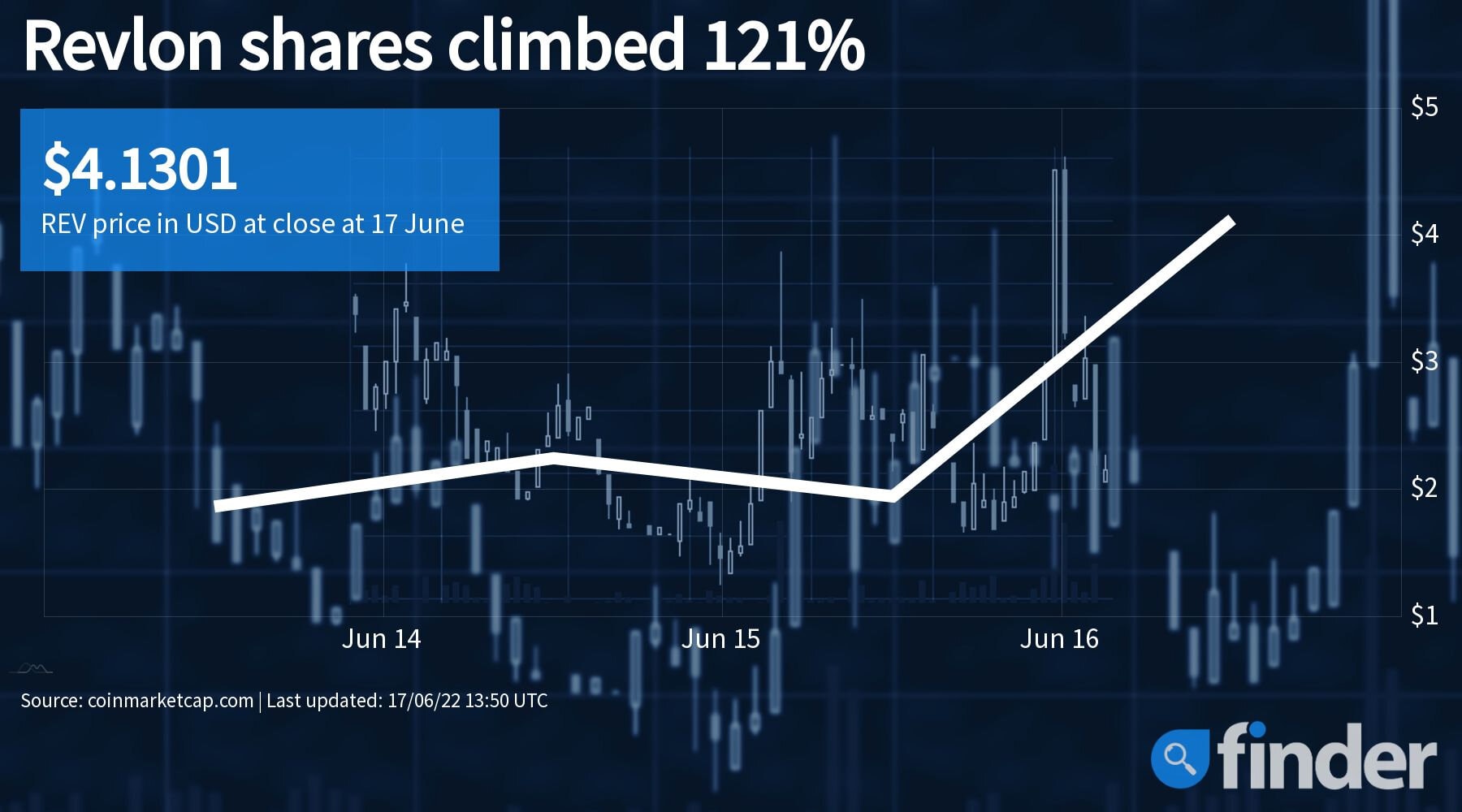 Revlon shares climbed 121% after reports that Reliance Industries may buy the US cosmetics company out of bankruptcy. Here's why that provides a good level for shareholders to sell their holdings.
Revlon Inc. (REV) shares gained as much as 121% intraday after Indian newspaper Economic Times reported that billionaire Mukesh Ambani's Reliance Industries is considering bidding to buy the bankrupt cosmetics company.
The cosmetics maker said Thursday that it filed for reorganization under Chapter 11 bankruptcy and expects to receive $575 million in debtor-in-possession loan facility allowing the cosmetics maker to refinance its obligations and continue operations.
"The Chapter 11 filing will allow Revlon to strategically reorganize its legacy capital structure and improve its long-term outlook, especially amid liquidity constraints brought on by continued global challenges, including supply chain disruption and rising inflation, as well as obligations to its lenders," the company said in a press release Thursday.
What does Chapter 11 filing mean for shareholders
The New York Stock Exchange said Thursday that it will seek approval from the Securities and Exchange Commission to delist the Class A common stock of Revlon under the ticker symbol REV from the exchange.
Delisting will mean shares will need to move to over-the-counter trading, sapping liquidity and leaving little room for investors to exit their positions. That means the clock is ticking for any shareholder who wants to unload their shares and avoid a protracted process of bankruptcy and the risk that the value of their holdings could shrink to zero.
Should investors buy Revlon after Friday's share price surge?
"Investors should be cautious when buying common stock of companies in Chapter 11 bankruptcy," the Securities and Exchange Commission said on its website, speaking in general terms and not specifically about Revlon. "It is extremely risky and is likely to lead to financial loss."
Although there's a chance that a company may emerge from bankruptcy, the SEC says that generally, creditors and the bondholders become the new owners of the shares. In most instances, the company's reorganization plan will cancel the existing equity shares, the commission says on its website, explaining in general what happens when a public company goes bankrupt.
"This happens in bankruptcy cases because secured and unsecured creditors are paid from the company's assets before common stockholders," In cases where shareholders participate in the bankrupt company's reorganization plan, their shares are usually subject to substantial dilution, the SEC said.
Is it time to sell Revlon shares?
MarketEdge said it's wise to avoid the stock, and if you own it, "close that position or monitor the stock closely." While the stock rallied Friday, it's still susceptible to further declines.
There's only one analyst who tracks the stock, according to data on Etrade's trading platform. That signals very little investor interest in the stock that pays no dividend and hasn't posted an annual profit since at least 2017.
There have been very few cases where shareholders have become whole again after the company declared bankruptcy. You may recall the case of Hertz, when shares fell to as low as $0.40 in May 2020 after the start of its bankruptcy case. The bankruptcy plan that emerged for the car rental company was for stockholders to get cash and new stock initially valued at about $8 in total, Bloomberg reported last year.
That happened as Hertz, one of the biggest sellers in the used-car market, benefited as prices of used cars climbed 28% between April and August 2020. That helped the bankrupt company pay down its debt and attract investors.
It's unclear if that will be the case for Revlon. Investors who are buying now are likely betting that the company could see a turnaround similar to Hertz's case. The current surge may be a good time to exit the stock.
Ready to open an account or considering a new broker? Find the best online brokers for your needs. Or check out fees and features in our comparison table to find a better deal today.
Information on this page is for educational purposes only. Finder is not an advisor or brokerage service, and we don't recommend investors to trade specific stocks or other investments.
Finder is not a client of any featured partner. We may be paid a fee for referring prospective clients to a partner, though it is not a recommendation to invest in any one partner.