Finder is committed to editorial independence. While we receive compensation when you click links to partners, they do not influence our opinions or reviews. Learn how we make money.
Review: Kohl's Credit Card
The Kohl's Credit Card offers consistent store discounts and no annual fee.
Get this card if… you shop at Kohl's regularly.
Pick something else if… you're not a frequent Kohl's shopper.
Recommended fair to excellent credit range of 580 to 850.
24.99%
Purchase APR (variable)
580
Recommended credit score
Details
| | |
| --- | --- |
| Product Name | Kohl's Credit Card |
| Card type | Visa |
| Annual fee | $0 |
| Purchase APR | 24.99% variable |
| Balance transfer APR | N/A |
| Penalty APR | 29.74% fixed |
| Interest free period | Up to 25 days |
| Late payment fee | Up to $38 |
| Returned payment fee | Up to $38 |
| Additional cardholder fee | $0 |
Expert review
Review by
steven.dashiell@finder.com
---
Steven Dashiell is a credit cards writer at Finder. He's worked on 250 Finder articles and counting, helping readers embrace and maximize credit cards. Backed by nearly a decade of research and reporting experience, Steve's work can be seen on Debt.com, CreditCards.com and Lifehacker.
Expert review
Kohl's deploys multiple promotions to keep customers coming back, such as the Kohl's Cash and Yes2You programs. The company also offers the Kohl's Credit Card, which you can use only at its department stores and website.
Beyond offering fairly easy credit, the Kohl's Credit Card is light on perks. However, it does bring heavy discounts to the table: You'll get 25% off your first order and then another 15% when your card arrives in the mail. After that you'll get 12 discount offers every year.
If you spend $600 or more in a year on your Kohl's Credit Card, you'll receive six more discounts per year. Of course, none of this means anything if you're not a Kohl's regular — but it's probably music to your ears if you're a loyal shopper at the store.
The Perks
SIGNUP BONUS: Initial discounts.
You'll get an extra 25% off your first purchase on your Kohl's Charge account. Also, get a 15% discount when you receive your card in the mail.
MORE DISCOUNTS: Special offers throughout the year.
Each year, you'll receive 12 discounts to apply to your purchases.
You'll also like…
Combine rewards with your Kohl's Credit Card. Use Yes2You Rewards and Kohl's Cash with your Kohl's Charge discounts.
Opportunity to become a Most Valued Customer. Spend at least $600 with your Kohl's Credit Card, and you'll become a Most Valued Customer (MVC). MVCs receive 18 or more discounts a year.
What to watch out for
It hurts to pay late. Making late or returned payments could result in fees as high as $38.
Penalty APR for late payments. If you pay late just once, you could be subject to a penalty APR of 29.74% fixed.
Limited acceptance. You can only use the card at Kohl's stores and the Kohl's website.
What should I know before I apply?
To apply for the Kohl's Credit Card, you must be at least 18 years old.
Information you'll need
Your full name and contact information.
Your Social Security number and date of birth.
Your total annual income and monthly housing payment
What credit score do I need?
Store cards typically have fairly lenient credit requirements. You'll have a good chance of being approved with a good to excellent credit score of 680 or higher. However, you'll likely be approved with a fair credit score of between 580 and 680.
How to apply for the Kohl's Credit Card
1. Go to the Kohl's website and click Apply Now.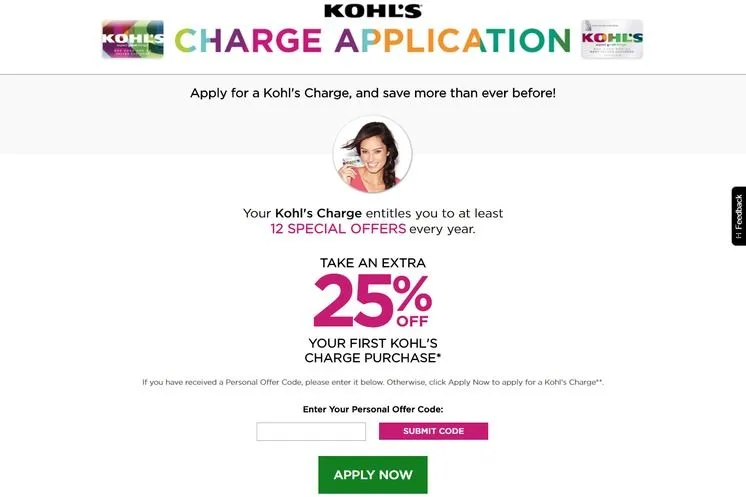 2. Complete the application with your name, address, annual income and Social Security number.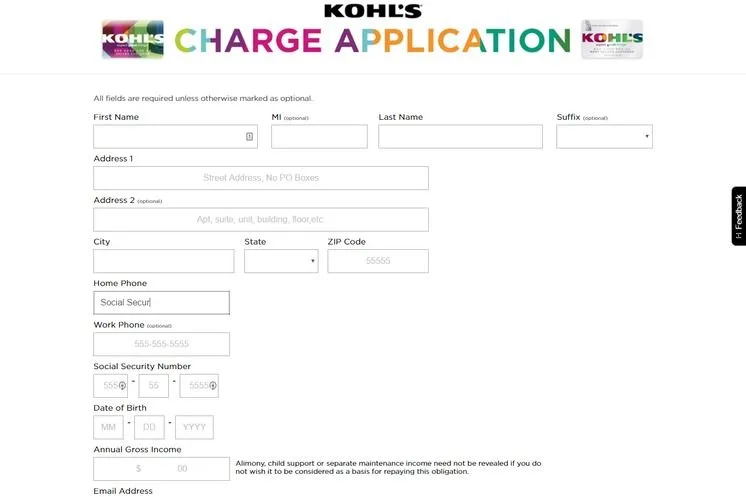 How long will it take to be approved?
Because conditional credit card approval is automated on the website, you'll often get a decision within 60 seconds. It may take a few weeks for your card to arrive. In the meantime, you can ask a Kohl's associate for a temporary card.
I got the card. Now what?
Making payments. Go to the Kohl's website and set up an account to pay your bill online. You can also enroll in autopay.
Avoiding interest payments. After the close of each billing cycle, you have a grace period of 25 days to pay your balance. If you do, you won't pay interest on your purchases.
Avoiding fees. Late and returned payments come with hefty fees of up to $38.
Customer service. If you have questions, call the Kohl's Credit Card customer service line at 855-564-5748.
Save more at Kohl's
Kohl's almost always has markdowns and flash sales across its site and in stores, with the biggest savings coming in for Black Friday and Cyber Monday. Holiday deals sometimes start as early as the first week of November, with savings getting better and better as Thanksgiving nears.
If you're shopping in-store and forgot to bring your coupon, pull it up on your mobile device or ask at the checkout counter. See more promo codes
Compare Capital One credit cards
Bottom line
The Kohl's Credit Card isn't packed with features, but it offers consistent store discounts throughout the year. If there's another store you're more interested in, compare other retail credit cards.
Frequently asked questions