Finder is committed to editorial independence. While we receive compensation when you click links to partners, they do not influence our opinions or reviews. Learn how we make money.
Has the Final Credit Card come at the perfect time?
With increasing frequency, we're seeing big hacks at some of the world's largest companies. Here are just a few major breaches that have occurred recently:
In a well-publicized hack, Target lost card data for 40 million customers. A class-action lawsuit claimed that Target hadn't implemented sufficient security measures to prevent the hack.
Malware infected Chipotle's cash registers, allowing thieves to steal data from credit card magstripes.
InterContinental Hotels Group, which runs properties like Holiday Inn, had its own run-in with hacking. A data breach affected almost 1,200 of the company's hotels, and many customers reported unauthorized charges on their credit cards.
There's a scary implication: Even if you're careful with your credit card information, retailers might not do enough to protect it.
Worse, credit card fraud is on the rise. It's already a significant problem, creating annual losses north of $24 billion. By 2020, it's expected to cost $31.67 billion worldwide.
In that light, the Final Credit Card could be just what security-conscious consumers need. Final doesn't eliminate fraud, but it mitigates the effects of having your credit card information stolen.
How the Final Credit Card works
If you're approved for the Final Credit Card, you'll get a physical card in the mail. You can also generate virtual credit cards from your phone. (Virtual cards are randomly generated card numbers that you can use to make purchases.) To organize your virtual cards, you can store them in a digital wallet like Apple Pay or Android Pay.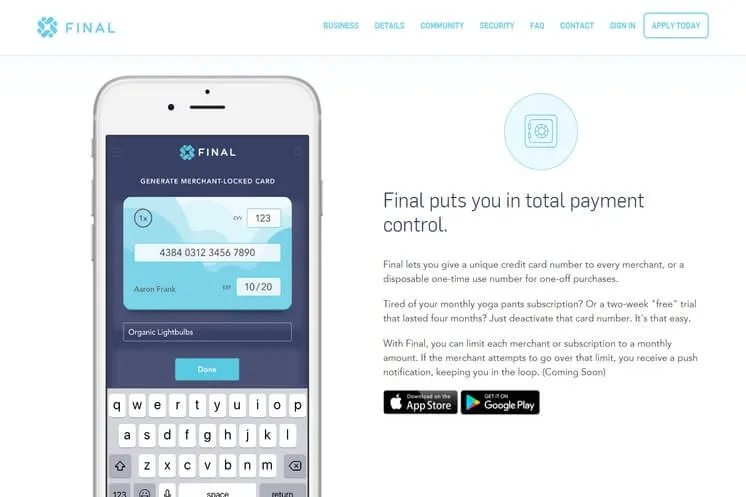 When you make a purchase, you create a merchant-locked card. For instance, if you buy something from Amazon.com, you'll have a virtual card that can be used with Amazon only.
You can also create a one-time-use card. This account number is good for a single purchase and is deactivated after you use it.
Once you use a virtual card, a receipt is sent to your phone, allowing you to verify transactions in real time.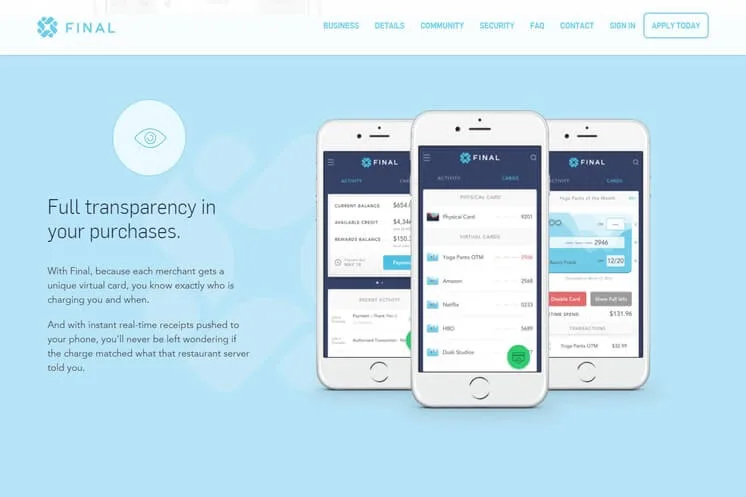 Is the Final Credit Card worth getting?
Virtual card features aside, the Final Credit Card is simply a solid card — no more and no less. It has no annual fee, which is always welcome. However, it offers only 1% cash back on everything you buy. You'll find better earnings with other no-annual-fee cards like the Citi® Double Cash Card and Chase Freedom Unlimited®.
Furthermore, the Final Credit Card is relatively light on perks. Its sales page highlights no overlimit fees, an autopay option, EMV chip technology and fraud coverage. But those come standard with many other cards, and they do little to differentiate the Final Credit Card.
All in all, you probably won't get the Final Credit Card for its add-ons. Instead, you'll get it for its single-minded focus on security.
If you're highly concerned about credit card fraud, the Final Credit Card is what you've been looking for. In an age of crafty hackers and retailers reluctant to invest in payment security, the Final Credit Card's virtual-card features are an excellent defense.
Before you settle on the Final Credit Card
Creating multiple virtual cards isn't a new concept. For example, Discover is just one provider that lets customers create multiple card numbers early on. (Its Secure Online Account Numbers program was discontinued in 2015.)
Other providers allow you to create virtual cards — like Bank of America's ShopSafe and Citi's Virtual Account Numbers — with few restrictions.
Bottom line: The Final Credit Card isn't the only game in town. Before settling on it, check out what other card providers bring to the table.
The Perks
Cash back on all purchases.
Earn 1% cash back on everything you buy.
Generate virtual cards.
Get a unique credit card number for each merchant, or generate single-use numbers for one-time purchases. Deactivate card numbers whenever you want, and set limits for how much merchants can charge to your card.
You'll also like…
Real-time receipts. Receive receipts on your phone whenever a merchant charges your card.
No overlimit fees. If you accidentally go over your credit limit, you won't pay a fee.
Visa benefits. Get Visa protections like roadside dispatch and collision damage waivers for auto rentals.
What to watch out for
No signup bonus. You won't snag quick rewards to the start.
Fees. Late payments come with fees as high as $25, and returned payments cost as high as $35. You'll incur a 2.5% fee for every foreign transaction you make with your card.
What should I know before I apply?
To apply for the Final Credit Card, you must be at least 18 years old. You must also be a US citizen or permanent resident. Residents of Puerto Rico and US territories are not eligible.
Information you'll need
Full name and contact information
Residential status
Annual income, source of income and employment information
Social Security number and date of birth
What credit score do I need?
You'll have a better chance of approval for the Final Credit Card if you apply with a good to excellent credit score of 670 or higher.
The card's issuing bank, First Bank & Trust, tends to approve cardholders who:
Have not been late on payments in the past year.
Have not declared bankruptcy or defaulted on loans.
Have multiple loans in their name.
If you don't meet these requirements, you may still be approved for the card. However, your chances will be slimmer.
You'll likely receive a decision immediately after you apply. If there are issues with your application, however, you may have to wait up to a few weeks for a decision.
How to apply for the Final Credit Card
1. Go to the Final website. Create an account by entering your email and choosing a password.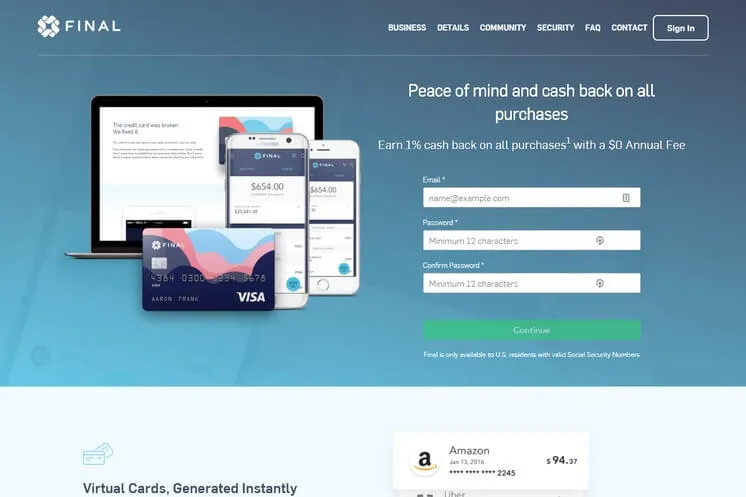 2. Complete the application form with your name, address, annual income and Social Security number. Then review your application and submit it.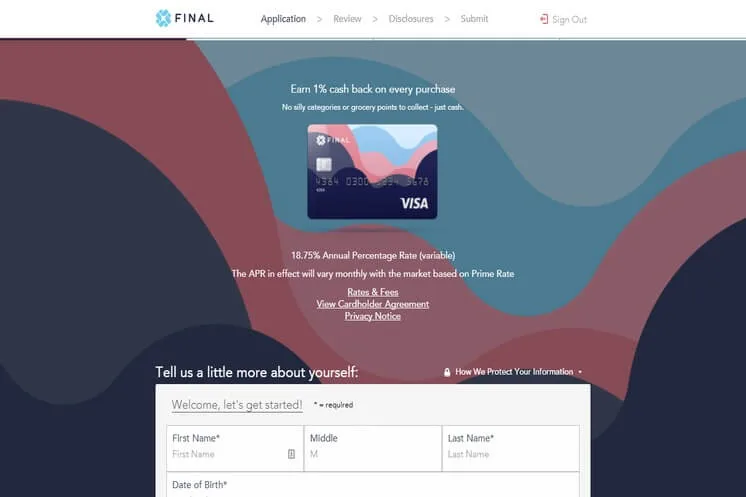 I got the card. Now what?
Make timely payments. You can pay your credit card bill online at the Final website, where you can also enroll in autopay.
Avoid interest. After the close of each billing cycle, you have a grace period of 21 days to pay your balance. If you do, you won't pay interest on your purchases.
Avoid fees. Late payments cost up to $25 and returned payments cost up to $35. Foreign transactions also come with fees.
Customer service. If you have questions, email Final at support@getfinal.com.
Compare similar credit cards and find the best option for you.
Compare other cash back credit cards
Bottom line
You'll find better cash back rewards with other cards. But if your primary concern is credit card security, the Final Credit Card is an excellent option.
Frequently asked questions
Expert review
Review by
kevin.chen@findercrew.com
---
Kevin Joey Chen is a credit cards, banking and investments writer whose work and analysis have appeared on CNN, U.S. News & World Report, Business.com, Lifehacker and CreditCards.com. He's passionate about helping you get your finances in order by expertly navigating cutting-edge financial tools — including credit cards, apps and budgeting software.
Expert review
If you've been burned by credit card fraud — or worry you may become a victim sooner or later — the Final Card might be for you. The card gives you complete control over who can make charges to your accounts.
Yes, that's "accounts," plural: The Final Card doesn't limit you to just one card number. Instead, you get a new number for each merchant you spend with. If you'd like, you can limit the total each merchant can charge to your card. You can also create one-time-use cards for single purchases and recurring cards for subscriptions.
The point is to limit the damage a fraudster can wreak on your finances. If someone were to steal your credit card information from a Walgreens database, for example, they couldn't go on a spending spree at Target or Walmart.
Furthermore, if fraud somehow infects one of your card numbers, it's isolated from the rest of your accounts. You won't have to wait for a replacement card or update your card info for your numerous subscriptions.