Finder is committed to editorial independence. While we receive compensation when you click links to partners, they do not influence our opinions or reviews. Learn how we make money.
Discover it® Chrome Gas & Restaurant Card review
It's ideal if you make frequent gas and restaurant purchases — but not if you're a power spender in these categories.
Get this card if you spend around $1,000 in combined gas and dining purchases each quarter.
The perks
Annual fee: None.

A $0 annual fee makes it easy to keep the Discover it® Chrome Gas & Restaurant Card long term.

Cashback match for the first card year.

At the end of your first card year, Discover will match all the cash back you've earned. This is a bonus unique to the provider, and it could be valuable if you can maximize the card's 2% cash back.

Rewards: 2% cash back on gas and dining.

Earn 2% cash back at gas stations and restaurants on up to $1,000 in combined purchases each quarter. After that and on everything else you'll earn 1% back.

You don't often find these categories combined for elevated rewards, which is partly what makes the card unique. However, the quarterly purchase cap for the 2% rate is rather low.

Earn 1% cash back on all other purchases.

Intro APR: 0% on purchases and balance transfers for 14 months following your account opening. After that, a variable APR of 11.99% to 22.99% applies.

This is a strong introductory APR. 14 months is a good amount of time for 0% interest, and it certainly helps that you get the rate for both purchases and balance transfers.
How many cashback rewards can I earn with this card?
This card is most valuable if you can reach its $1,000 spending cap on purchases every quarter. Here's how much cash back you might earn on this sample yearly budget:
$4,000 per year on gas and restaurants x 2% = $80 cash back
$5,000 per year on other purchases x 1% = $50 cash back
In total, you'd earn $130 cash back for the year. For your first card year, Discover would match your rewards and you'd earn a total of $260 cash back.
You'll also like …
First late fee waived.

The first time you pay late, Discover waives your late fee. It's a nice perk not offered by most banks. Just be careful not to pay late again, as you'll face a fee of up to $40.

No foreign transaction fees or penalty APR.

You'll pay no fees for using this card outside of the US. Though Discover is accepted less frequently worldwide, the Discover it® Chrome Gas & Restaurant Card is a great choice if you can manage to use it on your travels.

Some providers impose a penalty APR on all of your balances — often up to 29.99% variable — for certain infractions like making a late or returned payment. Discover doesn't charge one with this card.

Cardholder tools.

You can view your FICO credit score on your billing statement for free every month. You may also view it online.

Also, Discover protects you from unauthorized purchases and identity theft. If your card is stolen or lost, you can freeze your account using Discover's website or mobile app.
What to watch out for
You could have a high normal APR.

Depending on your credit, you may receive a normal purchase and balance transfer APR as high as 22.99% variable. The cash advance APR is even higher, at 24.99% variable.

Account fees.

For each balance transfer made before the rolling deadline, you'll pay an intro 3% fee of the transaction. For each transfer made after, you'll pay 5% of the transfer. And for each cash advance, you'll pay a fee of $10 or 5% of the transaction, whichever is greater.

Your first late fee is waived, but subsequent late payments will land you with a fee of up to $40. Each returned payment comes with a fee of $40. Avoiding these fees will not only save you money but also protect you from threats to your credit score.
Compare Discover it® Chrome Gas & Restaurant Card with other cards
How does a balance transfer work with this card?
What should I know before I apply?
To apply for the Discover it® Chrome Gas & Restaurant Card, you must be at least 18 years old and a US resident.
Information you'll need
Your full name and personal contact details.
Your residential status and monthly rent or mortgage payment.
Your annual income, source of income and employment information.
Your Social Security number.
What credit score do I need?
If you have a good to excellent credit score of 670 or higher, you'll have a better chance of approval.
What do customers say about the Discover it® Chrome Gas & Restaurant Card?
Customers often say this card is ideal if you're constantly on the road. Other happy customers say Discover's mobile app, online interface and customer support are very helpful. Some users warn that Discover may have limited acceptance abroad.
According to the Better Business Bureau (BBB), Discover has been accredited since November 1989. The provider has an A+ rating. As of this writing, Discover has nearly 900 customer complaints, almost all of which the BBB says have been answered or resolved.
Discover has a 4 out of 5 average rating on Trustpilot. Positive reviews say the company offers excellent customer service and a smooth mobile experience. Negative reviews say the provider inadequately protects customers from fraudulent transactions.
How to apply for the Discover it® Chrome Gas & Restaurant Card
On the Discover it® Chrome Gas & Restaurant Card website, click Apply now.
Fill in your name and pick a card design. Then click Continue.
Complete the application by providing details like your address, date of birth, Social Security number, annual income, employment information and housing status.
Verify your information is correct and click Submit application.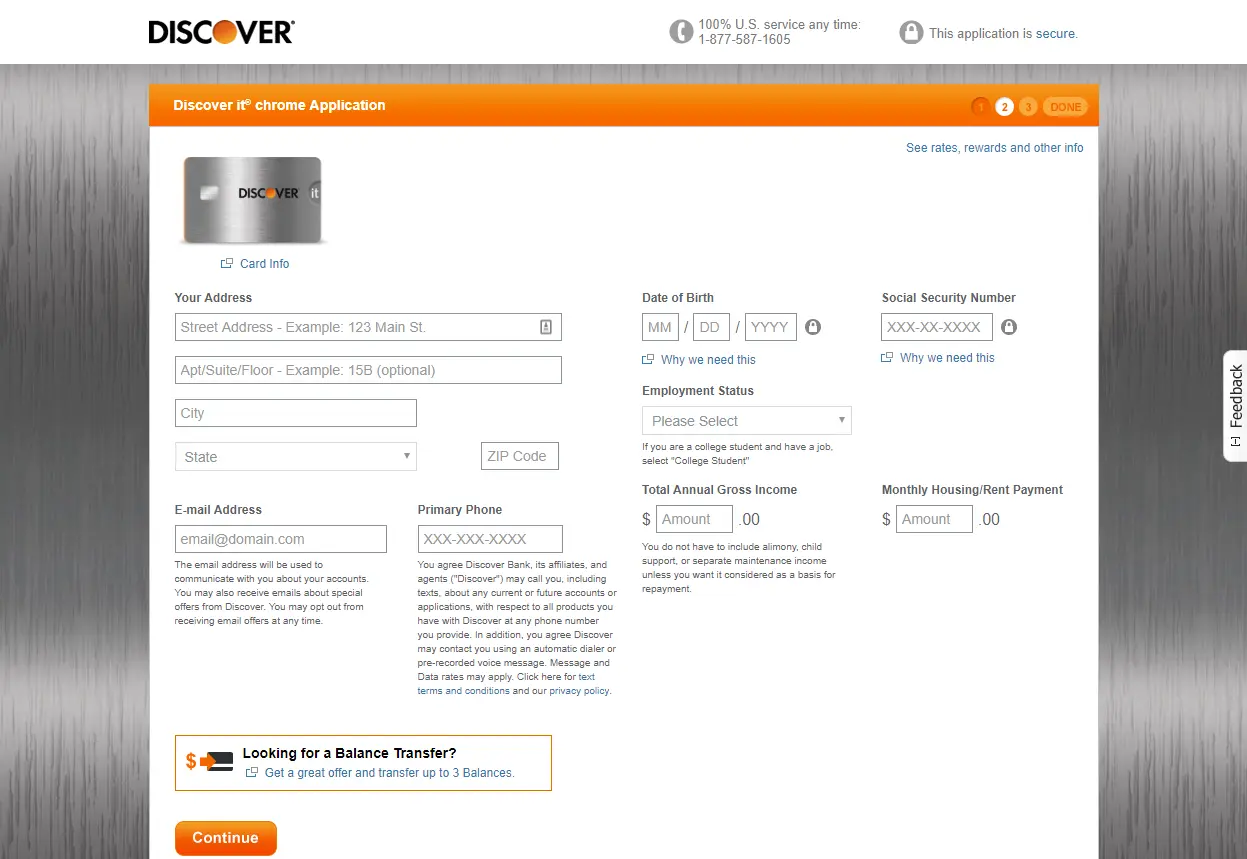 How long will it take to get my Discover it® Chrome Gas & Restaurant Card?
Typically, you'll receive a decision immediately after you apply. In some cases, Discover may need a few business days to review your application manually.
Your card will probably arrive in the mail within seven to 10 days if you're approved.
I got the card. Now what?
Make timely payments.

Pay your card bill online at the Discover website, where you can also enroll in autopay. Customers often give the provider high marks for its online interface.

Avoid interest.

Understand when your intro APR expires. Paying off your outstanding balances from purchases and balance transfers before this happens can help you avoid unnecessary interest.

Avoid fees.

Discover will waive your first late fee, but subsequent late payments come with fees of up to $40. Balance transfers and cash advances also come with fees.

Customer service.

For support, call 1-800-DISCOVER (1-800-347-2683) or use the online chat platform. You can also connect via Twitter @Discover or Facebook @Discover.
How do I redeem rewards from this card?
You can redeem your cash back for a few rewards:
Credits to your account.
Charitable donations.
Electronic deposits to a bank account.
Payments at Amazon.com.
To redeem, simply log in to your Discover account.
Bottom line
Other cards might offer better rewards, and the $1,000-per-quarter spending cap for 2% rewards may feel restrictive. However, this is a solid card offering good rewards in select categories, no annual fee and a strong intro APR.
Frequently asked questions
Expert review
Review by
kevin.chen@findercrew.com
---
Kevin Joey Chen is a credit cards, banking and investments writer whose work and analysis have appeared on CNN, U.S. News & World Report, Business.com, Lifehacker and CreditCards.com. He's passionate about helping you get your finances in order by expertly navigating cutting-edge financial tools — including credit cards, apps and budgeting software.
Expert review
The Discover it® Chrome Gas & Restaurant Card offers elevated rewards on gas and dining, which is a relatively uncommon combo for a no-annual-fee product. This card might be right for you if you spend consistently in those categories.
For optimal rewards, your combined gas and dining spending should hover around $1,000 each quarter. Spend more than that in those categories per quarter and you'll earn an unimpressive 1% cash back. So, seriously consider this card if you spend around $4,000 a year in combined gas and dining purchases. If you shell out a lot more than that, consider a more powerful rewards card.