Remitly launches no-fee banking for immigrants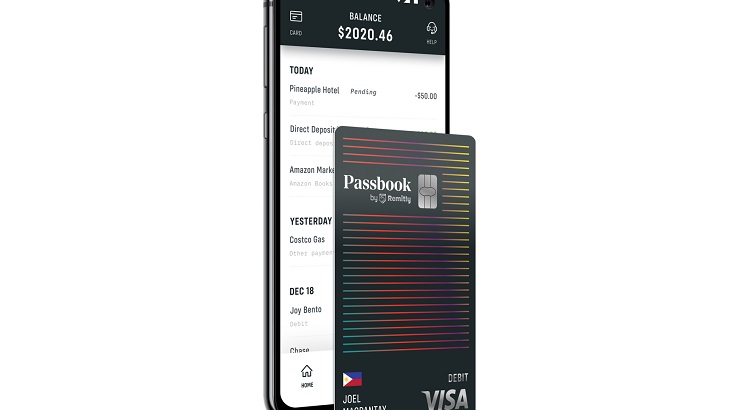 The new Passbook debit account is designed specifically for those without a Social Security number.
Money transfer service Remitly announced Monday the launch of Passbook by Remitly. A co-branded Visa Direct debit card, Passbook offers users the ability to store money in a FDIC-insured account at Sunrise Banks with no account fees and no need to provide a Social Security number.
Targeted toward the immigrant market, Passbook can be used in any of the 200 nations currently in the global Visa network, including Mexico, Canada, China and India. The debit card has no foreign transaction fees when used internationally and can be locked and unlocked via the card's mobile app. The card itself can be customized with the flag of the customer's choice.
Immigrant-friendly signup
The signup process is completely digital, using common forms of identification like an Individual Taxpayer Identification Number (ITIN), passport or other foreign government-issued IDs like the Matricula Consular ID. That makes it easy for international students on a F-1 or M-1 visa, or workers on a H1B, TN, J1 or L1 visa. There's no minimum deposit and no overdraft fees. Cardholders can withdraw cash for free at ATMs in the Visa Plus Alliance network.
Deposits can be made via direct deposit, ACH bank transfer, mobile check deposit, ATM or third-party money transfer services.
"Passbook is the next step in Remitly's mission to transform the lives of the millions of immigrants around the world who make the huge sacrifice of leaving their families behind to live and work in another country," Remitly CEO and Co-Founder Matt Oppenheimer said in announcing Passbook.
Getting a bank account without a SSN is tough
It can be difficult to open a bank account without a Social Security number. Per a 2017 FDIC study, 6.5% of American households were unbanked or had no access to traditional banking products. Another 18.7% were underbanked or relied on non-traditional financial services like payday lenders, despite having full or limited access to traditional banking. This lack of banking access makes it hard to build credit, save for emergencies or fully engage in today's "pay remotely" economy.
"Passbook was born from countless hours listening to customers' experiences navigating financial services not built for them," Oppenheimer added. "Our team has a unique ability to deliver industry-changing products for immigrants. We're going to change banking like we changed remittances."
Discriminatory banking
Technically, a Social Security number is not required to open a bank account in the United States. Banks are required to submit notifications to the IRS regarding the depositing and withdrawal of funds past a certain threshold and are encouraged to do background checks on new depositors in accordance with Anti-Money Laundering/Know Your Customer (AML/KYC) compliance.
However, this can be accomplished with an ITIN. Some banks will also accept a passport, an alien identification card or some other government-issued identification for low-yield bank accounts, such as checking accounts.
Some banks' refusal to issue bank accounts without a Social Security number may be tied to anti-undocumented immigrant bias and politics. This is an issue that applies not only to the United States, but globally, where large influxes of migrants and transient workers means that nearly 1.7 billion people worldwide have no significant access to banking products. Remitly seeks to expand Passbook to all of the markets Remitly is active in.
Remitly largely markets to the United States' 44 million first-generation immigrant population, offering transmittance products such as allowing immigrants to send money to their home nations at a low cost. Remitly typically only requires a photo ID and proof of current residency.